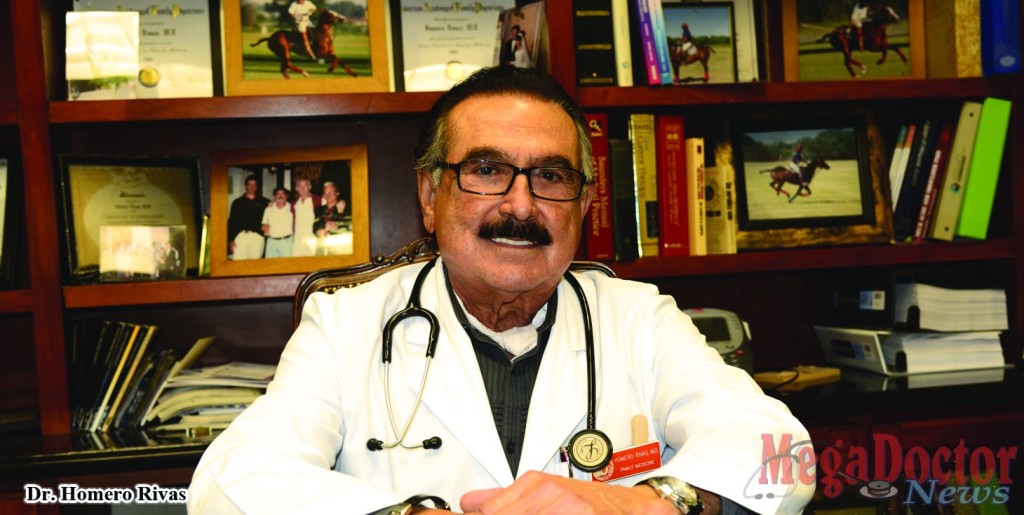 - Advertisement -

Mega Doctor News – 
By Roberto Hugo Gonzalez,
Here we have a doctor that has practiced medicine for the last 47 years; his main purpose in life is still the same as when he first became a doctor, to make people healthy and always be available to serve his patients. He is board certified and specializes in Family Medicine.
Dr. Rivas is also a member of a well-established family that started in the grocery business in the 1930's. His parents Margil and Consuelo Rivas started the M Rivas Supermarkets that at one time grew to nine stores.
Dr. Rivas was born in Donna, Texas and graduated from the University of Texas At Galveston / Medical Branch in 1967, and then he came back to the Rio Grande Valley.  He said, "I felt an obligation to come back to serve and help my community."
He recalls being inspired to become a physician by a German doctor refugee who delivered babies. He said, "I used to see him in the neighborhood when it was popular for a doctor to make house calls and also deliver babies." He continued, "Finally, he allowed me carry his doctor's bag and I would go with him to visit homes. I never watched I would stay outside." Dr. Rivas was fascinated by the doctor's work.
In 1971, Dr. Rivas joined the prestigious Family Physicians Clinic and the always-open Valley Night Clinic; he has been a partner in both practices ever since.  He did his post-graduate training at the U.S. Marine Hospital in Staten Island, New York, and at the Gallup Indian Medical Center in Gallup, New Mexico.
- Advertisement -

Dr. Rivas says his concern about his patients is compliance; he always stresses the importance of taking the prescribed medicines on time and following up with visits to the doctor's office.
The other concern that he has is the advertised offers by restaurant operators. He said, "As a doctor I want my patients to have a healthier life but the TV offers are for a bigger hamburger or a bigger sandwich. It's very, very difficult to compete with what people see on TV, and to get patients to heed what I'm telling them."
He told Mega Doctor News that his immediate and future plans are to continue helping people to stay healthy. He has no intention of retiring, even though he has given it some thought. "I feel like I'm getting there. I better keep going because it feels like the last stop. I don't like that feeling. He said, "Like they say, use it or lose it. When a person stops having goals, they stop having reasons to get out of bed and keep moving. He still feels like he wishes he didn't have to go to bed."
Dr. Rivas is married to Sonia; they have known each other since they were children. They saw each other again when they were in college. He said, "We married while in school. She was a nursing student and I was a medical student." They have three children; they are all professionals now. He and his wife reside in McAllen.
In his spare time, Dr. Rivas enjoys all types of outdoor sports. He loves cycling; as a matter of fact he was one of the founders of Border Bikers Club that was created in December 8, 1974 with about 30 members. He still rides his bike, rides horses, and goes hiking. What about Polo? "No," he said. "I retired from tournament polo, but I still run my horses." Most of all he loves visiting his three children; they live throughout the United States.
How do you want to be remembered when you leave this earth? "As an individual that tried to help people, and tried to improve their quality life, someone who made a little difference, a positive difference in them."
Dr. Rivas works daily at Family Physicians Clinic except on Thursdays, and his "on call" day is Tuesday and every fourth weekend at Valley Night Clinic.
Dr. Rivas is a Fellow of the American Academy of Family Physicians, a member of the Texas Medical Association, and the Hidalgo-Starr Counties Medical Society.
You can reach Dr. Rivas at 956-682-4515 or visit with him at Family Physicians Clinic located at 606 South Broadway St. in McAllen, Texas. MDN