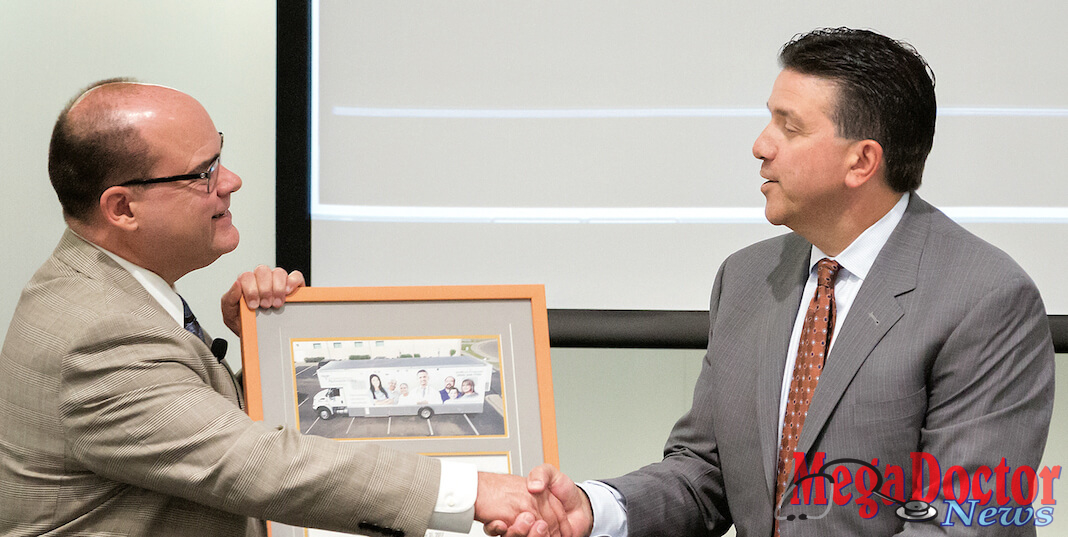 - Advertisement -

By Jennifer L. Berghom
Mega Doctor News
Edinburg, Texas – The UTRGV School of Medicine honored United Health Foundation (UHF) on Thursday for supporting the young medical school in its efforts to provide healthcare services to underserved neighborhoods and provide training opportunities for medical students and students of other healthcare-related fields.
UHF in January 2015 awarded the School of Medicine a three-year, $2.88 million grant to establish the Center for Colonia Integrated Care Program: VIDAS (Valley Interprofessional Development and Services) to build an integrated, interprofessional collaborative that will create a sustainable model for healthcare delivery to the most vulnerable members of the community.
As a part of that grant, the School of Medicine purchased Unimóvil, a mobile clinic, to bring healthcare to people living in underserved communities who struggle with access to healthcare. Unimóvil also provides another opportunity for medical students, medical residents and students in the UTRGV College of Health Affairs to train and serve the community.
Dr. John H. Krouse, dean of the School of Medicine and vice president for Health Affairs, praised United Health Foundation for its generous donation, the healthcare professionals who operate Unimóvil, and community partners, saying their contributions have helped make the mobile clinic's operations a success.
"Unimovil is a tangible example of our commitment to working with all our stakeholders and partners throughout the Rio Grande Valley," Krouse said. "Unimovil allows us here at UTRGV to promote health equity for all of those who live in South Texas, and will improve the quality of life for thousands of individuals who otherwise would succumb to progressive and chronic diseases. Without the UTRGV/United Health Foundation Unimóvil, many children, elderly individuals and families would simply go without basic medical care."
School of Medicine faculty, medical residents and other UTRGV-affiliated health care providers operate the 45-foot-long clinic, which includes two examination rooms, a laboratory and restroom, and state-of-the-art diagnostic equipment. Since it began operations in summer 2016, Unimóvil has traveled about 9,000 miles and has provided care to almost 2,000 patients. Most recently, a team of healthcare providers with the School of Medicine traveled with Unimóvil to Houston to provide care to almost 100 patients affected by Hurricane Harvey.
- Advertisement -

David Milich, CEO of UnitedHealthcare of Texas and Oklahoma, said the UTRGV School of Medicine shares the same mission as the healthcare provider he leads, in increasing access to healthcare services.
"Not only in the Valley but, across Texas, we have a primary care deficit, and we need to promote the value of primary care," Milich said. He, too, thanked the School of Medicine healthcare professionals who went to Houston with Unimóvil to provide care.
"The medicine, the care that was provided in a very culturally sensitive way to Houstonians, greatly improved their overall health at what I can tell you was a very difficult and continues to be a difficult time in their lives. You changed the lives of many individuals by being there for them in a time of need."
Milich and Krouse presented plaques to each other, representing their respective organizations, to show appreciation for their partnership in Unimóvil.
Related:
Unimóvil UTRGV School of Medicine mobile clinic is in Houston, providing medical aid to hurricane victims