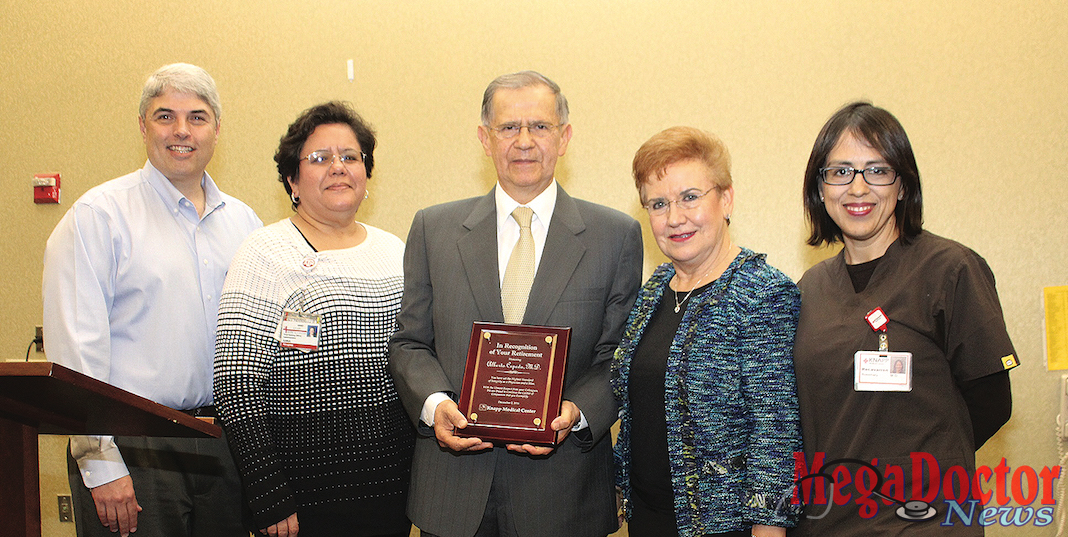 Retiring OB-GYN has delivered thousands of babies at Knapp Medical Center in Weslaco
Mega Doctor News
Weslaco – Dr. Alberto Cepeda — an obstetrician-gynecologist who has delivered thousands of babies in the Mid-Valley over the past 36 years – was recently honored by Knapp Medical Center for his incredible service to the community.
Dr. Cepeda is retiring after coming to the Mid-Valley in 1979, at a time when many babies were being delivered by family practice physicians and one other OB-GYN in the area, Dr. Elizabeth Krishnan.
"Dr. Krishnan and physicians at Knapp Medical Center were a great help to me," Dr. Cepeda told local doctors during a recent luncheon at the Knapp Conference Center.  "These were the best years of my life.  We have to always remember that's why we came into medicine – to help the people."
Dr. Rene Lopez, CEO of Knapp Medical Center, and the many physicians in attendance – including Dr. Krishnan — thanked Dr. Cepeda for his years of service and for his outstanding character in caring for the community.
Dr. Cepeda in turn praised the work that his colleagues in the field of medicine have done and continue to do in caring for patients in the Mid-Valley.
"The obstetrical service at Knapp Medical Center has good and experienced physicians to serve our community," he added.
The award-winning Women's Health Services program  at Knapp Medical Center features family-centered maternity care staffed by obstetrician-gynecologists, neonatologists, anesthesiologists, and other specialists, along with specially-trained nurses.
- Advertisement -

The facilities include private labor and delivery birthing suites, private hospital rooms available to all patients after delivery, a newborn nursery, and specially-equipped Women's Service Operating Rooms.
During his long and distinguished career, Dr. Cepeda served as Chief of the Medical Staff at Knapp Medical Center; Chief of OB-GYN at Knapp; and Chief of the Ethics Committee at Knapp.
Dr. Cepeda also served as a member on various other committees at the hospital, including Continuing Medical Education, Credentials, Bylaws, Therapeutics, Ambulatory Care, Utilization Review, Emergency Room, and Infection Control.
Dr. Cepeda is a Fellow of the American College of Obstetrics & Gynecology and the American Society of Colposcopy & Cervical Pathology.  He is board certified by the American Board of Obstetrics & Gynecology.
Originally from Colombia, Dr. Cepeda completed medical school at the National University School of Medicine in Bogota; internships at San Juan de Dios Hospital in Bogota and at Grant Hospital in Chicago; and a residency in obstetrics and gynecology at Rush Presbyterian St. Luke's Medical Center in Chicago.  MDN