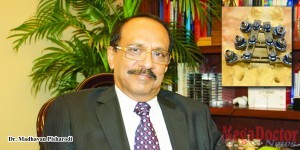 By Roy Martínez
- Advertisement -

Mega Doctor News
As originally published by Mega Doctor News in its newsprint Edition
As you enter the personal office of Dr. Madhavan Pisharodi in Brownsville you are greeted by elegant furniture with an influence from India.  While the decor is eye catching, what really is impressive is the row of picture frames, more than two-dozen to be exact.  The frames hold copies of the patents the Brownsville Neurosurgeon has obtained from the United States patent office for numerous surgical devices.
Dr. Pisharodi's first design was a stereotactic frame, a device that surgeons use to do brain surgery without opening the head.  The frame is attached to the skull so that the surgeon can make a very small hole in the skull and use very fine probes to reach into the brain to perform different procedures.  The frame allows the surgery, which is considered minimally invasive.
After his first successful patent, he started inventing implants for spine surgery, which he now owns over two-dozen patents.  Federal regulations require an inventor to jump through many hoops before one of those products comes to market. Pisharodi says,  "Before you use any product on patients you have to get FDA (Food and Drug Administration) approval."  Dr. Pisharodi has gotten approval for three of his designs and patents on the implants. They are available now and are being used by other surgeons.
When asked about what inspires him to invent he points out, "I have the experience of performing surgery, when I use something I say I wish I had it this way, so I am building on something that I am using and advancing." Pisharodi has also come up with surgical procedures and they have been published.  He adds, "I have had to prove to the FDA that it is a safe procedure, I designed an implant for that also.  I did a multicenter study."  He says he had to go and provide the information to other surgeons doing the surgery, provide the data, present it to the FDA, and show them how the procedure is done.  "It was a great task from Brownsville to do a multicenter study" Dr. Pisharodi adds, "I am in the process of modifying it again."  The first multicenter study cost him a couple of million dollars.  Now the rules have changed, Dr. Pisharodi says if he does the study again it will cost him 30 million dollars to introduce a new product into the market. Although it has become more and more expensive to bring new medical devices to market, that has not discouraged him.
"I got stagnant in the medical field and so that is why I started looking into other options." he says.  That brought him to his latest invention and patent, a battery charger, which can benefit everyone who has a cell phone or computer.  "This is the first time I have gone outside of medicine, what a lot of people don't know is that when you are charging your phone throughout the night and leaving it on charge you are burning the battery by overcharging it. They come with a warning."
- Advertisement -

Where this leads him he doesn't know.  Armed with a brand new patent he is currently looking for business partners to bring this product to market.  This report will follow up in the future on any updates.
Dr. Pisharodi has two offices in South Texas. His main office is at 3475 West Alton Gloor Blvd. in Brownsville.  His office in Hidalgo County is located at 1801 South Fifth in McAllen, Texas.  Pisharodi says he want to provide more surgical services to patients in the upper Valley.  For appointments or more information you can reach his office at (956) 541-6725.  You can also visit his website at www.pisharodi.com.