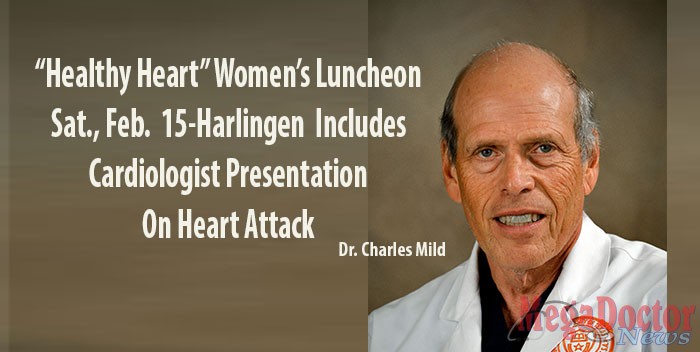 Free Event at Valley Baptist Medical Center part of National Heart Month in February
Mega Doctor News
- Advertisement -

HARLINGEN –  A free "Healthy Hearts for Women" luncheon will be held on Saturday, February 15, from 11:30 a.m. to 1 p.m., at Valley Baptist Medical Center, 2101 Pease Street in Harlingen (on the first floor of the hospital, South Tower entrance, in the Woodward Conference Center) and will include a presentation on heart attack as well as tips on how to shop for heart-healthy foods . Sign language interpretation will be provided.
Dr. Charles Mild, Cardiologist, will speak on "Am I Going to Have a Heart Attack?  Am I Having One Now?" during the "Women and Heart Disease" luncheon.  Signs and symptoms of heart attack can be different in women compared to men – so it is important for women to be aware of the sometimes more-subtle symptoms of heart problems.
In addition, Miriam Peña, RD, Valley Baptist Clinical Dietitian, will speak on "Shopping List for a Healthy Heart."  There will also be a panel discussion – with the chance to ask questions to medical specialists.
The luncheon is part of a series of events being held at Valley Baptist in February in observance of National Heart Month.  Valley residents are encouraged to find out whether they are at risk for heart disease, and to learn how to recognize and prevent the symptoms of heart disease, which can save lives.  For more information –and to complete an online cardiac risk assessment – please visit www.ValleyBaptistHealthyHearts.com.   RSVP is required for the luncheon, by calling 1-888-902-5433.