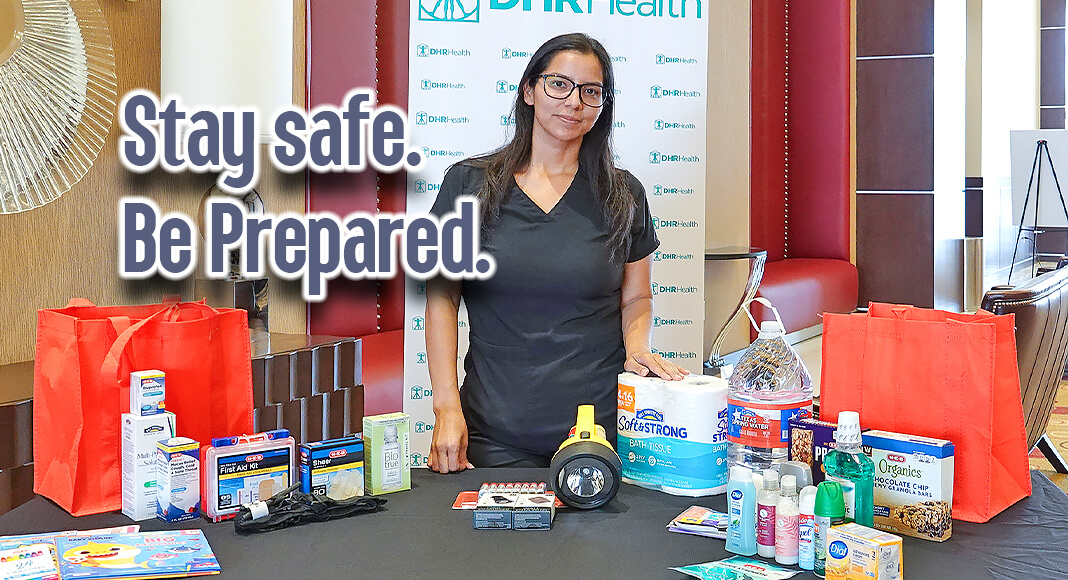 Mega Doctor News
The month of September marks "National Preparedness Month," a time to observe the importance of being ready to face emergencies and natural disasters. As a premier emergency healthcare provider—and the first established Level 1 trauma center in the Rio Grande Valley—DHR Health encourages all local residents to make plans and gather the essentials they may need to successfully navigate unexpected challenges.
"It is important to be prepared because you just never know when an emergency situation will occur, from fires to floods or tornadoes and hurricanes," said Cassandra M. Bravo, Trauma Injury Prevention and Outreach Coordinator at DHR Health. "Preparation can begin with something as simple as having a home escape plan in case of a fire. DHR Health also encourages everyone in the Rio Grande Valley to have a home emergency kit that includes all the essentials to endure a disaster. It is also important to have emergency plans for elderly relatives who may live on their own, as well as one for dealing with family pets. By taking these proactive steps, you are taking control of your safety and that of your loved ones," Bravo added.
An effective emergency kit should contain the following items:
• bottled water
• non-perishable food
• medications
• first aid supplies
• flashlight with batteries
• cellphone battery chargers
• personal hygiene items
• important documents and cash (in a water-proof container)
• clothing and blankets
• entertainment and comfort items for children
• emergency contact information
"Our level 1 trauma center is a key component of a regional response to any natural disaster. On top of that, citizens need to prepare themselves and their families at the local level to be ready for any potential life altering disasters," stated Dr. Jeffrey Skubic, Trauma Medical Director at DHR Health.
If you or a loved one are facing a medical emergency, please dial 9-1-1. DHR Health is also here to help you with your emergency medical needs. Our DHR Health Trauma Level I Center is open 24/7 and is located at the main campus at 5501 S. McColl, Edinburg, Texas, 78539.