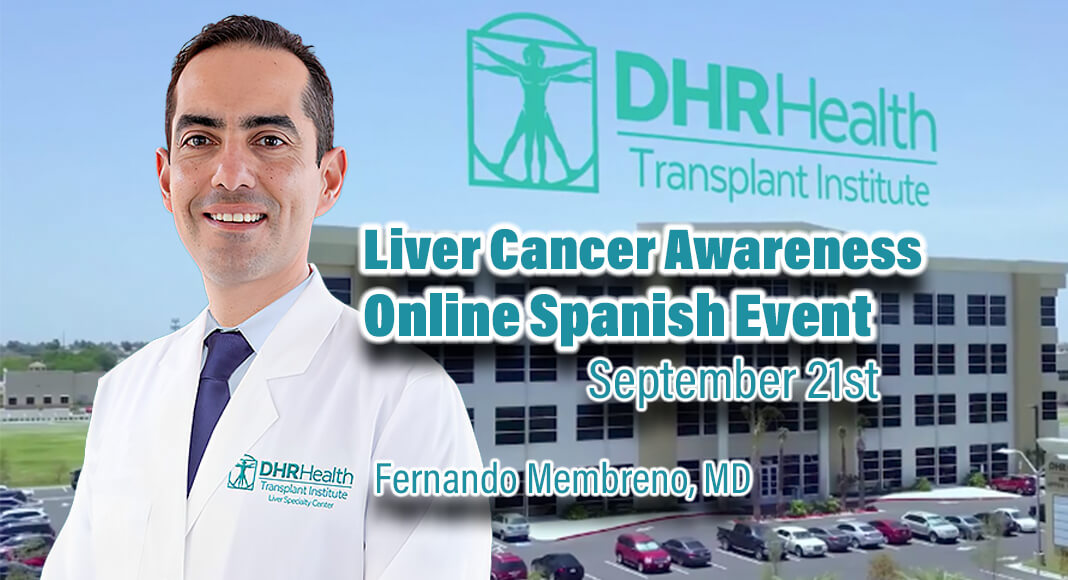 Mega Doctor News
- Advertisement -

DHR Health Transplant Institute, in partnership with Blue Faery: The Adrienne Wilson Liver Cancer Association (Blue Faery), a non-profit organization dedicated to raising awareness about liver cancer, will be hosting a virtual event to raise awareness about liver cancer disparities in the Hispanic American community. The presentation will be guided through the expertise of Dr. Fernando E. Membreño, a DHR Health physician who specializes in Liver Transplantation/Hepatobiliary services. Scheduled for September 21, 2023 at 7:00 p.m. (central time), this free online presentation will be conducted in Spanish. Register online to receive a presentation link at: loveyourliver.us/BF921P
"The Texas Rio Grande Valley has some of the highest rates of obesity, metabolic syndrome in the United States affecting predominantly the Hispanic population. This "Perfect Storm" has led the RGV to have one of the highest incidence rates of cirrhosis and advanced Liver Cancer in the nation. Many of these factors are modifiable and thereby the importance of creating awareness and educational programs targeting the Hispanic population," said Dr. Membreño.
Studies show that Hispanic Americans are affected by liver cancer at 2.5 times the rate of any other ethnic group. Hispanic Americans have one of the highest rates of hepatocellular carcinoma (HCC), the most common form of liver cancer. Conditions like type 2 diabetes and fatty liver disease are linked to an increased risk of liver cancer.
The presentation is part of Blue Faery's "The Live: Love Your Liver Campaign," which is held in September to help recognize Hispanic Heritage Month. Apart from the Rio Grande Valley, a similar series of online presentations will also be held in Los Angeles and Miami.
If you have questions about liver cancer or want to find out more, we encourage you to register for this free, community online presentation. Once again, register online to receive a presentation link at: loveyourliver.us/BF921P
The presentation will be held on September 21, 2023 at 7:00 p.m. (central time) in Spanish.