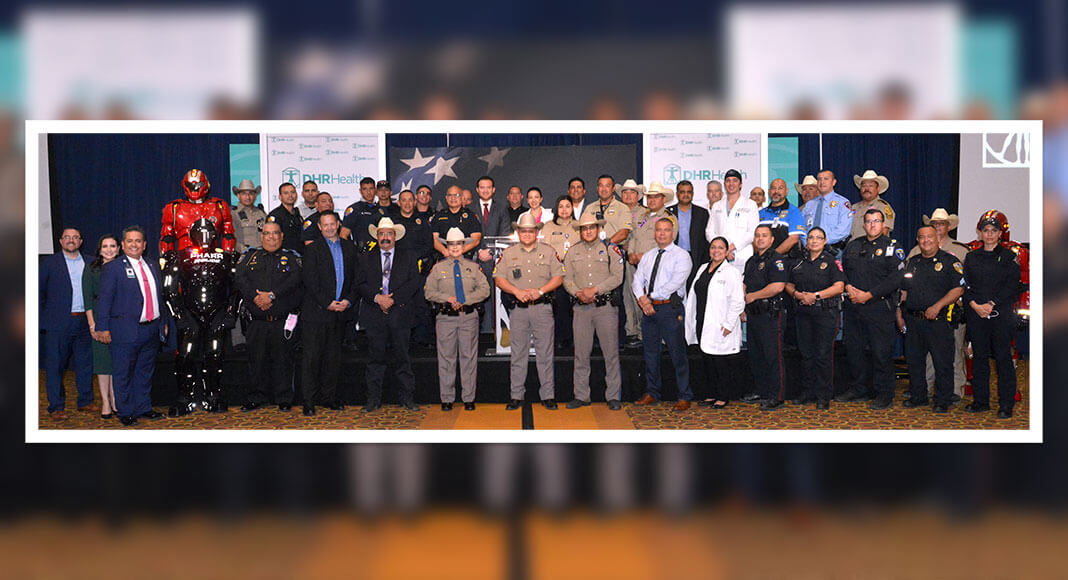 Mega Doctor News
- Advertisement -

Edinburg, TX – DHR Health is now a FirstNet® subscriber, bringing their Level 1 Trauma Center to the forefront of public safety communications.
FirstNet is the only, nationwide, high-speed broadband communications platform dedicated to and purpose-built for first responders and the extended public safety community. It provides innovative capabilities to strengthen first responders' incident response and will help DHR Health's Level 1 Trauma Center team to connect to critical information they need for daily emergencies.
"When seconds count, communication between all first responders involved in an emergency situation is paramount, and it is DHR Health's mission to provide all the tools available to a patient in regards to their health," said DHR Health Trauma Medical Director, Dr. Jeffrey Skubic.
"As the designated hospital in the region providing the highest level of trauma care, expanding our communications capabilities with FirstNet is a priority," said Dr. Manish Singh, CEO, DHR Health
DHR Health joins FirstNet as an extended primary user – organizations and agencies that could be called on to help support public safety in day-to-day operations and during emergency response. From mitigation, remediation, clean-up and restoration to the provisioning of other services required during the time of an emergency or its aftermath, extended primary users include healthcare, public works, essential government services, school security, transportation, utilities, and many others that operate in support of primary public safety entities. Eligibility for extended primary user status is rigorously reviewed before service is approved to help ensure that FirstNet's unique capabilities remain dedicated to first responders and those who support them.
Doctors, nurses and other DHR Health personnel will have always-on priority to provide reliable access to the connection we need – even when the network is congested.
"We're honored that DHR Health chose FirstNet to elevate their communications capabilities now that they're a Level 1 Trauma Center," said Leslie Ward, president, AT&T Texas.
- Advertisement -

"It's our mission to give first responders the cutting-edge tools they need to safely and effectively achieve their mission. FirstNet will help DHR Health personnel perform at the highest levels giving them the connectivity, priority and information they need."
FirstNet was born out of the 9/11 Commission recommendations to enhance communications across the entire public safety community nationwide including 9-1-1 operators, law enforcement, EMS personnel, firefighters, and emergency managers.
"FirstNet has been essential to our community's public safety for years," said J.E. "Eddie" Guerra, Hidalgo County Sheriff and Chairman of the Border Security Committee Major County Sheriffs of America. "We turned to FirstNet for its reliable coverage, dedicated network and flexibility in providing solutions for our department and our community. DHR Health's recent adoption of FirstNet will help our organizations stay in communication during emergencies and provide to-the-minute updates on incoming patients and incidents. This will be critical to assisting all people who live and visit the Rio Grande Valley."
"Our ability to communicate internally and with other agencies throughout the state is crucial to our public safety response," said Lieutenant Christopher Olivarez, Department of Public Safety South Texas Region. "FirstNet's purpose-built network allows us to be prepared for any emergency that faces our region—from day-to-day crises to large disasters. Now, with DHR also using FirstNet, Rio Grande Valley's public safety agencies will further be able to help our communities when they need us, wherever they need us."
"When it comes to communications among first responders, rapid access to information can be a lifesaver," said Thomas Randall, Texas Public Safety Advisor for the First Responder Network Authority. "Patients of DHR Health can rest assured knowing FirstNet's highly secure, interoperable, and innovative infrastructure is a 21st century tool designed exclusively with first responders needs and mission in mind – to save lives".
DHR Health joins more than 17,000 public safety agencies and organizations across the nation on FirstNet, which will provide the immediate access to information that could mean the difference in a trauma situation.
FirstNet and the FirstNet logo are registered trademarks of the First Responder Network Authority. All other marks are the property of their respective owners.