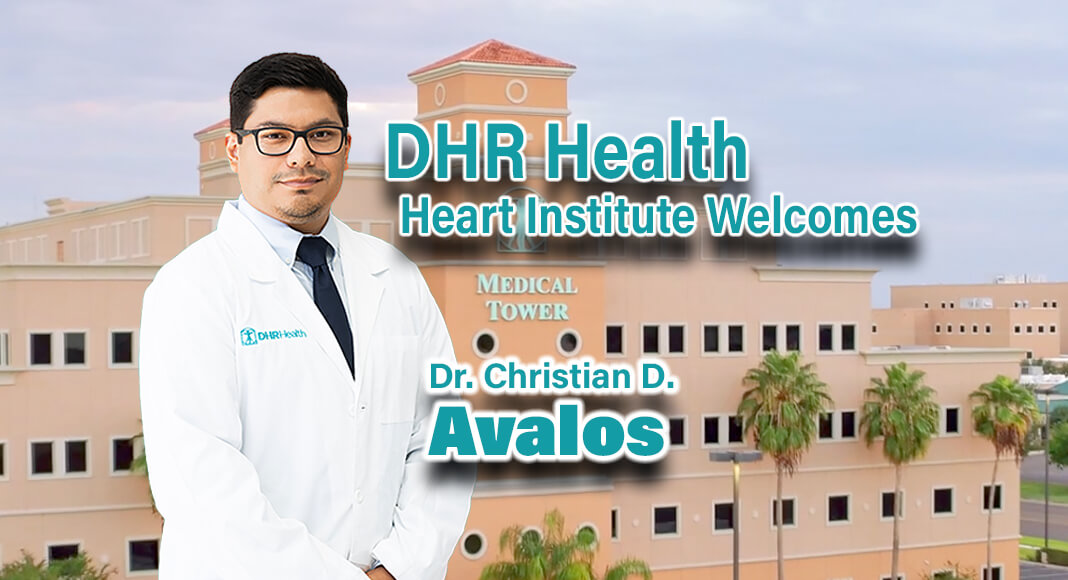 Mega Doctor News
- Advertisement -

DHR Health proudly welcomes Christian D. Avalos, MD to its team of cardiologists at the DHR Health Heart Institute. In his role as an Interventional Cardiologist, Dr. Avalos will specialize in the diagnosis and treatment of heart and blood vessel conditions using advanced catheter-based techniques and specialized imaging methods. His expertise extends to addressing coronary artery disease, heart valve disorders, and congenital heart ailments, as well as preventing heart disease and its associated complications, including heart failure.
"We are thrilled to welcome Dr. Avalos," said Dr. Manish Singh, DHR Health Chief Executive Officer. "His dedication to delivering top-tier cardiovascular care aligns perfectly with our mission, making him a valuable addition to our DHR Health Heart Institute."
Hailing from Houston, Dr. Avalos is nonetheless familiar with the Rio Grande Valley, having completed a majority of his medical training with the University of Texas at Rio Grande Valley through DHR Health. His educational journey includes three years of an internal medicine residency, where he was a member of the second class of residents. He then participated in the inaugural fellowship in cardiovascular disease, earning the title of "Chief Fellow." Driven by his passion for interventional cardiology, he pursed further specialization through a fellowship in interventional cardiology at McLaren Flint, affiliated with Michigan State University. Dr. Avalos earned his doctorate of medicine from St. George's University School of Medicine in the West Indies. More recently, he completed training in cardiac CT angiography at the Johns Hopkins University School of Medicine's Cardiac CT Practicum.
"I returned to the Rio Grande Valley to start my career as an interventional cardiologist amongst my mentors but also to provide care to a rapidly growing population of patients with a high risk of cardiovascular disease. I hope to become a healthcare advocate in the local community to encourage living a healthier lifestyle with an emphasis on disease prevention," said Dr. Avalos.
The DHR Health Heart Institute is the premier cardiology program in the Rio Grande Valley, providing a wide range of diagnostic and interventional procedures for the treatment of cardiac and peripheral vascular conditions. With the largest cardiology group south of San Antonio, and fifteen locations across the Rio Grande Valley, DHR Health strives to deliver convenient access to high quality care when needed most. DHR Health is proud to offer a Structural Heart, Valve, and Endovascular Disease Program that provides innovative, multi-specialty care for patients with advanced heart disease.
Dr. Avalos is accepting new patients at DHR Health's Heart Institute in Edinburg at his office located at 5513 Doctors Drive. He will also be seeing new patients in Weslaco at 505 Angelita Drive. To schedule an appointment, please call (956) 362-8340. DHR Health accepts all medical insurance plans.