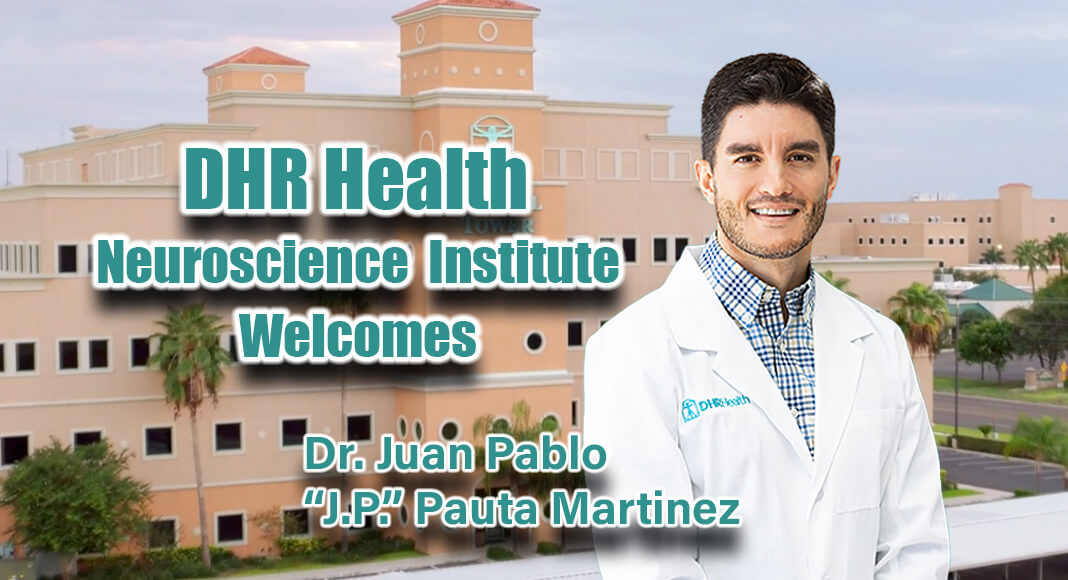 Mega Doctor News
EDINBURG, Texas – DHR Health proudly welcomes Juan Pablo "J.P." Pauta Martinez, MD to its esteemed group of physicians at the DHR Health Neuroscience Institute.
As a Neurointerventionalist, Dr. Pauta Martinez has completed rigorous training for the treatment of blood vessel disorders in the brain, spine, head, and neck. Using catheters and image-guided techniques, NIR procedures are performed through blood vessels rather than through open surgery.
"It's an honor to welcome Dr. Pauta Martinez to DHR Health," said Marissa Castañeda, Senior Executive Vice-President of DHR Health. "Dr. Pauta Martinez puts his patients first. Like his colleagues at the DHR Health Neurology Institute, he is dedicated to providing the best care."
Originally from Ecuador, Dr. Pauta Martinez is fluent in English and in Spanish. He received his doctorate of medicine from the Universidad de Cuenca located in Cuenca, Ecuador. He completed residency and two fellowships: residency in neurology at Virginia Commonwealth University in Richmond, Virginia; a fellowship in vascular neurology at Barrow Neurological Institute in Phoenix, Arizona; and the most recent fellowship in Neurointerventionalist Radiology at the University of Washington in Seattle, Washington. Dr. Pauta Martinez also holds several board certifications and licensures and is a member of the American Academy of Neurology, the Society of Vascular and Interventional Neurology, the Society of Neurointerventional Surgery, and the American Heart Association/American Stroke Association.
"I am proud to join this community and the DHR family. I look forward to providing care to patients of the Rio Grande Valley with strokes, aneurysms, vascular malformations and many other neurological problems. Using less invasive procedures we are able to provide life-saving care with added benefits and shorter recovery times," said Dr. Pauta Martinez.
The multidisciplinary team of physicians at the DHR Health Neuroscience Institute is nationally recognized for providing expert care for the evaluation and treatment of the most complex and challenging brain and nervous system disorders. As the first Joint Commission Certified Comprehensive Stroke Center in the region and Level I Comprehensive Stroke Center, the DHR Health Neuroscience Institute is the leading neuroscience group and the premiere center for minimally invasive neurosurgery and neuro-endoscopy.
Dr. Pauta Martinez' office is currently located at the DHR Health main location in Edinburg. To schedule an appointment, or for more information, please call (956) 362-8500. DHR Health accepts all medical insurance plans.