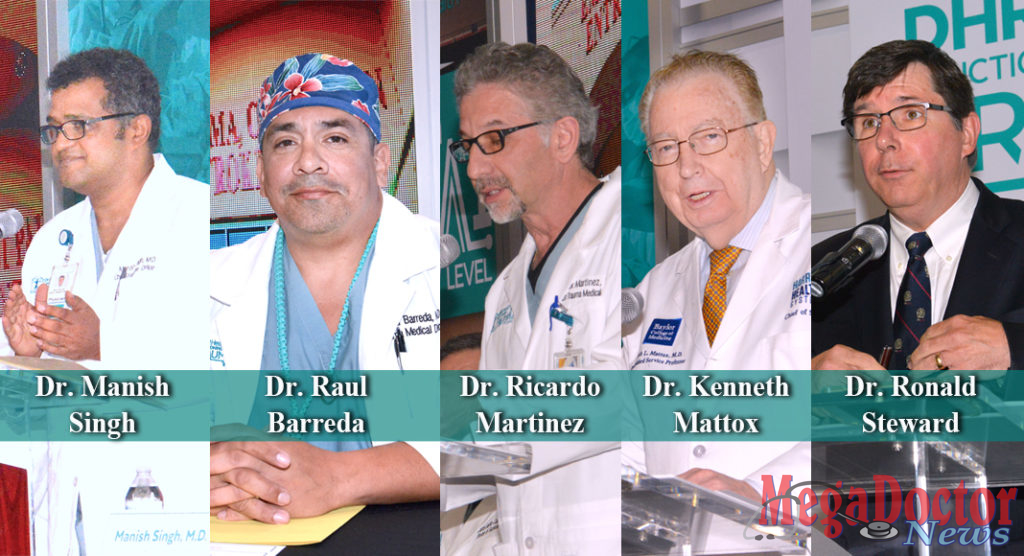 By Roberto Hugo Gonzalez
As originally published in Mega Doctor News newsprint edition May 2019
It was Marissa Castañeda, Senior VP at DHR Health who initiated the ceremony in preparation to make the one-of-a-kind announcement that took place this month. She said, "On behalf of DHR Health, our physicians, our staff, our partners, we are so honored and excited to have you join us this morning. DHR Health is embarking on a huge milestone, and it is our greatest privilege to share this news with you."
She introduced DHR Health's chief executive officer, Dr. Manish Singh. He said, "For countless years, thousands of patients had to be transferred out of the Rio Grande Valley, if they were involved in major trauma, to receive potentially life-saving care."
He also said that patients that had to be transferred over 230 miles to either San Antonio or over 340 miles away to Houston, will no longer have to take the long journey. "This is time lost when it comes to saving your family members or friends. This is why DHR Health is happy to announce that we are now functioning as a Level 1 Trauma Center," stated Dr. Singh. Functioning as a Level 1 Trauma Center means that DHR Health offers 24-hour in-house coverage by trauma surgeons from the availability of care in specialties like orthopedics, neurosurgery, emergency medicine, radiology, internal medicine, and critical care.
Dr. Singh said, "It acts as a referral source for the communities in the surrounding regions, provides leadership, prevention, and public education for the local communities. It offers continued medical education for the members of the trauma team. It operates as an organized teaching and research effort to help direct new innovations in trauma care."
"It incorporates comprehensive quality assessment programs, and also a Level 1 Trauma Center that participates in region-wide disaster planning and health, which has brought together a team of specialized surgeons, physicians, nurses, as well as an additional space that expands trauma services," he said.
It was also announced that DHR Health has made it their commitment to continually increase access to medical services and specialties available in this region. Currently, DHR Health is one of the busiest trauma centers in the area.
Dr. Singh said that DHR Health's vision for the Level 1 Trauma Center is one that is shared by the community. And students who have made it their mission to enter the healthcare field can now experience firsthand what it is like to care for patients in this setting.
The opportunity to work in a setting like this, as Dr. Singh mentioned "is priceless." UTRGV medical students and residents will receive training from distinguished surgeons on the most complex of trauma cases. He hopes this opportunity will be an enticement for students to remain here in their medical practice.
According to Dr. Singh, community leaders from across the state have expressed their support for the need of a Level 1 Trauma Center. "Over 25% of Texans live in a county that is not accessible to a Level 1 Trauma Center, but this will no longer be the case for South Texas," Dr. Singh emphasized.
This past, May 1, 2019, was the special day that DHR Health chose to share the news; the Level 1 Trauma Center is indeed a service that goes over the top. Hidalgo County has grown in population, and the specialized services for emergency matters were needed.
Dr. Ricardo Martinez, the Assistant Trauma Medical Director, said, "Today is truly a historic day for the Rio Grande Valley. We are now functioning as a Level 1 Trauma Center." He added, "We, at DHR Health worked diligently towards this goal."
Dr. Martinez corroborated what had been said, "The accomplishment was the hard work of a team. We also had support from different leaders across the state, and today, we have two trauma surgeons that are well-known and respected throughout the world in trauma surgery."
To that effect, he announced the presence of Dr. Ken Mattox and Dr. Ronnie Steward. According to Dr. Martinez, their appearance during the announcement was in support of DHR Health's endeavor in trauma, education, and research.
Dr. Mattox said, "I absolutely would not miss this meeting today. What an exciting time! What a convenient time! What an ideal time to provide in South Texas what has been provided in many other places around the country. To include not only top-quality care but also disaster supervision and management, rack supervision and management, as well as preventive strategies, education to residents, nurses, paramedics, education to the community, prevention for people who drive under the influence, and many other such programs."
He continued, "You now are visionary; you now are bringing to this area of what Dr. Steward and I have been working probably as far back as the early 1960s. Both, he and I are chairman of our racks, and we felt it necessary to take a leadership role in providing an integrated approach, a network approach, to the care of disasters. The development of a Level 1 Trauma Program is a force multiplier. More than any other single factor in hospital management, the trauma center is that force that helps in everything else that the hospital is doing."
"I congratulate you in your vision at all levels, the political, the paramedic, the law enforcement, and the hospital level. But the big benefactor is the patient, your child, your relative, you. That time will come, and you'll be pleased that you have that in place. Again, congratulations," he said.
Dr. Ronald Steward was also invited to say a few words. "It's an honor and a privilege to be here. I do think this is a great occasion in an opportune time, and it's critical for patients; moving to a Level 1 Trauma Center will improve outcomes and set the stage for future leadership of trauma care in the Rio Grande Valley." He continued, "It's an honor to be involved in even a small part with the Academic Medical Center, with the partnership with Doctor's Hospital of Renaissance and UTRGV. It's an honor to be here." Dr. Steward pointed out that making the commitment to go to a Level 1 Trauma Center, is critical to building capacity in the Rio Grande Valley.
Dr. Raul Barreda, the Trauma Medical Director, said that Level 1 Trauma Centers have three critical elements in medicine. "The clinical portion, which is a trauma team and the specialty surgeons involved; the academic education portion of Level 1 Trauma Centers, which are our future surgeons, our future trauma surgeons, and our future staff that we're training to staff other trauma centers."
He asked the audience to look to the left corner of the venue and pointed to a group of medical students and residents. "They are our future surgeons. Stand up," he instructed the students. "Those are our surgeons being trained to take care of us."
Dr. Barreda continued, "All of these physicians here made the initiative that we want to be a Level 1 Trauma Center. The majority of these surgeons here made the initiative that we want a general surgery residency here… These were not things that were dictated down to us from the corporate level or from the administration; it's the opposite at Doctors Hospital at Renaissance because it's doctors-owned. This is what the community needs, this meets the best requirements for the area, and the administration backed us. They supported us and they found a way to make it happen," Dr. Barreda finalized.