Dr. Ameer Hassan had breaking news of a procedure that has probably never been done before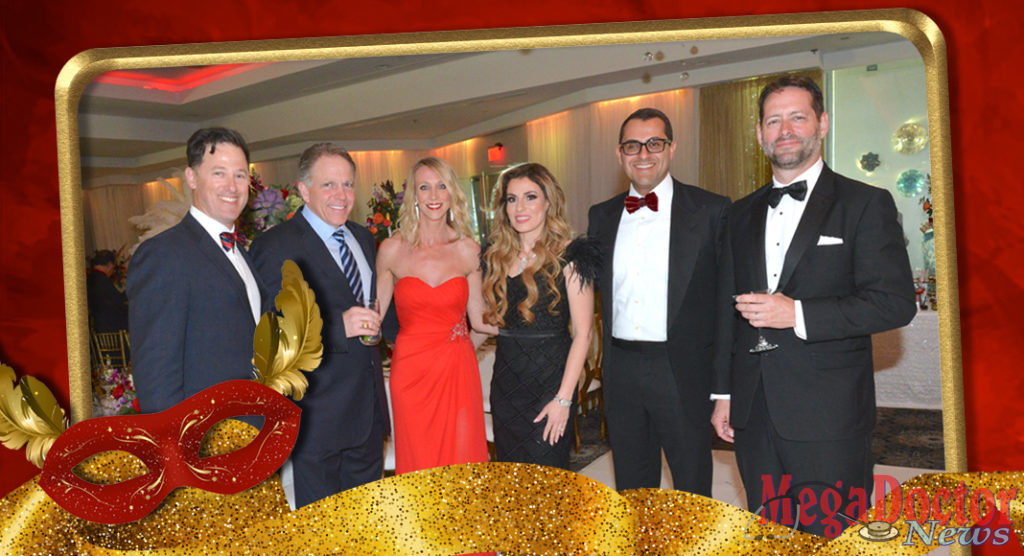 By Roberto Hugo Gonzalez
As originally published in Mega Doctor News newsprint edition May 2019
Click here to see more pictures at Social Confidential
Dr. Ameer Hassan and his wife, Summer, went all out in preparing for the celebration of the Annual Red Ball to benefit stroke education and research in the Valley. This year, the event reached its fifth year and again culminated in a successful event at the elegant Venezzia in Brownsville.
Dr. Hassan took the opportunity and said, "Thank you very much for attending our 5th Annual Red Ball. Thank you for your generous support for the stroke research and education program." He continued, "We created this organization years ago to help raise funds to educate about stroke throughout the Rio Grande Valley using multiple mediums. It's been a pretty fun journey, and I thank Valley Baptist Medical Center-Harlingen for the support, as well to all of our wonderful sponsors." He added, "Also, a special thank you to my rock, my lovely wife, Summer."
Dr. Hassan emphasized that all the funds raised through this effort stay in the Rio Grande Valley. And this is the 7th year since the start of the stroke program in Harlingen, Texas.
"We continue to successfully recertify as the only comprehensive stroke center in the lower Valley. We are still… the first comprehensive stroke center in the Valley."He said, "I could guarantee if you or any of your family members have a stroke; if you want to be treated like family, you're going to come to Valley Baptist in Harlingen."
Dr. Hassan's efforts from the beginning were to be able to bring real solutions to the big problem of stroke. Today he can say, "We have a lot of data, and we continue to present research at the International Stroke Conferences." He continued, "For us, that is the biggest source of research in the world. Physicians and researchers from China, Japan, and all over the world attend the international conferences to learn and to share about strokes."
"We go every year and present, and this year, we had many posters showing about the improvement in the quality and the improvement in outcomes in the Rio Grande Valley." He said they are improving the outcomes of survivors and leading in breaking records in improvement of stroke outcomes.
He took the opportunity to inform that historically 57% of the patients who had suffered a stroke died in the Valley. Now it's down at 26% in just six years.
"So, this is incredible. Hats off to you because you're all part of this." He said, "We continue to do our research. Currently we have nine trials in the pipeline, and that is unprecedented for this area."
The evening brought very distinguished and elegantly dressed guests who also gave to make the Fifth Annual Stroke Gala a success.
Manny Vela, CEO of Valley Baptist Medical Center-Harlingen and Valley Baptist Health System said a few words during this very formal and entertaining gathering.
"I want to thank Ameer Hassan and the entire planning team. About 5 years ago, you brought us this idea about wanting to establish a yearly ball to raise funds, to help educate, to help communicate with our community regarding stroke in the Rio Grande Valley. All of you have done a phenomenal job, Ameer and the entire planning team," Vela said.
Breaking News at the Red Ball Gala
Dr. Hassan said, "This year we did an interesting case. We pulled a shotgun pellet out of someone's vascular artery. It's unheard of; it's actually never been published. We're writing it up as we speak. So, we were able to take a catheter to this shotgun pellet that made its way up a patient's neck to inside his brain, and we pulled it out. We have pictures and video. Three days later, and the patient is moving."
As his time at the podium was about to come to an end, Dr. Hassan said, "I wanted to say thank you to Dr. Wondwossen G. Tekle for being the best partner anyone could ask for. He's right there. Congratulations on having your 3rd child and our future 5th partner. So, it's a running joke in our family, all of our kids, want to beat us when they join the group. So, my daughter, Amira, is in the running now for being the boss," he finalized.