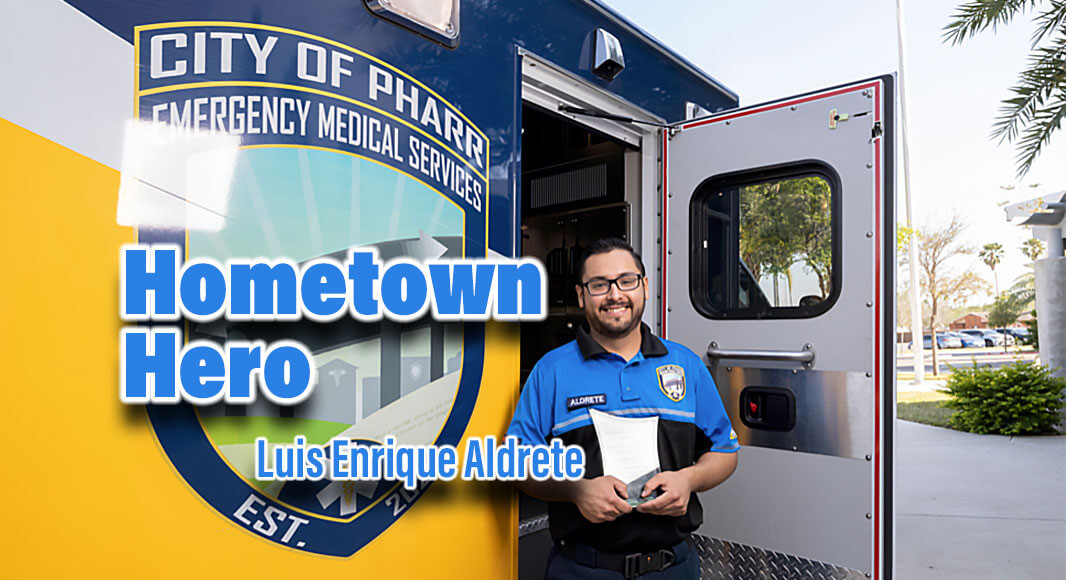 Mega Doctor News
- Advertisement -

In the event of a stroke, minutes matter. The typical patient loses approximately 1.9 million brain cells each minute in which stroke is untreated, according to the Centers for Disease Control and Prevention. Prehospital identification of stroke is a crucial step in ensuring rapid and appropriate medical treatment.
With that in mind, the medical staff at South Texas Health System McAllen's Comprehensive Stroke Center work closely with local paramedics to provide in-the-field assistance with stroke-related cases while mobilizing the hospital's stroke team to ensure rapid triage, evaluation and treatment. The goal: to provide swift life- and brain-saving care to stroke victims, including intravenous medications within the "golden hour," the window during which treatments are most likely to help patients survive and avoid debilitating, long-term neurological damage.
On Wednesday, March 8, South Texas Health System recognized Luis Enrique Aldrete, who serves as a licensed paramedic with City of Pharr Emergency Medical Services (EMS), with its Hometown Heroes award for taking immediate action to save a stroke patient's life last New Year's Eve.
Responding to a 9-1-1 call on Sunday, December 31, 2022, Aldrete and his EMS team arrived to find an elderly man experiencing stroke symptoms. He and his crew worked quickly to provide treatment and were able to transport the individual to STHS McAllen's Comprehensive Stroke Center within an hour of the onset of symptoms. Following surgery for a middle cerebral artery occlusion and post-surgery care, the patient was moved to the hospital's inpatient rehabilitation unit in early January, for physical, occupational and speech therapy. The patient was ultimately discharged a few weeks later after meeting all goals set by STHS McAllen's rehabilitation team.
"It's a simple fact: immediate treatment can help minimize the long-term effects of stroke. This case is a prime example of that. Because of the quick response of paramedic Luis Aldrete and his crew at City of Pharr EMS, the patient arrived at STHS McAllen in a timely manner to receive the best comprehensive stroke care," says Alejandra Ayala, Interim Director of the South Texas Health System Neurosciences & Stroke Institute. "As a Level I Comprehensive Stroke Center, our goal is to provide the highest level of stroke care in the region, and our partnerships with local emergency medical services providers is vital to doing that. Kudos to Luis and his team for their swift action." 
Aldrete, who became a licensed paramedic three years ago and has worked in emergency medical services for eight years, is humbled by the recognition, especially since he responds to numerous 9-1-1 calls a day.
"I'm proud to be honored for one of the many calls I've responded to over the years, but it's all part of the job. It's all about time and getting them to the hospital as quickly as possible, so we do what we must do onsite and enroute to the hospital to get them stabilized and ready for the ER nurses and physicians," says Aldrete. "I've always wanted to work in healthcare. Helping people has always been my passion and that's what I'm good at, and that's why I do this."
- Advertisement -

Aldrete is the latest Rio Grande Valley first responder to receive South Texas Health System's Hometown Heroes award. For his life-saving efforts, he received a plaque during the surprise ceremony that was held in front of his City of Pharr EMS colleagues and South Texas Health System representatives.
"Our important work doesn't get recognized as much as it should, so we're humbled that South Texas Health System is recognizing individuals like Luis, who are committed to helping people in their time of need," says Aldrete's supervisor, Ben Martinez, the assistant chief with City of Pharr EMS. "In any emergency, time is of the essence; and EMS providers are an integral part of the chain of medical care, providing urgent pre-hospital treatment and stabilization. Thank you, South Texas Health System, for recognizing our important work, and that of all EME providers, through its Hometown Heroes award."