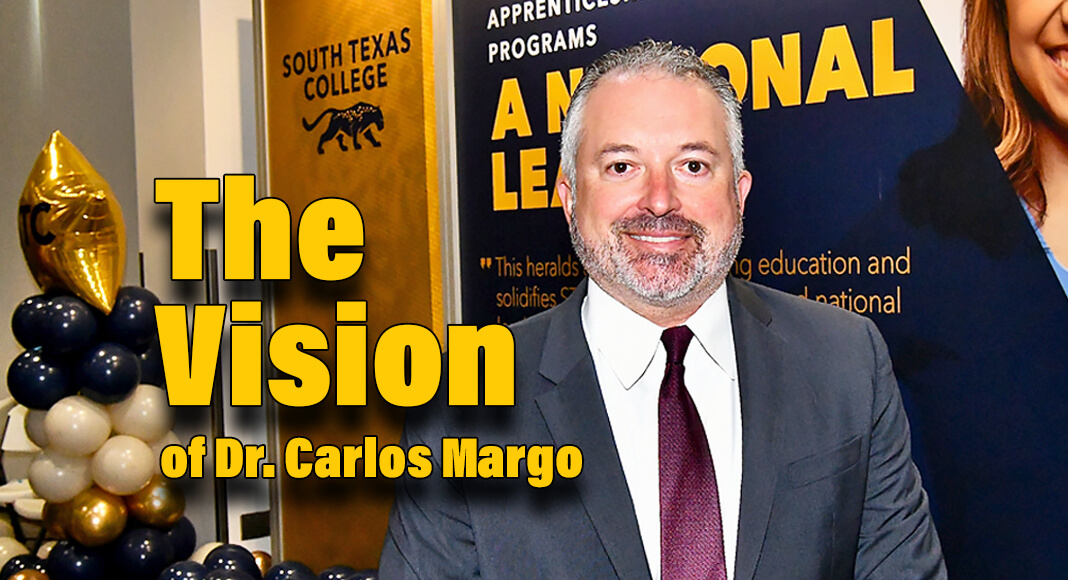 Mega Doctor News
By Roberto Hugo González
Desi Holmes, the Texas Workforce Commission Director of Apprenticeship, noted that South Texas College's proactive and creative approach to education made it a great partner. She singled out several individuals for their exceptional dedication: Dr. Jayson T. Valerio and Dr. Carlos L. Margo. Both worked tirelessly on the paperwork required for the Registered Nurse Apprenticeship Program, ensuring that South Texas College was acknowledged as the first in the nation to register.
The landscape of modern education is continually evolving, with fresh approaches to workforce development emerging frequently. In this context, apprenticeship programs hold a vital place. Dr. Margo, the dean of Industry Training and Economic Development under the Division of Institutional Advancement Economic Development at South Texas College, has been a significant proponent of these programs. The following article will shed light on his perspective and contributions to promoting apprenticeships and collaboration with various partners, including Dr. Jayson T. Valerio.
Dr. Margo believes in the essence of learning on the job while taking classes, viewing this hands-on approach as the cornerstone of apprenticeship programs. This method helps to prepare incoming workers, unemployed individuals, and anyone requiring upskilling or credentials. His focus on practical learning emphasizes its vital role in workforce development and economic growth.
Dr. Margo described the workings of the apprenticeship program at South Texas College in relation to Registered Nurse Apprenticeship Program, which stands as a towering achievement in health career apprenticeships and represents a significant step in the college's continuous quest for brilliance and creativity in healthcare education. The initiative elevates the college's status and emphasizes the vital importance of strategic collaborations in cultivating groundbreaking educational approaches. Truly, this marks an exhilarating period for South Texas College, DHR Health, and the evolving world of healthcare education.
In trailblazing the nation's inaugural Registered Nurse Apprenticeship Program, South Texas College's novel method to address the nursing scarcity is noteworthy. This apprenticeship program, by alleviating the financial challenges frequently encountered by nursing students, lays down an innovative framework that has the potential to transform the country's nursing education landscape.
Nursing students commonly need help pausing their work due to the strenuous nature of their coursework. This standard is challenged by South Texas College's apprenticeship program, which allows students to earn a minimum wage of $14 per hour while they pursue their studies. This practical experience, acquired with prestigious local healthcare institutions like Doctors Hospital at Renaissance (DHR), provides an unparalleled edge. Additionally, providing financial support for tuition and associated costs further eases the financial strain on the students and their families.
- Advertisement -

Under Dr. Margo's guidance, apprenticeship programs began in 2005, with the first program in advanced manufacturing. In 2016, South Texas College became an apprenticeship sponsor, allowing the development of various programs supported by employers like this time DHR Health.
Dr. Margo played a crucial role in obtaining over $2 million to expand programs into non-traditional areas such as hospitality, professional grooming, veterinary technicians, and registered nursing. Collaborating with grants and organizations, this expansion adds new dimensions to the training landscape.
Dr. Margo appreciates the integration of structured work processes with classroom learning. He commends the rigid and systematic approach needed for apprenticeship, emphasizing its efficiency and relevance.
Dr. Margo's leadership style includes expressing gratitude to partners like DHR Health, Dr. John King, and Dr. Valerio for their vital roles in the program. This acknowledgment of their contributions, from obtaining signatures to providing content, highlights the importance of teamwork in advancing the program.
Future Outlook for Apprenticeships at South Texas College
With a focus on innovation, risk-taking, and industry collaboration, Dr. Margo foresees a bright future for apprenticeship programs. He emphasizes the necessity of anticipating industry trends and fulfilling demand not only for the present but for the future as well.
Dr. Margo's comprehensive speech, shared above, reflects the apprenticeship programs' journey and potential impact. The themes that emerge include Emphasis on Hands-on Learning: This practical approach is crucial for empowering new industries. Collaborative Effort: Collaboration between various entities, such as educational institutions and health providers, contributes to the success of the program.
Adaptation and Growth: The program's evolution since its inception in 2005 demonstrates its flexibility and responsiveness to changing needs.
Regional Impact: Initiatives like the first certified robotics testing sites in South Texas reveal a broader economic development strategy, including attracting new industries.
Dr. Margo's visionary leadership has shaped apprenticeship programs and fostered a culture of collaboration, innovation, and forward-thinking at South Texas College. By emphasizing hands-on learning, teamwork, and shared success, he has carved a path that promises to equip the workforce with the necessary skills and adapt to the continually changing demands of the modern world. His vision, aligned with committed partners, ensures that the future of apprenticeships at South Texas College remains bright and full of potential.
See Related Story: