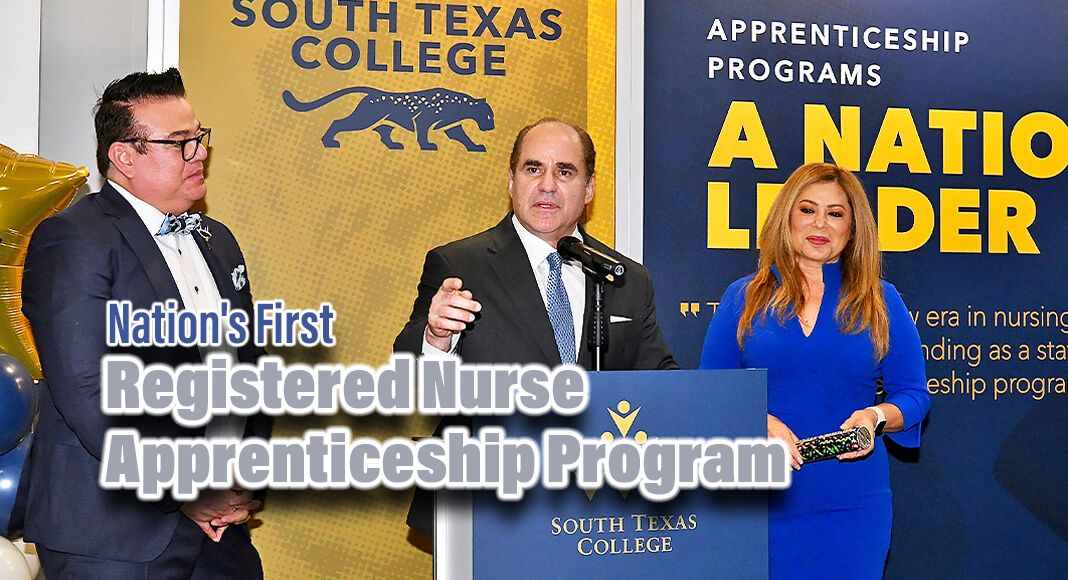 Mega Doctor News
- Advertisement -

By Roberto Hugo González
In an era characterized by innovations and breakthroughs, South Texas College steps into the spotlight, pioneering a revolutionary nursing program that will drastically change the trajectory of healthcare education in Texas and the nation. The U.S. Department of Labor Office of Apprenticeships recently gave South Texas College the green light to initiate its Registered Nurse Apprenticeship Program. This groundbreaking program stands out as the first to gain nationwide approval.
The Registered Nurse Apprenticeship Program takes a dual approach to education and employment, combining academic pursuits with practical training. Students pursuing an associate degree in nursing will have the opportunity to receive paid training in local hospitals, enabling them to apply their theoretical knowledge in a real-world setting, all while completing their degree. This innovative program addresses the national nursing shortage by fostering a new generation of highly qualified, work-ready nurses.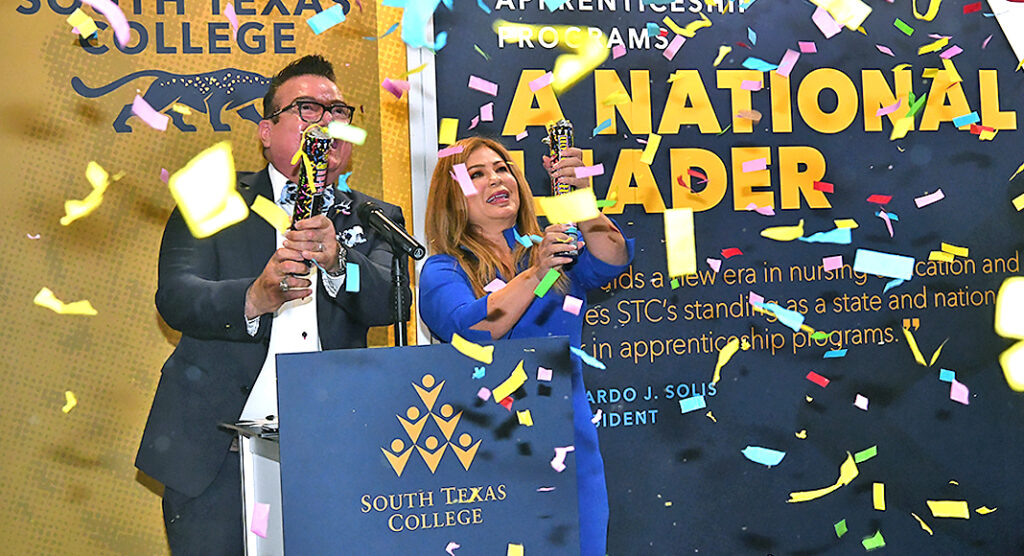 Ricardo Solis, President of South Texas College, announced this historic milestone at a South Texas College Nursing and Allied Health campus ceremony. Addressing a crowd of attendees, Solis acknowledged the support he has received from the college and the board of trustees. The board's members, including Chair Rose Benavidez, Vice Chair Dr. Alejo Salinas, Jr., Secretary Victoria Cantú, Member Paul R. Rodriguez, and Dalinda Gonzalez-Alcantar, have all played instrumental roles in the realization of this apprenticeship program.
South Texas College has a long-standing reputation for being at the cutting edge of programs. Its dynamic economic and educational programming approach has significantly contributed to the region's economic competitiveness. As a forerunner in healthcare programs, South Texas College takes pride in being the largest producer of Licensed Vocational Nurses (LVNs) to Registered Nurses (RNs) in the entire state of Texas. This accomplishment not only adds to the college's prestigious standing but also makes a significant contribution to the health needs of the Rio Grande Valley. As stated by Solis, the goal is to establish South Texas College as the leading health provider, the "nursing capital" of Texas.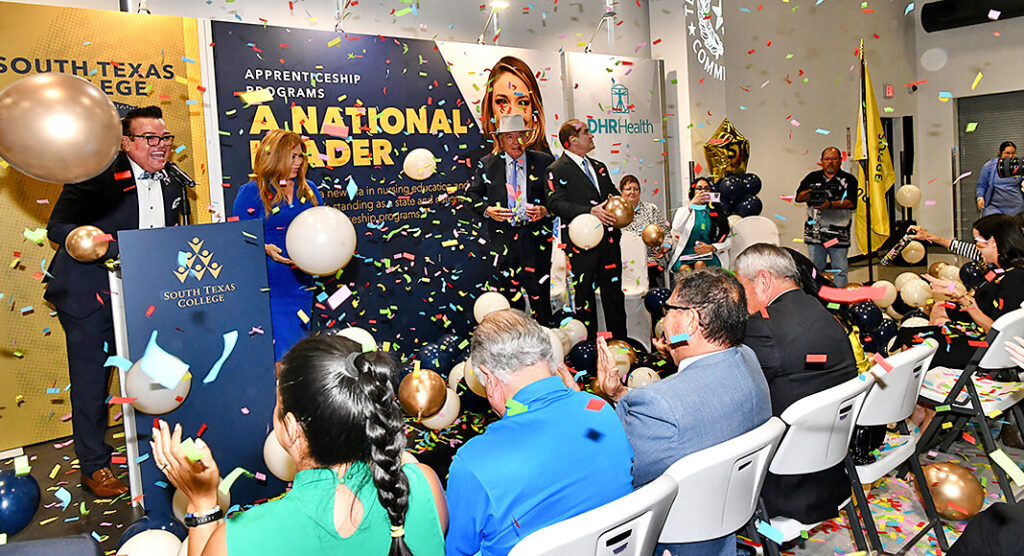 The approval of the apprenticeship program is a testament to South Texas College's commitment to providing innovative solutions in response to regional needs. It is no wonder that both the state and federal governments, through a lengthy process, selected South Texas College to spearhead this apprenticeship program. A key factor in making this possible was the unwavering support of DHR Health, a remarkable partner that believed in the college's vision.
DHR Health backed the college throughout the demanding and complex application process. Despite the daunting task and the fact that no other college or university in Texas and across the nation had achieved this feat, DHR Health and South Texas College remained resolute. The designation of the nurse apprenticeship program elicited a wave of excitement and emotion as it marks a new chapter in nursing and healthcare education.
- Advertisement -

The Registered Nurse Apprenticeship Program, being the pinnacle of health career apprenticeships, is a significant stride in South Texas College's ongoing pursuit of excellence and innovation in healthcare education. This monumental achievement raises the college's status and underscores the crucial role of strategic partnerships in fostering innovative educational initiatives. Indeed, this is an exciting phase for South Texas College, DHR Health, and the future of healthcare education.
As South Texas College makes a remarkable stride in pioneering the nation's first Registered Nurse Apprenticeship Program, its unique approach to combating the nursing shortage is worthy of attention. By addressing the financial hurdles often faced by nursing students, this apprenticeship program offers a revolutionary blueprint that may reshape the landscape of nursing education in the nation.
Typically, nursing students face the tough decision of halting their employment due to the rigorous demands of their studies. However, the apprenticeship program at South Texas College challenges this norm. Students will receive a minimum wage of $14 per hour for their training, all while completing their academic pursuits. This hands-on experience, gained in partnership with renowned local hospitals such as Doctors Hospital at Renaissance (DHR), offers an invaluable advantage. Moreover, financial assistance for tuition and other program-related expenses further lightens the economic burden on students and their families.
This trailblazing initiative received commendations from several influential figures. Alberto Treviño, III, Texas Workforce Commissioner, conveyed his support and appreciation via video. He underscored how the apprenticeship program would address the industry needs in Texas and the Valley, fast-tracking careers in healthcare. He also expressed gratitude to South Texas College, the Office of Apprenticeship with the US Department of Labor, and local hospitals for backing this transformative program.
Desi Holmes, the Texas Workforce Commission Director of Apprenticeship, echoed these sentiments. Despite considering herself the last on the agenda, she seized the opportunity to celebrate South Texas College's landmark achievement and the hard work that went into it. She noted that South Texas College's proactive and creative approach to education made it a great partner.
She singled out several individuals for their exceptional dedication: Dr. Jayson T. Valerio and Dr. Carlos L. Margo. Both worked tirelessly on the paperwork required for the Registered Nurse Apprenticeship Program, ensuring that South Texas College was acknowledged as the first in the nation to register.
This apprenticeship program has successfully challenged the conventional model of nursing education, providing an innovative alternative that concurrently supports students' economic needs and professional aspirations. As the nation's first such program, South Texas College sets a new standard for other institutions. The integration of academics, practical experience, and financial support signals a shift in how we approach healthcare education.
This phase solidifies South Texas College's position as an educational pioneer. Its commitment to revolutionizing nursing education and its ability to execute these innovative strategies distinguishes it as a leader in the field. The Registered Nurse Apprenticeship Program stands as a testament to the potential for innovation in education, hinting at a future where such programs may become the norm rather than the exception. As South Texas College continues to break new ground, the world watches in anticipation of what they will do next.