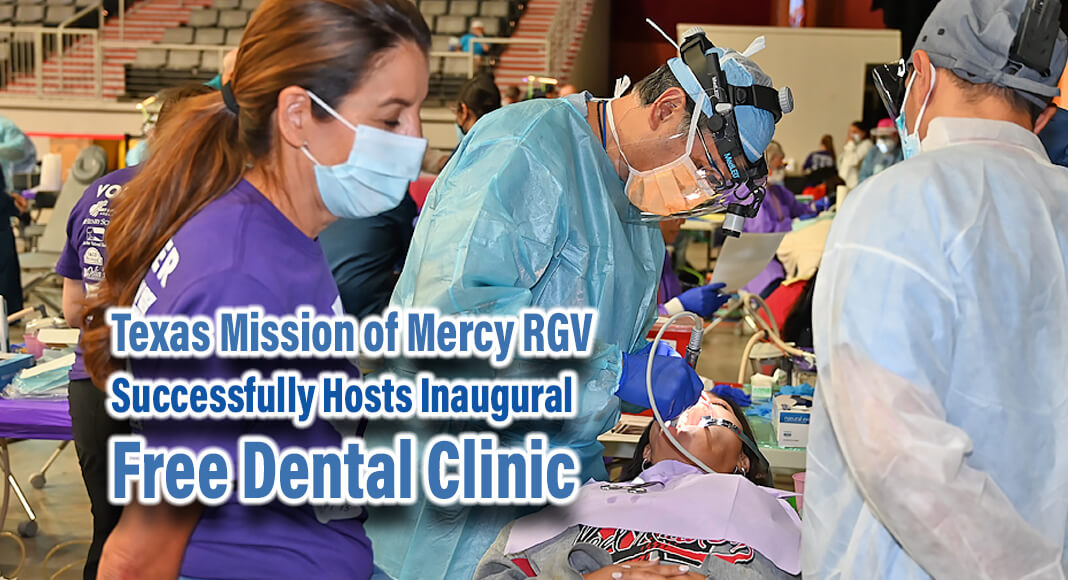 Mega Doctor News
- Advertisement -

By Roberto Hugo González
EDINBURG, Texas — The Texas Mission of Mercy Rio Grande Valley (TMOM-RGV) recently held a Free Dental Clinic at the Edinburg Bert Ogden Arena on September 15 and 16. The event was a big hit, with many volunteers and community members showing up to get free dental care. It was a great example of how people can help each other.
This noteworthy accomplishment was announced at a press conference on Saturday, September 16, 2023, at the Bert Ogden Arena. Dr. Carlos Cruz, a leading oral and maxillofacial surgeon, took the stage. Accompanying them were Richard F. Cortez, Hidalgo County Judge, and Jaime Longoria of the Hidalgo County Community Service Agency, who also lent significant support.
Dr. Douglas Bogan, the Chair of TMOM from the Texas Dental Association (TDA), and Dr. Barry J. Currey, acting chairman of the Texas Dental Association Smiles Foundation, expressed their gratitude for their remarkable community support.
Having dedicated his career to philanthropic medical pursuits, particularly in cleft palate repair, Dr. Cruz redirected his focus toward meeting the dental health needs of South Texas. "This event was more than a milestone; it was the realization of a mission I feel deeply committed to," Dr. Cruz said.
The seriousness of the dental health crisis in South Texas, an area with a population of about 870,000 and significant poverty rates, wasn't lost on the organizers. The event drew upon the collective strengths of community partners like Lone Star National Bank, DHR Health, and the Bert Ogden Arena.
The initiative boasted 44 dental chairs, more than its regular 40, and medical professionals started treating patients as early as 7:30 a.m. "The doctors are extremely busy, and it's extremely organized," noted Dr. Cruz. The aim is not just to provide immediate care but to create a fulfilling experience patients want to return for future events.
- Advertisement -

The event also served as a training ground for future healthcare professionals. Among the attendees were dental students in their last two years of school and 120 pre-dental students exploring dentistry careers. "Please meet them, and hopefully, you have the opportunity to talk to them," Dr. Cruz encouraged, emphasizing the educational aspect of this community service.
Not to be overlooked are the 451 volunteers, 86 dentists, and 14 hygienists who gave their time and skills to make this event a reality. Their efforts, combined with those of the community and sponsors, have resulted in an impactful event that serves immediate dental care needs and fosters a sense of unity and collective purpose in Hidalgo County.
Hidalgo County Judge Richard F. Cortez highlighted the event's success: "This initiative reflects what makes a community truly great—how we care for each other. Through meticulous planning and collective effort, we've substantially impacted our area, where 31% of residents are on government assistance, and many lack adequate healthcare."
A range of dental services were provided during the two-day event, including free dental cleanings, fillings, and extractions. Pre-screening sessions were successfully carried out at Nuestra Clinica del Valle on September 9, ensuring a smooth operation during the main event.
It is essential to acknowledge the financial backing of the Hidalgo County Community Service Agency, which contributed $65,000 from Community Service Block Grant funds for administrative and logistical support, enabling this event to offer its invaluable services.
As TMOM-RGV relishes the success of its inaugural event, it has already ignited discussions about future initiatives. The message resonating throughout Edinburg and beyond is loud and clear: through unity, dedication, and collective action, communities can not only tackle immediate needs but also lay the groundwork for long-lasting improvement in public health.