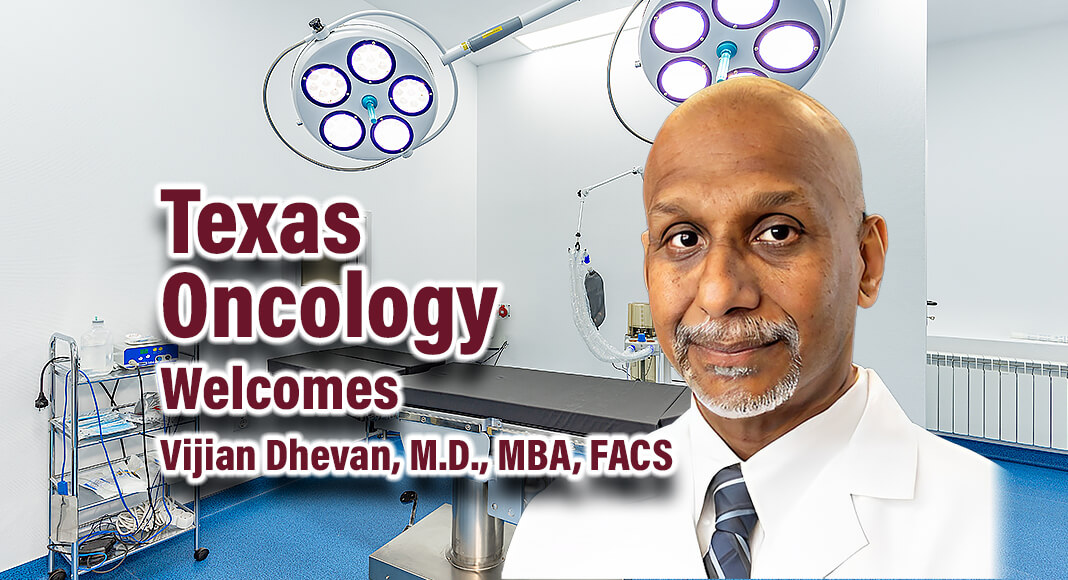 Mega Doctor News
HARLINGEN, Texas – Texas Oncology, one of the largest community-based oncology practices in the U.S., announced today the expansion of its services in the Rio Grande Valley region to include surgical oncology, with the addition of Vijian Dhevan, M.D., MBA, FACS to the physician team. Dr. Dhevan is board-certified in general surgery and has expertise in surgical oncology, as well as bariatric, pediatric (non-oncology procedures), and robotic surgery.
"For more than 30 years, Texas Oncology has led the way in providing high-quality cancer care locally to patients in the Valley. Adding surgical oncology is a major step forward in expanding the cancer care services that we provide patients," said Billie J. Marek, M.D. FACP, medical oncologist and medical director of Texas Oncology in the Rio Grande Valley. "Dr. Dhevan brings significant additional experience and surgical expertise to our practice, along with a recognized commitment to compassionate patient care and community involvement."
With more than 11 years of experience, Dr. Dhevan performs surgery at three area hospitals, DHR Health Brownsville, Harlingen Medical Center, and Valley Baptist Medical Center – Harlingen. He will practice at Texas Oncology Surgical Specialists–Harlingen at 1649 Treasure Hills Blvd., Suite B-11 in Harlingen.
"Texas Oncology prioritizes multidisciplinary cancer care so that patients have access to multiple treatment options, including surgery, which is my focus," said Dr. Dhevan. "Advancements in minimally invasive surgical techniques, together with innovations in screenings and diagnostics, are a powerful combination that is delivering greater hope to cancer patients."
Dr. Dhevan joins Texas Oncology's growing Rio Grande Valley practice, which includes 18 physicians and nine advanced practice providers, along with a team of more than 225 additional clinical and administrative support staff. Texas Oncology provides comprehensive, leading-edge cancer care to patients at four Valley region locations, in Brownsville, Harlingen, McAllen, and Weslaco.
For more information about Texas Oncology's services in the Rio Grande Valley visit TexasOncology.com.