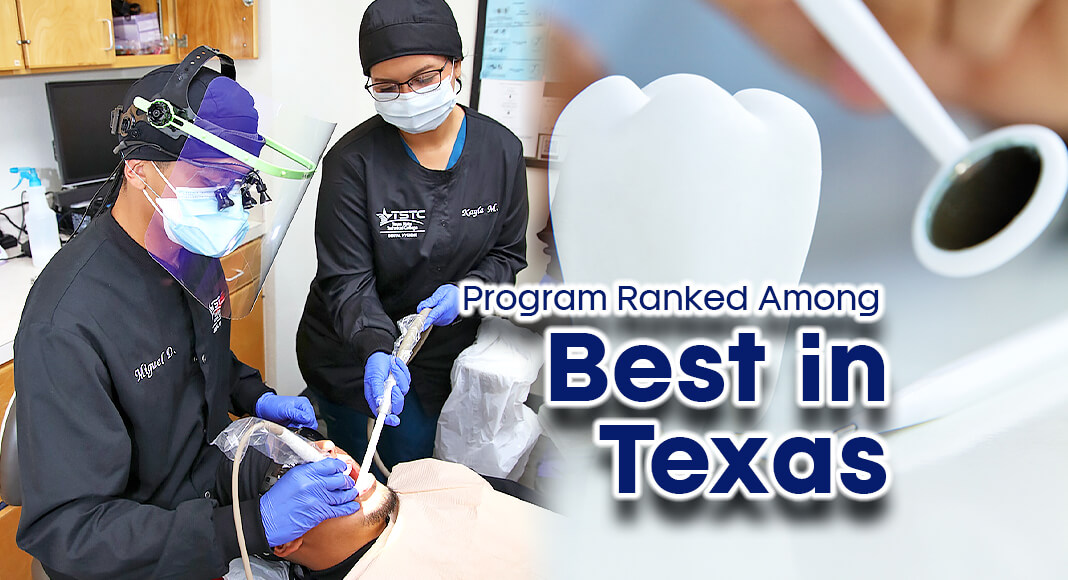 Mega Doctor News
HARLINGEN, Texas – Texas State Technical College's Dental Hygiene program is among the top 15 dental hygiene programs for 2023 in Texas according to NursingProcess.org, and among the best colleges with dental hygiene degrees for 2024 in Texas as compiled by Niche.com.
"It brings pride to our program and demonstrates that we provide top-notch training for the students' education," said Raquel Rico, TSTC's Dental Hygiene program director at the Harlingen campus. "The rankings serve as a major recruiting tool because it's the only dental hygiene program in the Rio Grande Valley."
Lucretia Human, a TSTC Dental Hygiene instructor, said many students do research about the college they intend to apply to.
"When a program of study has a top ranking, it does influence a student's decision to apply — especially when the college is cost efficient such as TSTC," she said. "Our students get to work on live patients in our on-site clinic because it gives them that real-world experience. Additionally, students get to visit different dental sites and offices during their clinicals."
Vivienne Cermeno, a TSTC Dental Hygiene instructor, said the current team of Dental Hygiene instructors works cohesively to develop students into hygienists.
"Our team has been an incredible asset in moving the students forward by being innovative," she said. "We have implemented creative solutions such as virtual reality by making the labs more interactive."
Cermeno added that she is honored by the rankings.
"I'm an alumna of the program, and I remember how passionate my instructors were," she said. "Now, as an instructor, I get to see how everything works. It takes a committed team to produce a new generation of hygienists, and I am humbled to be on that team."
Marcus Capetillo, of Lyford, is studying for an Associate of Applied Science degree. He said the program's rankings play a big role.
"The effort that the students and instructors put forth gives us those rankings," he said. "It shows us that we're getting a valuable education from TSTC."
Yessica Montanez, of Harlingen, is also a student in the program. She said her favorite part of her education is hands-on training.
"It's great to meet different people from the community who need dental assistance," she said. "I have enjoyed being able to provide a service that makes them smile."
For the complete list of community college rankings, visit https://www.nursingprocess.org/dental-hygiene-programs/texas/ and https://www.niche.com/colleges/search/best-colleges-with-dental-hygiene/s/texas/.
According to onetonline.org, dental hygienists in Texas can earn an average annual salary of $79,660. The need for hygienists in the state was expected to grow 32% by 2030, according to the website.
TSTC offers an Associate of Applied Science degree in Dental Hygiene at the Harlingen campus.
For more information about TSTC, visit tstc.edu.