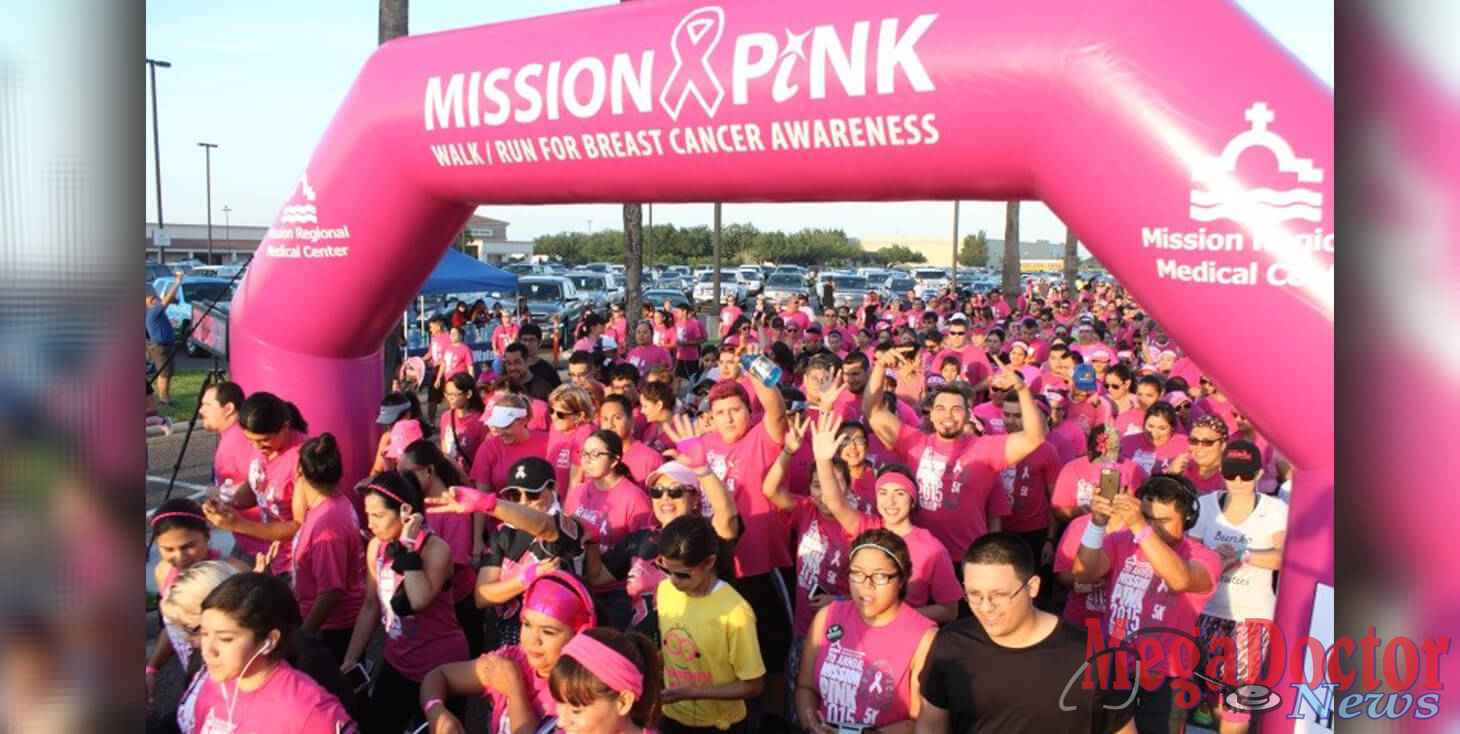 Mega Doctor News
As originally published in Mega Doctor News newsprint edition September 2018
Mission, Texas – On Saturday, October 20th, the grounds at Mission Regional Medical Center will resemble a sea of pink.  That's when thousands of people from across the Rio Grande Valley will meet on the south side of the hospital to take a stand against Breast Cancer and walk to save lives in the Ninth Annual Mission Pink Walk/Run for Breast Cancer Awareness and treatment.
An estimated 4000 people are expected to participate in this year's event. Previously in 2016 more than 3,200 people of all ages registered for the walk.  It is one of the largest 'breast cancer awareness' walks in the Rio Grande Valley and draws people from as far away as Houston, Dallas, San Antonio, and Monterrey.
Twenty-five percent of the proceeds will provide Free Digital screening Mammograms to uninsured women over the age of 40 who live in the Rio Garden Valley. The remaining funds benefit the Foundation at Mission Regional Medical Center, which continues to have a vision of serving and making a positive impact on the Rio Grande Valley community. The Mission Regional Medical Center is still a non-profit organization and the foundation is still intact.
"I would like to cordially invite everyone in the community to take part at this life-changing event. Let us show our support to every woman as we walk/run together in the fight against breast cancer. Together we can win!" says Kane Dawson, CEO, Mission Regional Medical Center.
An estimated one out of every eight women born today will be diagnosed with breast cancer at some time in their lives, according to the National Cancer Institute.
There are seven levels of sponsorship for the event. Each sponsorship level includes different benefits for the sponsor, including having business names printed on event t-shirts, banners, advertisements, and free entries into the event. For more information about becoming a sponsor and the levels of sponsorship and participation please call us as 956-323-1150 or email us at plopez3@primehealthcare.com
- Advertisement -

Participants can register online at Mission Regional Medical Center Facebook page or during our Registration Fair that will be held on Saturday, September 15th and Saturday, 22nd from Noon to 4:30 pm in meetings rooms A, B and C at Mission Regional Medical Center.  You may also register during packet pick-up dates October 17th, 18th, and 19th and the day of the event on Saturday, October 20th, starting at 6:30 am.