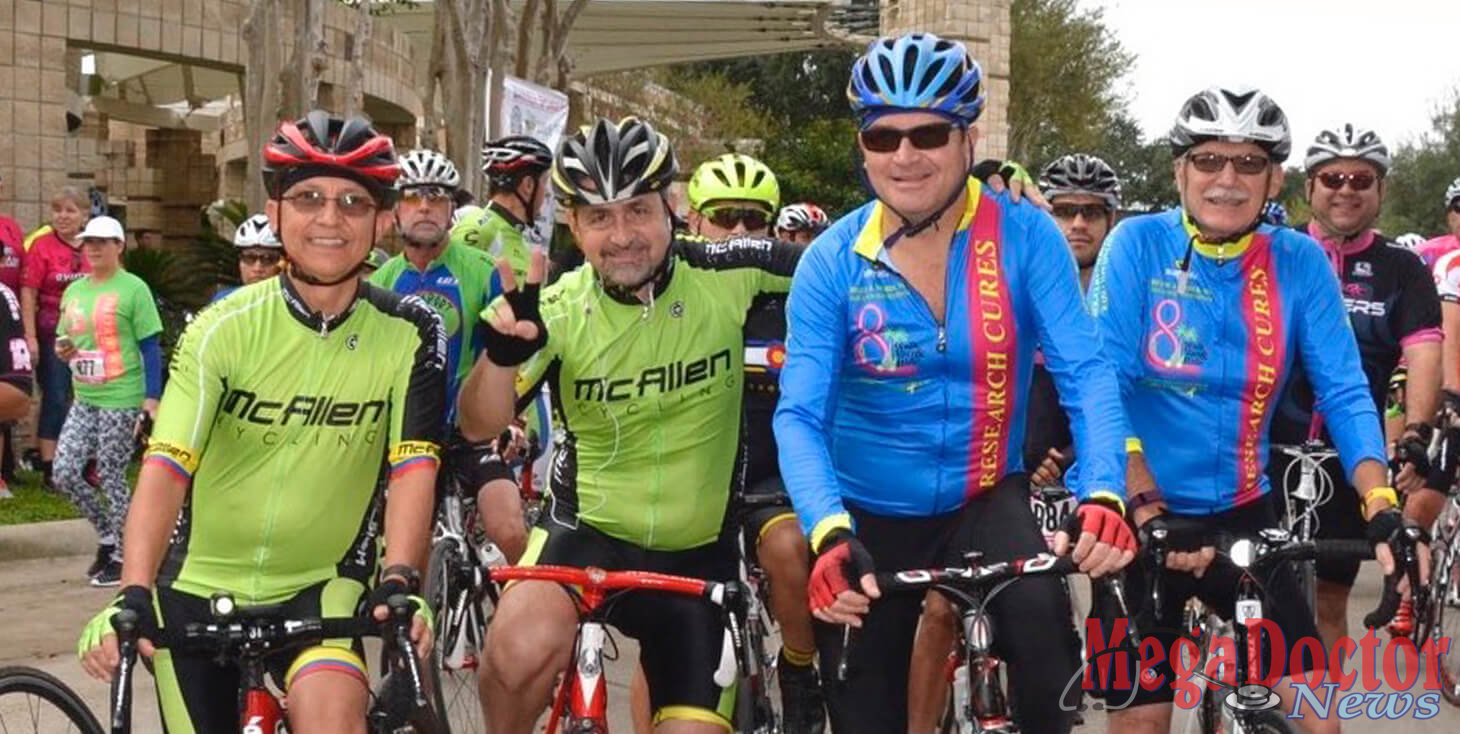 Mega Doctor News 
As originally published in Mega Doctor News newsprint edition September 2018
Texas Oncology RGV goes through a great extent year after year to bring awareness to what I call a formidable enemy, cancer. This year, they bring again for the eleventh time the Annual Breast Cancer Awareness Walk, Run, & Ride Event – October 6, 2018. And once again, Mega Doctor News team up with Dr. Alvaro Restrepo, Oncologist, Hematologist, Research Director for Texas Oncology RGV to invite everyone to take part in this great awareness celebration.
This year as every year, Dr. Restrepo a physician that never stops fighting cancer will take part in the activities. He is a passionate cyclist and he will be at the front of the 60-mile Bicycle Ride, Grand Fondo (100k). In this issue, find out more about the multiple activities taking place that day.
Also, take the time to read the featured Mega Doctor story titled "McAllen Oncologist Never Stops Fighting Cancer"
Dr. Restrepo talks about statistics of breast cancer and said that statistics of this challenging disease have remained the same in the Valley, at least over the last couple of years. However, what had been decreasing was the mortality rate due to better awareness and better treatments.
On another matter, also read about how technology amazingly is transforming the healthcare industry.
As we all know, there have been explosive technology advances in healthcare over twenty years approximately.
To give you an example, MRI, CT scans, PET scans, X-rays, and many other technology tools form what is called today a "modern hospital."However, latest developments reveal insanely unbelievable technologies that are revolutionizing the healthcare now and for years to come. In this issue, read about 5 Ways Technology is Transforming the Healthcare Industry, from biomechatronics the democratization of medical care, here are five technological advancements changing the medical world, they are placed throughout this issue. Enjoy!
MEDICAL ALERT! The Texas Medical Association alerts that there is a virus common in children that pose a greater threat to adults.
The bottom line: Varicella-zoster virus can cause chickenpox in young people and then reactivate in the body later in life as a more painful, blistery rash called shingles. Chickenpox is highly contagious; shingles are not contagious, but a person with shingles can easily pass along the varicella-zoster virus and give someone chickenpox. Fortunately, there is a unique set of vaccines to treat each disease.
A common childhood illness can strike the same person twice, once as a child and later as an adult — and without treatment, the adult version of the virus can be even more painful. The varicella-zoster virus does double duty, causing itchy, fluid-filled blisters on the head and body of young patients, and then can reactivate as a more painful, blistery rash called shingles after the child grows up. "One nasty virus can wreak havoc in the lives of young and older patients," said Dr.Li-Yu Mitchell, a Tyler family physician and a member of the Texas Medical Association's Council on Health Promotion and Be Wise — ImmunizeSM Advisory Committee.
Health experts say vaccination is the only way to prevent chickenpox, and later, the shingles virus. Children should get two doses of the chickenpox vaccine; once at 12-15 months old and later at 4-6 years old. Since chickenpox is highly contagious, Texas schoolchildren are required to get the vaccine before attending school. The shot gives relief, even if it doesn't always provide a 100-percent shield. "Even if a vaccinated person gets chickenpox, the symptoms are usually much milder. Fortunately, a two-dose vaccine is 90-percent effective at preventing chickenpox," Dr. Mitchell said.
Be alert and enjoy this issue!