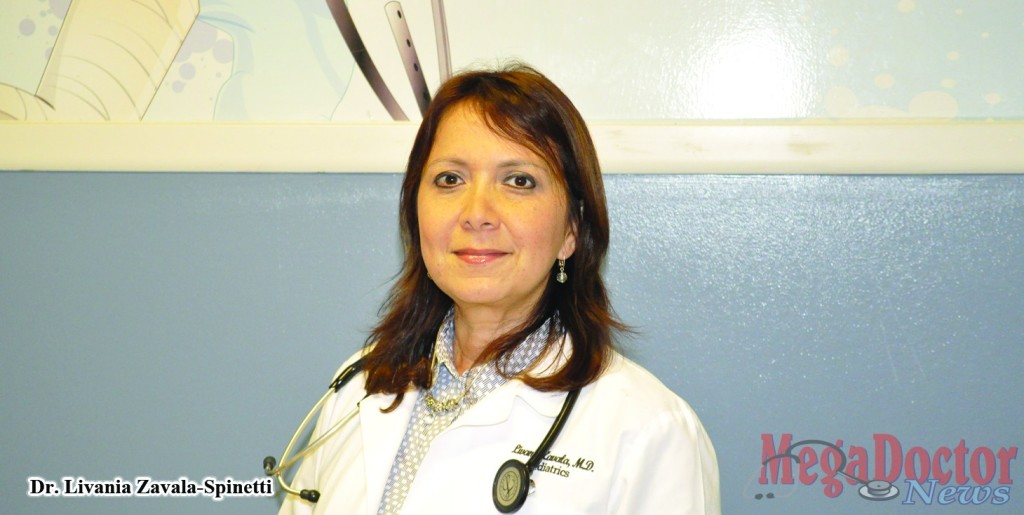 - Advertisement -

Mega Doctor News – 
By Roberto Hugo Gonzalez,
One of the most important branches of medicine is pediatrics. This is the one that deals with the medical attention of infants, children, and adolescents. For this reason Mega Doctor News met with Dr. Livania Zavala-Spinetti, a pediatrician who practices at Edinburg Children's Clinic (ECC).
If you are preparing for a little one's arrival it is of great importance to choose a doctor to oversee his or her health care from the moment of birth. Dr. Zavala-Spinetti is trained to diagnose, treat, and prevent a broad range of childhood illnesses from minor health problems to serious diseases. She is trained in the physical, emotional, and social development of an infant into childhood and adolescence.  Her main objective is to help babies live healthy lives.
Dr. Zavala-Spinetti was born and raised in Venezuela with five brothers and sisters; and according to her a pediatrician was a very important person in their lives. She said her inspiration to become a doctor was to fulfill her father's dream. "He wanted to have a child that would become a doctor."
"I attended the Universidad Central De Venezuela and became a medical doctor in 1994." In 2000, after she graduated from medical school, she completed the Pediatric Residency Program at Austin Pediatric Education Program in Austin, Texas, and in 2000, she became Board Certified while serving as Chief Resident. She pointed out that in 2001, she moved to New Orleans for three years to train in Infectious Diseases in Pediatrics. "I received my degree in Infectious Disease from Tulane University in 2004." Immediately after she finished in 2004, she opted to move to McAllen and to serve this growing community.
She said that her parents instilled in her these important values, "Always remain humble, honest, and work hard. Always be the best I can be, to strive for excellence in everything that is done."
- Advertisement -

Dr. Zavala-Spinetti opened Edinburg's Children's Clinic in 2008. "I started as a solo practitioner maintaining my philosophy and principle, "We are honored to serve our patients and families", now with Dora Flores, a pediatric nurse practitioner that just completed her PHD, and our newest staff physician assistant Arianna De La Garza, we are excited and pleased that they share our ECC Family Philosophy."
She was attracted to the Rio Grande Valley by her own passion and desire to help others, as well as to live the American dream.
She told Mega Doctor News that she is excited about the technology in her field that offers the latest advances in health care to minimize invasive procedures and that lead to a prompt recovery.
Her challenges are no different than those faced by any other physician, "The challenges I have encountered are the Technology and the constant rule and regulation changes that affect the quality of time I have to spend with each patient."
Even though her profession brings challenges it also brings fulfillment. "My fulfillment comes from the trust of my patients and becoming such an important part of their lives."
In preparing to become a doctor she feels she missed out on another opportunity, "Becoming a teaching doctor." However, the only thing she would change in her life is, "I would spend more time with my father, nothing fancy just taking a simple trip to capture those priceless moments with him." She said that the most important thing for her is God and her family. "Without God I could not be where I am today." When dealing with stress Dr. Zavala-Spinetti finds it very helpful to surround herself with family. "I enjoy relaxing, a day of cooking as well as my hobbies."
She is married to Dr. Nelson Spinetti. "We have two children, our son Andres, a 14-year old who attends high school and plays for the Varsity Tennis Team, and our daughter Sabrina, an 11-year old who attends middle school and loves playing piano, and tennis, as well as soccer," she said.
"When it is my time to leave this earth I would like people to remember me as a woman full of sincere compassion for others, someone who always looked to create changes for the good and remained humble during my journey."
Her plans for the future are to continue offering top of the line medical care in the Rio Grande Valley. "Edinburg's Children's Clinic is proud to have Dora Flores, Pediatric Nurse Practitioner," she added.
For an appointment with Dr. Livania Zavala-Spinetti, you can call: (956) 682-4500 at Edinburg Children's Clinic located at 4709 S. Jackson Road in Edinburg, Texas. MDN