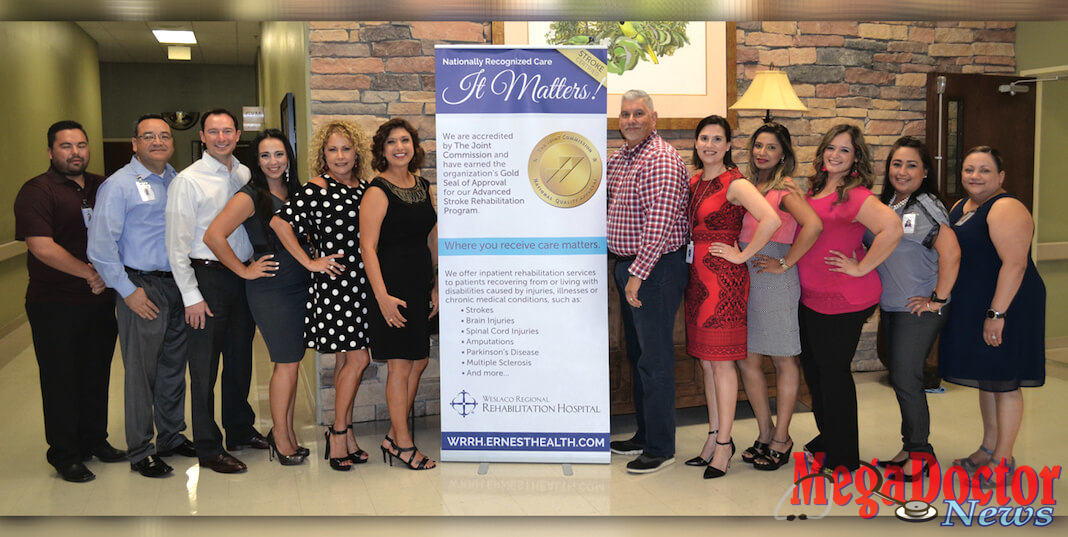 Award signifies hospital's dedication to better results for stroke patients
Mega Doctor News
Weslaco Regional Rehabilitation Hospital has earned The Joint Commission's national disease-specific certification in stroke rehabilitation. This means the hospital is providing the highest level of stroke care available in the nation to its patients.
Certification is voluntary and given after a rigorous on-site review of the hospital's practices, programs, and outcomes in treating stroke patients. It is available only to acute care hospitals that are accredited by The Joint Commission.
"Stroke can be debilitating for individuals and their families," says Corina Humphreys, Chief Operating Officer of Weslaco Regional Rehabilitation Hospital. "We know it's our responsibility to ensure our patients are provided the best chances of recovery. The review and certification provided by The Joint Commission lets us – and the community – know that we are setting a new standard of care for stroke patients. We're providing nationally recognized care right here to patients throughout Hidalgo County and the Rio Grande Valley."
Stroke is the leading cause of serious, long-term disability in the United States, with approximately 795,000 people experiencing new or recurrent strokes. Weslaco Regional Rehabilitation Hospital has seen an increase in stroke admissions year-to-year ranging in people 20-95 years old.
"To get the most successful results for our patients, we use best practices and follow evidence-based clinical practice guidelines," says Dr. Juan Asuaje, Medical Director of Weslaco Regional Rehabilitation Hospital. "This helps us provide not only the physical but the emotional healing our patients need."
Asuaje says by following best practices, the hospital can:
Provide quicker patient recovery times
Allow more patients to discharge home
Help patients obtain more physical and cognitive independence
Asuaje says that family involvement also is promoted in conjunction with the clinical practice guidelines. "Family involvement is key to a patients' recovery process," he says. "Engaged family members help increase the chance that patients will be discharged back home as quickly and safely as possible, as we've seen through our program."
At the hospital, an interdisciplinary healthcare team works with patients and their family members to create individualized treatment plans so the patients can progress at their own ability levels. The rehabilitation team includes specially trained physicians, nurses, case managers, and occupational, speech, and physical therapists – among other medical professionals. Patients receive 24-rehabilitative nursing care and daily physician management.
All patients have access to private patient rooms and well-equipped therapy areas, including a 2,400-square-foot therapy gym, a daily living suite, and a transitional suite to allow patients to practice at-home activities while still under the supervision of a healthcare professional. In addition, the hospital offers home evaluations to identify any necessary modifications that may need to be made to a patient's house before leaving the hospital to ensure a safer return home.
"Stroke is a life changing event for the stroke survivor and his or her family," Humphreys says. "That's why we've gone the extra mile to earn The Joint Commission's certification. We want to provide better results to our patients and offer hope and quality of life through the highest level of care available."