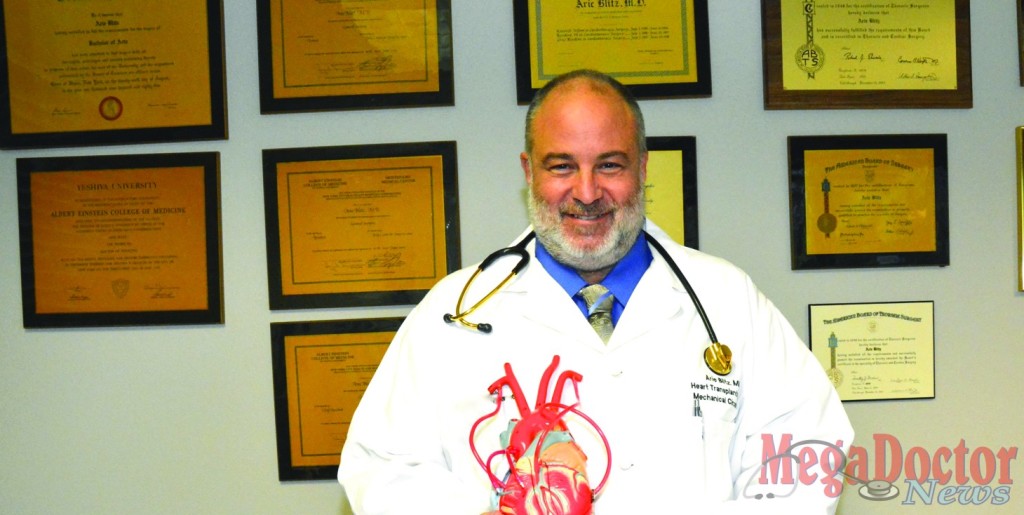 Mega Doctor News – 
By Roberto Hugo Gonzalez,
You have heard about many good things coming to South Texas, you have heard about the fusion of two universities, as well as the creation of a new medical school. Just a few years ago, all of this was only a dream of a few movers and shapers of the area. Today it is all a reality.
Because of this and the incredible growth South Texas has had medical doctors with excellent credentials are moving to the area. One of them is Dr. Arie Blitz, not even a year in the Valley and he has hit the ground running.
Dr. Blitz is a cardiovascular surgeon who was born in New York in 1962. He did most of his medical school and surgery training in New York. He said, "I went to UCLA for my heart surgery training and have been primarily in the academic world for many years."
Just recently, about six months ago he decided to take an opportunity with McAllen Heart Hospital to start what he calls "some wonderful programs that are not only nonexistent in McAllen, they are nonexistent in the entire South West border area of Texas."
Mega Doctor News met with Dr. Blitz, and found him to be a down to earth professional, although he is a heart surgeon that belongs among the elite of talented surgeons, you can talk with him without any problem. He has a very special talent as a surgeon to benefit this region and beyond.
- Advertisement -

His father, Abraham Blitz, was a survivor of the holocaust and emigrated to the United States in the late 1950s.  He said, "My mother, Rose Blitz, was born in Egypt and also emigrated to the United States around the same time.
Dr. Blitz completed his training in 1999, and since then he has been in the field of academic medicine in the state of Ohio.  "I have served as the Director of Mechanical Circulatory Support at the University Hospital Case Medical Center in Cleveland, Ohio, and as Chief of Cardiac Surgery at the University of Cincinnati Medical Center," he stated. He is Board Certified in General Surgery and Thoracic Surgery.
Dr. Blitz is now Director of Surgery for Advanced Heart Failure at South Texas Advanced Cardiac Care (STACC), here in McAllen.
He told Mega Doctor News that he came to the Valley because it is underserved in many of his areas of specialization.  He was well aware that there is no mechanical support program in the entire South Texas along the border with Mexico.
His focus is exclusively on all sub specializations within the field of cardiac surgery which include:
Coronary bypass surgery
Heart valve surgery
Minimally invasive heart surgery
TAVR:  Trans catheter aortic valve replacement:  Replacing heart valves through a minimally invasive approach.
Mechanical circulatory support (otherwise known as ventricular assist devices) for advanced heart failure.
ECMO:  Extracorporeal membrane oxygenation:  A lifesaving procedure used on patients who are at risk of imminently dying from cardiac or respiratory disease.
Thoracic aortic surgery, including aortic dissections and aortic aneurysms.
Adult congenital heart surgery:  surgery performed on congenital defects of the heart.
Emergent surgery for pulmonary embolism.
He said, "The closest areas to obtain such care are at quite a distance in either San Antonio or Houston."  The phenomenal rate at which the Rio Grande Valley has been growing, and because of the inconvenience of having to travel for specialized cardiac care, it is time that the Valley had these programs in place, this according to him.
"By the time we have completed the set-up of these specialized services, the only cardiac procedure patients will have to travel for is heart transplantation.  Everything else will be performed here," Dr. Blitz said.
Dr. Blitz' hope is to be a part of a top-of-the-line advanced cardiac care service for the Valley and beyond.  He mentioned that previously, places like Houston have been the hub with spokes out to surrounding counties.  He said, "We hope to become such a hub for the entire South Texas region one day."  MDN