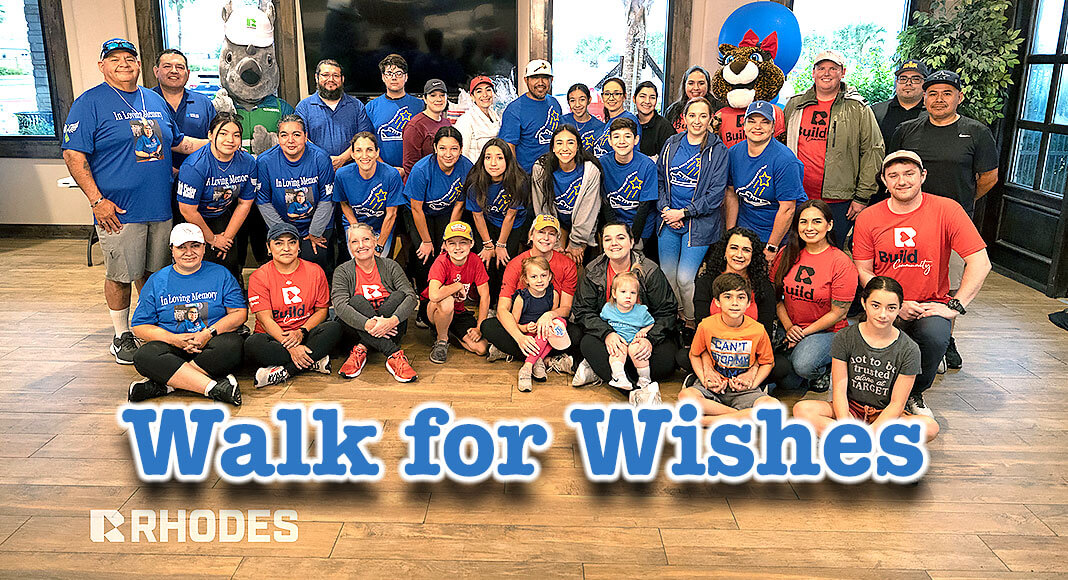 Mega Doctor News
- Advertisement -

McALLEN, Texas – Walk for Wishes, an event hosted by Make-A-Wish RGV in partnership with RhodesEnterprises, took place on Saturday, May 13th at Tres Lagos despite inclement weather. The event's purpose was to fundraise for Make-A-Wish and provide an opportunity for the community to come together for a great cause. The day's highlights included granting 15-year-old Karina Ortiz's wish and raising $16,823.22 in support of future wishes for children fighting critical illnesses in Rio Grande Valley.
The outdoor walk, run, and activities were canceled due to inclement weather for the second time, after the event was previously canceled on April 29th for the same reason. However, this did not deter participants from attending and supporting the cause. The team acted swiftly and moved the event indoors to the Tres Lagos Community Center.
"We at Rhodes Enterprises are truly thankful for the opportunity to have been a part of such a life-changing event and are overjoyed to see how our collective efforts helped raise over $16,000 for Make A Wish," said Misty Martin, VP of Admin Services for Rhodes Enterprises. "It was a heartwarming experience watching Karina's wish of a shopping spree come to life, and we are immensely proud of our staff who contributed their time and energy to ensure that, come rain or shine, the event was a resounding success. At Rhodes, we believe in enhancing lives in our community and stand by our core value of Community Leadership, and this event reaffirmed our commitment to making a positive impact in the lives of those we serve."
Participants at the event included past wish families, McAllen Commissioner for District 2 Joaquin "J.J." Zamora, PJ's Coffee in McAllen, the McAllen Fire Department, and many others who came together tocelebrate Karina's wish and promote the great work of Make- A-Wish.
Walk for Wishes proves that community spirit can overcome any challenge, including unpredictable weather.The event's success shows that there are many people who care about granting wishes to children with critical illnesses in our community.
Join Us in Continuing the Magic of Make-A-Wish
The energy and excitement around Walk for Wishes just goes to show the strength of our community and the importance of granting wishes for those in need. It's up to us to continue helping these families and Make-A-Wish fulfill their mission.
Become a part of the movement and spread the word about Make-A-Wish by sharing your experience on social media, volunteering your time, or donating to support future wishes. For more information, pleasecontact Becky Ramirez, CEO for Make-A-Wish Rio Grande Valley at (956) 686-9474 or via email at rramirez@rgv.wish.org.
- Advertisement -

About Rhodes
Rhodes Enterprises is the largest and fastest growing, mixed-use developer of master planned communities in the Rio Grande Valley. A vertically-integrated organization, Rhodes is committed toenhancing the lives of our customers, staff and the landscape of the communities we serve by specializingin award-winning single and multi-family home construction, commercial construction, financial services, and property management. Rhodes is a Certified Great Place to Work and ranked on the Inc. 5000 list of the fastest growing private companies in the U.S. Since 2019, Esperanza Homes, a Rhodes company, has ranked nationally on the Top 200 Builders List and is on an aggressive growth trajectory to make the Top 100 Builders list while serving more communities across the State of Texas.