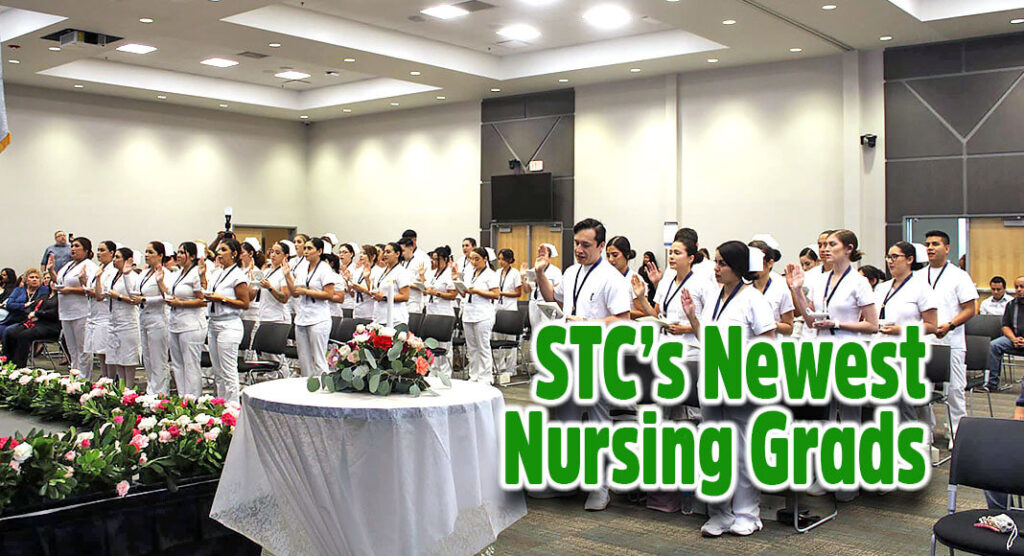 Mega Doctor News
- Advertisement -

By Selene Rodriguez
South Texas College Associate Degree in Nursing (ADN) class of 2023 graduates recently commemorated the beginning of their professional journey in a memorable pinning ceremony. Fifty-three graduates were honored with their family and friends in attendance.
"To make the choice of going into this incredibly rewarding field, to endure the long hours and rigorous journey is an outstanding accomplishment that shows passion and determination. Thank you for what you've done and you keep doing for our community. We're most proud of your success," said STC President, Ricardo J. Solis, Ph.D., as he thanked the graduates' families for the support given during their academic journey.
Every year, aside from the traditional graduation ceremony, STC nursing graduates celebrate a pinning event meant to symbolize the beginning of their transition from student to nurse; a momentous occasion that honors them for choosing a career where they will be selfless for the good of others.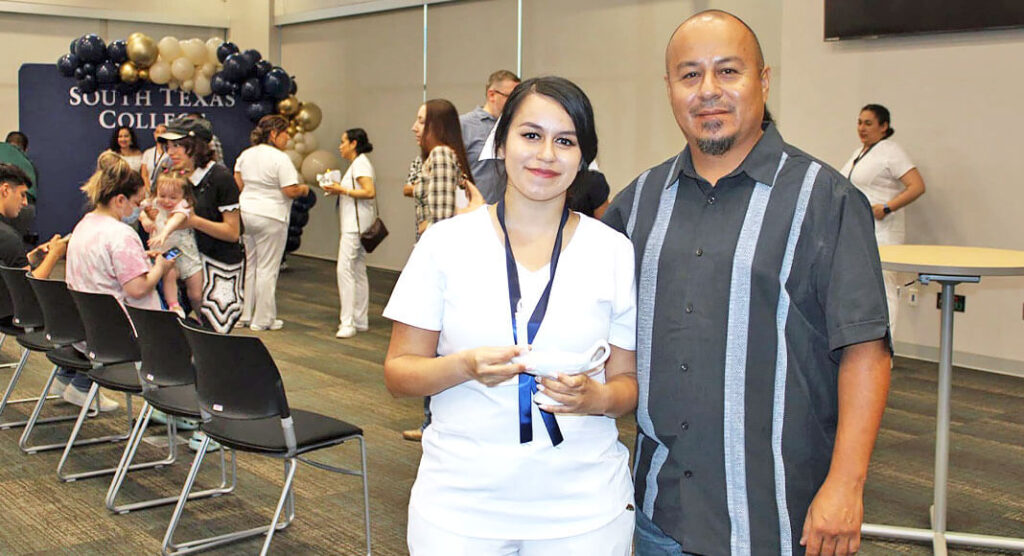 "Graduates of 2023, the nursing profession needs you, we need your resilience, energy and compassion. It's no secret that STC graduates are preferred by most health care facilities in town; you have everything you need to succeed," said keynote speaker and STC's bachelor's in nursing Program Chair Annette Wingard, Ph.D., officially welcoming them into the profession.
Nursing schools around the world hold pinning ceremonies mark this tradition as an important rite of passage into the profession.
"Let this pin reminds us of our desire, dedication and commitment to help others. My wish is for each of you to keep moving forward, keep learning and be successful. Enjoy what you spent these last two years preparing for and be the best you can be," said STC Associate Degree in Nursing graduate Jacob Ramos.
- Advertisement -

Graduates also celebrated a traditional candle-lighting ceremony in honor of Florence Nightingale, the founder of modern nursing, which honors her aid to wounded soldiers by candlelight, making sure they got the treatment regardless of the time of day.
"Her flame continues to burn in the heart of this graduating class. Today we carry with us the responsibility and commitment to those we care for, to give light to those in darkness. As a student nurse, the flame became important while balancing school with work, but we persevered and now continue to carry the light to the lives of patients we touch," said graduate Max Carlos Reyes. "As we continue to pursue the light of learning, tonight we are truly shining as we set forth on a new path that will lead us to compassion and care of many."
Graduate Allysa Casares, daughter of a nurse, felt motivated to follow in her mother's footsteps after helping take care of her grandparents. She said the beginning of her nursing career has been a long time coming.
"My journey at STC started with the Patient Care Technician certificate. I then moved on to Vocational Nursing and today I finally graduate with my associate degree. Each program has really helped me advance and prepare for this amazing profession that will let me help people; I'm ready to start," she said. "My first goal is to become a Neonatal Intensive Care Unit (NICU) nurse and then return to STC for my Bachelor's Degree in Nursing. I'm so excited for this new chapter in my life."
In contrast, graduate Ana Karen Alvarez, arrived at STC with a bachelor's degree in Medical Humanities, a career path that didn't truly fulfill her desire to make a difference in people's lives.
"I feel so accomplished, this is the culmination of a long journey for me," she said. "I have always wanted to be in a field where I could be helping people, which I could do with my previous education, but I wanted something more active where I could see the difference I was making."
Her next goal is to work as an emergency room nurse and apply all her previous and present medical knowledge for the best interest of her patients.
"My advice for people who are interested in nursing is to have a desire to learn and to never quit, no matter how difficult, it's all worth it in the end," she said.
STC is No. 1 in the state among community colleges in producing graduate nurses and No. 2 among colleges and universities.
Graduates will now prepare to take their National Council Licensure Examination (NCLEX) in the next couple months so they can officially become licensed nurses.
For more information on STC's Associate Degree in Nursing and other Allied Health programs, visit nah.southtexascollege.edu or call 956-872-3100.
Registration for summer and fall 2023 is in progress, to register go to southtexascollege.edu.
Classes begin June 5.