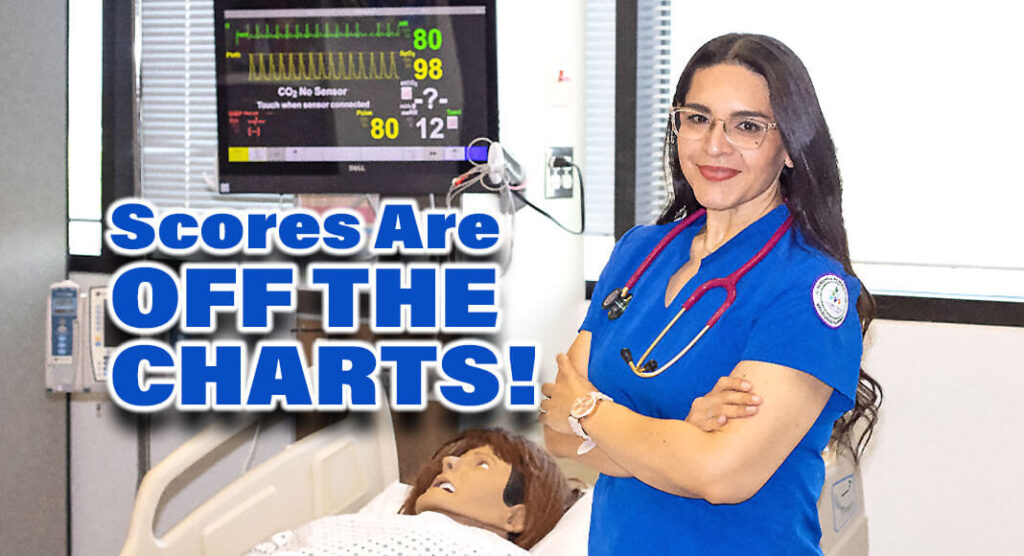 Mega Doctor News
- Advertisement -

The South Texas College Vocational Nursing program recently celebrated a 90.9% pass rate on their national board licensure exams for 2022, a statistic that shows the excellence and competence of these students who successfully overcame the challenges brought in by online education in a traditionally hands-on career.
"Every graduate from our program becomes a licensed vocational nurse after passing the National Council Licensure Exam for Practical Nurses (NCLEX-PN)," said Margo Vargas-Ayala, Ph.D., STC Vocational Nursing program chair. "In 2022, 90.9% of our students passed the test on their first attempt which is an amazing accomplishment after having to adjust to a new medical scene."
The national average for this exam, which tests the competency of nursing school graduates, has shown a dramatic drop in the last two years; the average was 79.60% in 2021 and 83.09% in 2020.
"The national average for 2022 is 79.93%, which means STC is highly above," Vargas-Ayala said. "These statistics are very important to us because it shows our value as a program, with this indicator we can ensure the community we're graduating successful nurse professionals."
For Vanessa Sosa, 38, a recent graduate from the Vocational Nursing program, the pandemic was a lifetime opportunity to achieve her dream to be a nurse after 14 years of pushing school aside.
"Since before I graduated high school I knew I wanted to be a nurse, but when I became a mom I used every excuse to not go back to school," Sosa said. "During that time, I still found a way to work in health care on an administration level, but it was during the pandemic where I found the opportunity to focus on school while spending time with my five children."
After witnessing the impact of COVID-19 and the need for nurses, she found an amazing support system in her family which gave her the strength to quit her job and apply for the nursing program at STC.
- Advertisement -

"I learned about STC's program through the course 'College Success for Health Care' where they teach about the allied health programs available," she said. "This is what's great about STC, you have many options and they truly prepare you for what's to come in the job."
Sosa now expects to graduate this year with her associate degree in nursing and plans to continue her education with a Bachelor of Science in Nursing, trusting that her education will help her get a leadership position in her field.
"After dreaming about it for so many years, today I can say I'm a nurse. Thanks to the Vocational Nursing program, after one year, I'm already licensed to work and I can give back to my family," she said. "I love not only helping people get better, but teaching them how to keep taking care of themselves and in turn this allows me to help my community."
Sosa added the instruction she received from her nursing instructors is what helped her develop the skills and abilities she needed to help her pass the licensure exam on the first attempt.
"We learned how to use our critical thinking skills to prioritize what to address with every patient. Our instructors really helped us by showing different scenarios involving medications, symptoms or side effects. Not every patient is the same, which is why having experienced instructors is more important than just reading a textbook," Sosa said.
Sosa encourages future students to learn about all the different pathways that STC has available. She emphasized the importance of the Vocational Nursing program as a true foundation of the profession.
"There really are a lot of different avenues that a student can take. We're definitely one of the schools that most hospitals target for employment because it is well known that STC graduates are 100 times more prepared skill wise than other schools in the Valley, Sosa said."
STC's Division of Nursing and Allied Health offers an Associate Degree Nursing program with three entry points; a traditional two-year pathway, a three-semester pathway for paramedics and a 12-month pathway for Licensed Vocational Nurses. STC also offers a Patient Care Technician certificate where students are trained to provide basic nursing care of adults, children, infants and the elderly and also serves as a stepping-stone to apply for any of the aforementioned programs.
For more information on STC Vocational Nursing or other Nursing and Allied Health programs, visit nah.southtexascollege.edu or call 956-872-3100.