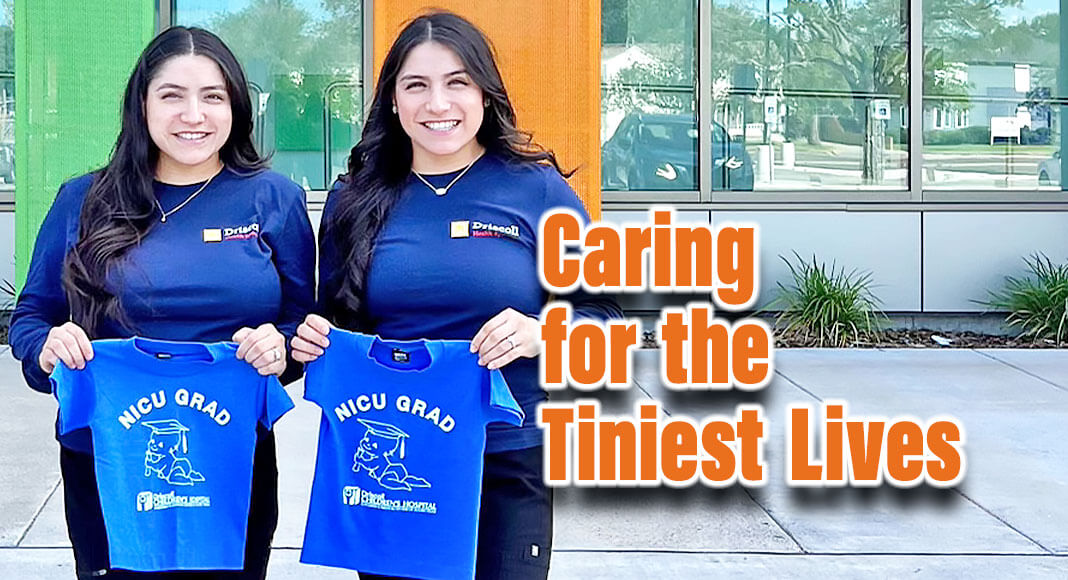 - Advertisement -

Mega Doctor News
CORPUS CHRISTI, Texas – When your newborn is admitted to the Neonatal Intensive Care Unit (NICU), one of thehardest parts to endure is the waiting. Those days, weeks or even months in the hospital can feel agonizingly slow. Throughout this challenging time, families depend on Driscoll Children's Hospital staff to provide excellent medicalcare as well as hope. There's no one who embodies that hope more than registered nurses Alexa and Brianna Rabagos.
The Rabagos twins were delivered at 28 weeks in Corpus Christi. They were whisked away from their parents on anemergency transport to Driscoll's NICU. There they spent a month intubated until their lungs seemed strong enough to go home.
The twins made it home for Christmas only to have to return to Driscoll after New Year's with Respiratory Syncytial Virus (RSV). Three months and many close calls later, they were finally allowed to return home. Those first four months of the twins' lives were just the beginning of their Driscoll story. As they grew older, they decided that they too wanted to care for the hospital's most vulnerable young patients. Together, they pursued a nursing degree and have recently joined Driscoll as registered nurses.
"We can honestly say that Driscoll saved our lives. If it wasn't for Driscoll, we wouldn't be here now as nurses forbabies that are in the same situations as we were when we were born," says Alexa.
Driscoll Chief Nursing Officer Julie Piña says she was amazed by the Rabagos sisters' story when they showed up for a hiring event.
"For these two young ladies, they know what Driscoll did for them. And in a way it's like paying us back, even though that's what we're here for. It's a very unique story that they're working in an environment that they needed when they were newborn babies."
As nurses in Driscoll's PICU, Alexa and Brianna spend their days caring for children, while offering strength and encouragement to parents.
- Advertisement -

"When you get the moment of feeding a baby for the first time, carrying a child that was not able to be held yet, givingthem a hug or just being that person to give them support, there's nothing like it. There's no career more rewarding," says Alexa.
Brianna adds, "We're able to be that beacon of hope for parents that are going through such a terrible, hard situation.But once you see a baby eating orally for the first time and we're the ones feeding them or see a child walk again after a surgery, it's truly a rewarding feeling to be those helpers in those most difficult situations for a family."
Families who hear about the twins' story can imagine a brighter future for their own children.
"These young ladies were born and cared for in Corpus Christi. And now they're working in an industry that is so critical to our future. And so I think it gives hope to our future generations," says Piña.
Parents whose children require the extra support of a NICU or PICU can be confident that their children receive outstanding care in all of Driscoll's state-of-the-art facilities. Their latest, Driscoll Children's Hospital Neonatal Care Center, a Level III NICU operating within CHRISTUS Spohn Hospital Corpus Christi – South, opened Monday, March 6. Driscoll Children's Hospital Rio Grande Valley is scheduled to open in Edinburg in late 2023.
---
About Driscoll Children's Hospital …
"Devoted to expert care, education, outreach and advocacy."Driscoll Children's Hospital is a 191-bed pediatric tertiary care center with more than 30 medical and surgical specialties offering care throughout South Texas, including Corpus Christi, the Rio Grande Valley, Victoria, and Laredo. Through the vision and generosity of its founder, ClaraDriscoll, Driscoll Children's Hospital opened in 1953, becoming the first, and remains the only, free-standing children's