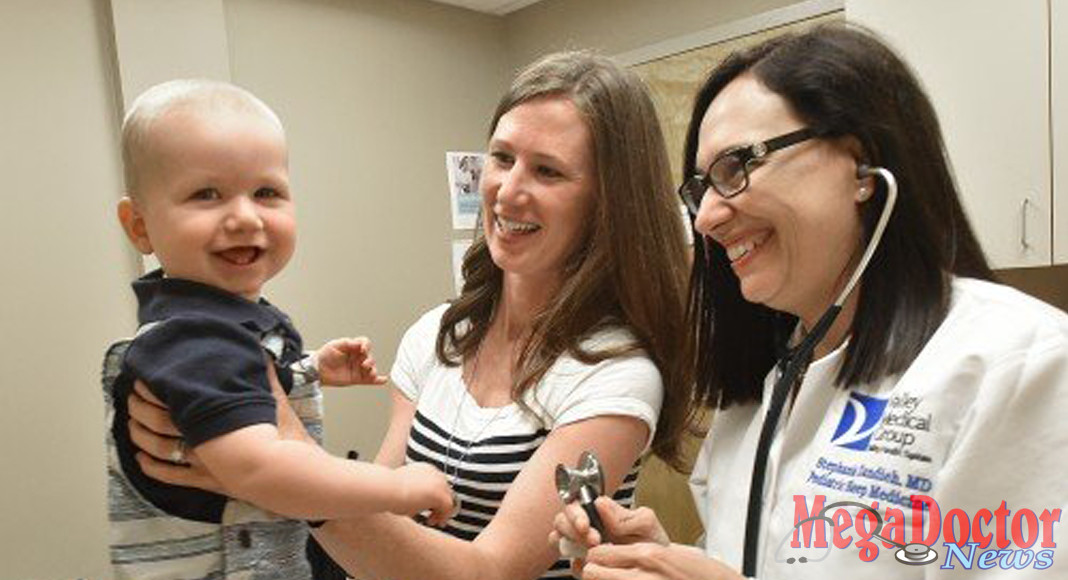 Mega Doctor News –
By Stephanie Zandieh, M.D., Director of The Valley Hospital Pediatric Sleep Disorders and Apnea Center, Ridgewood, NJ
Newswise – Sudden Infant Death Syndrome (SIDS) is a rare and devastating condition that is a concern for all parents. SIDS claims the lives of about 3,500 babies each year in the United States, with the greatest risk in the first 12 months of life.
Recently, the American Academy of Pediatrics (AAP) issued a recommendation that infants sleep in their parents' room, close to the parents' bed — but on a separate surface designed for infants — for at least 6 months, and preferably up to 1 year of age. Such a sleeping arrangement decreases the risk of SIDS by as much as 50 percent, according to the AAP.
The AAP recommendations go on to recommend placing the crib/bassinet close to the parent's bed so that the infant is within view and reach, which in turn will facilitate feeding, comforting, and monitoring the infant. Since these recommendations have come out, I have heard an uproar from fellow pediatricians', parents and colleagues saying, "Really?" "What about the parent's sleep and daytime performance?" "If these guidelines are followed isn't the lack of sleep of the parents likely to cause more harm than good?"
What is interesting is that these are not new recommendations (this recommendation was also in the AAP's 2011 guidelines); however, the wording is stronger and there is now an added timeline. So why the change?
One of the authors of the new guidelines has stated in an interview with the New York Times that the recommendations were updated "to be on the prudent side". It is known that the first 6 months are a particularly critical time for infants because the rates of SIDS and other sleep-related deaths, particularly those occurring in bed–sharing situations, are highest in the first 6 months of life. In addition, while the rate of SIDS has plateaued over the last few years, the rates of other sleep-related infant deaths, such as accidental suffocation and strangulation in bed and ill-defined deaths have increased. Risk factors for these different categories of death are strikingly similar to those of SIDS.
- Advertisement -

Therefore, public health efforts are doubling down on environmental risks such as prone and side-sleep positioning, bed sharing, and soft bedding in hopes of decreasing these other types of sleep-related deaths.
Ultimately, this decision is a personal one, but understanding why this recommendation was made can help parents make an informed choice.
Following is a summary of the AAP's recommendations for safe infant sleeping and to reduce the risk for SIDS.
Place your baby to sleep on his back for every sleep.
Place your baby to sleep on a firm sleep surface.
Keep soft objects, loose bedding, or any objects that could increase the risk of entrapment, suffocation, or strangulation out of the crib.
Place your baby to sleep in the same room where you sleep but not the same bed.
Breastfeed as much and for as long as you can. This helps reduce the risk of SIDS.
Schedule and go to all well-child visits. Your baby will receive important immunizations.
Keep your baby away from smokers and places where people smoke.
Do not let your baby get too hot.
Offer a pacifier at nap time and bedtime.
Do not use home cardiorespiratory monitors to help reduce the risk of SIDS.
Do not use products that claim to reduce the risk of SIDS.
More complete information can be found following this link.