"COVID-19 SAFETY STANDARDS" enable visitor policy changes during pandemic precautions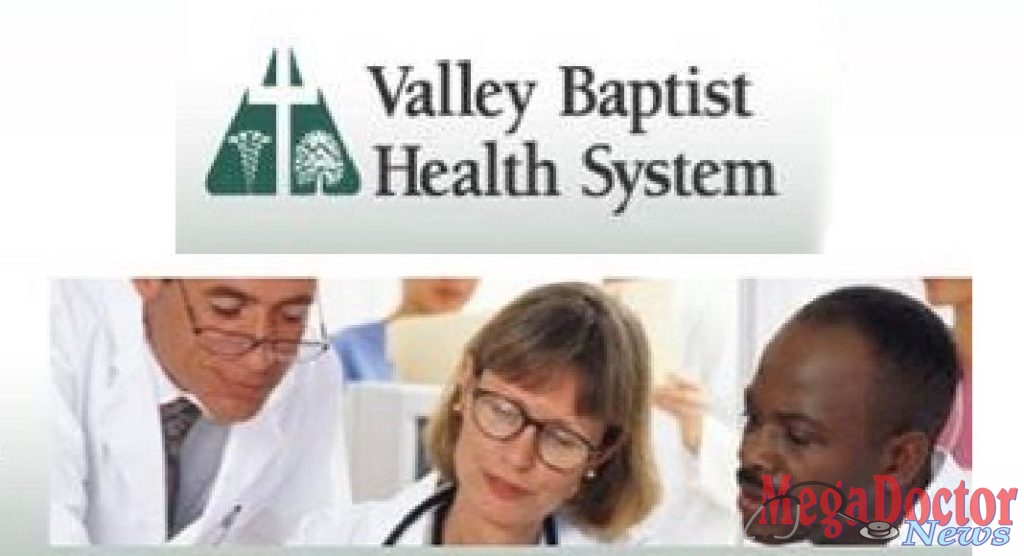 Mega Doctor NEWS
HARLINGEN & BROWNSVILLE — Valley Baptist Health System announced today that the successful implementation of COVID-19 SAFETY STANDARDS at its facilities will permit certain loosening of visitation at its facilities.
Over the past few weeks, visitation policies at Valley Baptist Medical Center-Harlingen and Valley Baptist Medical Center-Brownsville have allowed one designated visitor to accompany pediatric patients, laboring mothers, procedural and surgical patients, and critical patients receiving end-of-life care at all times, and that designated visitor has been permitted to stay overnight with the patient as needed. All other inpatients, to include those patients in isolation at the hospitals for potential or confirmed COVID-19 have not been permitted visitors; and virtual visitation is facilitated with loved ones as appropriate.
"Our hospitals have been closely monitoring the COVID-19 situation throughout the Rio Grande Valley and planning our operations accordingly," said Valley Baptist Health System Chief Executive Officer Manny Vela. "At Valley Baptist, we fully recognize the role visitation can play in the healing process. In addition to promoting emotional well-being, increased visitation and the ability of patients to have designated support individuals can help in the communication process between patient and healthcare providers, allowing patients to focus on healing and recovery."
Although the benefits of patient visitation are significant, the risks of loosening visitation in hospitals in communities that have not experienced a decrease in new cases can also be very significant.
For this reason, effective Thursday, June 4, 2020, Valley Baptist Medical Center-Harlingen'svisitation policies will be further loosened to also allow one designated support person to accompany all patients during hospital visitation hours from 9 a.m. to 7 p.m. daily. The existing visitation practices for pediatric patients, laboring mothers, procedural and surgical patients, and critical patients at end of life will continue to remain in place.
Approved visitors must be 16 years of age or older, and visitors will continue to be screened for fever, COVID-19 symptoms, possible exposure to COVID-19, and recent travel history prior to entering the hospitals, and are required to wear visitor identification, their own facemask, sanitize their hands, and observe all hospital protocol and appropriate social distancing. Specifically designated waiting areas allow physical distancing for designated visitors and include additional cleaning protocols.
Valley Baptist Medical Center-Brownsville will continue with its current visitation polices at this time and will be closely monitoring its community's COVID-19 new case counts for anticipated decreases before further loosening visitation.
"Throughout the COVID-19 pandemic, we have worked closely with City of Brownsville leadership and public health officials," said Valley Baptist-Brownsville Chief Medical Officer Dr. Jose Ayala. "We continue to work together to identify the best time to begin relaxing visitation restrictions that have been in place to protect our community."
As has been the practice at both hospitals, any visitor not meeting screening criteria will not be permitted to enter. All staff, physicians, patients, and visitors will continue to be screened for COVID-19 symptoms before entering the hospitals.
Valley Baptist Health System's COVID-19 safety measures, which have been labeled as "COVID-19 SAFETY STANDARDS," are built upon deep clinical expertise and ongoing management of COVID-19, as well as continuous incorporation of CDC, CMS, state and local recommendations, said Dr. Christopher Romero, internal medicine specialist and physician adviser at Valley Baptist Medical Center-Harlingen.
"We understand that our communities continue to have reservations with coming to the hospital for needed emergency and elective services during this time; however, since the beginning of this COVID-19 pandemic, our hospitals have put in significant control measures to prevent the spread of COVID-19, and people should feel confident seeking the medical care they need, even during these extraordinary times," Romero said.
Both of Valley Baptist's hospitals COVID-19 SAFETY STANDARDS are a strict combination of infection prevention processes, training, testing, personal protective equipment, technology, and a wealth of previous experience and knowledge gained through dealing with other infectious diseases such as influenza/flu.
COVID-19 SAFETY STANDARDS include the following components:
Distinct COVID-19 Care Zones – separate and isolated areas of the hospital for the treatment of positive or suspected COVID patients
Strict physician and staff protocols – daily screening, universal masking, and access to appropriate personal protective equipment (PPE)
Heightened sanitization – enhanced cleaning of all surfaces and plenty of hand sanitization stations
Access to in-house COVID-19 testing – testing for patients, physicians, and staff who meet testing requirements
Precautions for patients and approved visitors – provision of facemasks, hand sanitizer, and physical distancing
Enhanced virtual access – virtual care, remote monitoring, as well as connectivity with loved ones
Enhanced signage – informational signage installed throughout the hospital offering visitors reminders and tips on social distancing, hand washing, and the use of face coverings
Valley Baptist's COVID-19 SAFETY STANDARDS will offer peace of mind to patients and their loved ones receiving care.
"Our COVID-19 SAFETY STANDARDS were developed with key clinical principles in mind to maximize safety for all patients and visitors," Vela said.
Valley Baptist's COVID-19 SAFETY STANDARDS should be a signal to the community that both of our hospitals are ready and prepared to provide the same safe, high-quality healthcare they have for more than 95 years, said Valley Baptist-Brownsville CEO Leslie Bingham.
"These standards will help patients confidently seek care at our hospitals and allow our community to be less worried for loved ones. We are providing the reassurance that our patients, staff, and their families deserve," she said. "I am proud of the work of our team to quickly implement these additional standards while continuously providing care for patients in the safest environment possible."