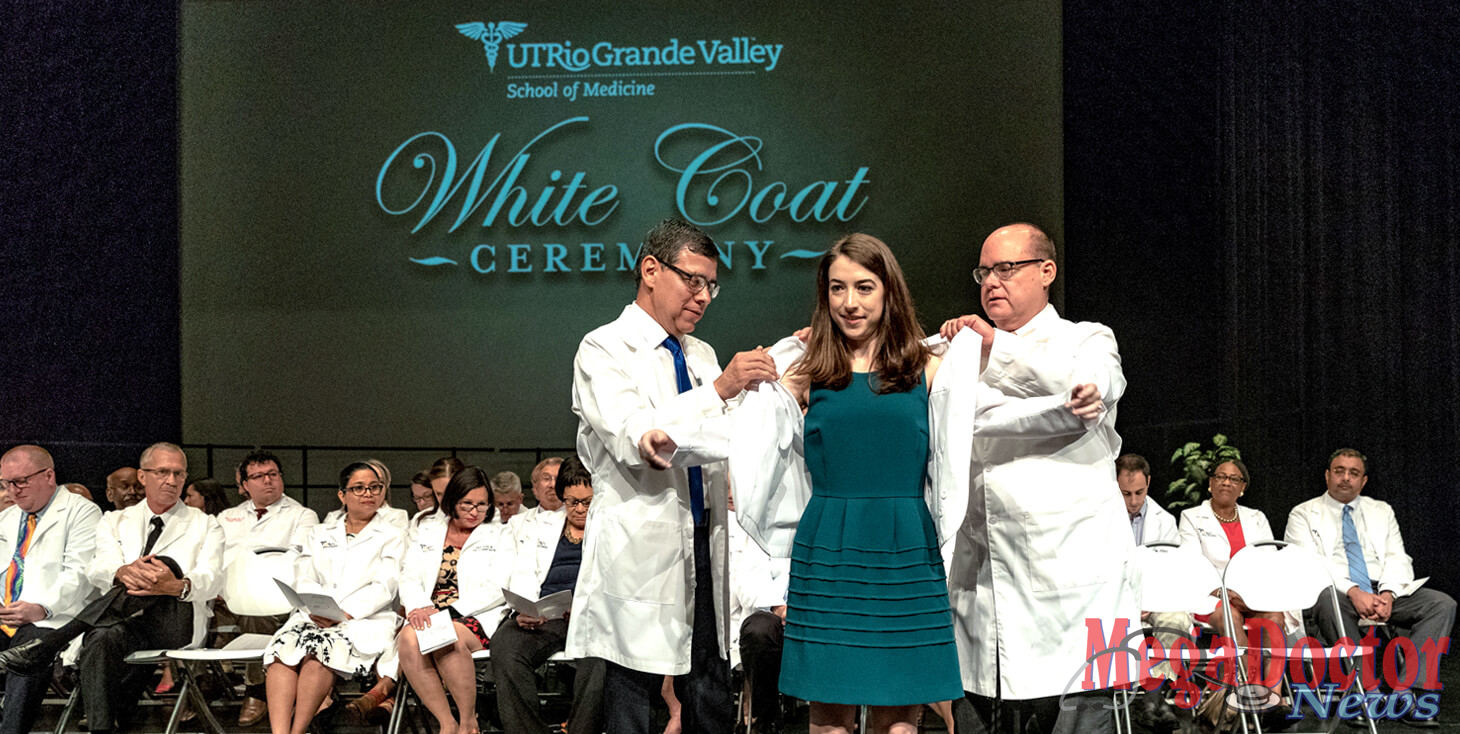 Texas Border Business
As originally published in Mega Doctor News newsprint edition August 2018
By Jennifer L. Berghom
Harlingen, Texas – The University of Texas Rio Grande Valley School of Medicine welcomed its newest students with a White Coat Ceremony on Saturday, July 28, at the Performing Arts Center at Harlingen Consolidated Independent School District.  The ceremony marks the beginning of a medical student's education and career.
After being cloaked in their signature white lab coats by School of Medicine leaders, the cohort of UTRGV medical students recited the Hippocratic Oath– which acknowledges their primary role as caregivers – in the presence of their loved ones, school leaders, and peers.
Dr. John H. Krouse, MD, Ph.D., MBA, executive vice president for Health Affairs and dean of the UTRGV School of Medicine, congratulated the students on their achievements thus far and emphasized the importance of staying humble and showing compassion.
"Today you embark on a tremendous journey and arrive at a destination in four years where you have earned and are granted the greatest privilege of all – that of being a physician," Krouse said.  "Believe me, you will remember the first time someone refers to you as 'doctor'."
Krouse also urged the students to learn from each other, from nurses and other healthcare professionals, and most importantly, from their patients.
"Let them be your teachers," he said. "Let them guide you and show you the way. Be kind to yourself, so that you can be kind to others. Always hold humanity and humility as unwavering values that you live every day."
Dr. John E. Prescott, chief academic officer for the Association of Medical Colleges, delivered the keynote address, where he discussed the history and significance of the white coat and offered some words of encouragement to students.
"Being a medical student and becoming a physician will present you with the most challenging and rewarding moments in your life," Prescott said. "It's important for you and your classmates not to become discouraged during the early stages of school, when things are not easy, and you are challenged in new ways."
He also reminded students not to worry about whether they are capable of handling medical school, "Because many individuals thought you had the right stuff to succeed."
This year, students from schools within Harlingen CISD participated in the ceremony, further strengthening ties between the UTRGV School of Medicine and the communities it serves. The School of Medicine is in the process of developing pipeline programs for students who are interested in pursuing careers in the healthcare professions.
ABOUT THE CLASS OF 2022
The students were selected from more than 4,100 applicants for admission to the UTRGV School of Medicine. Of those applicants, the School of Medicine interviewed 360 potential students.
The class has an average MCAT score in the 74th percentile nationwide, a grade point average of 3.5, and a BCPM (Biology, Chemistry, Physics, Math) grade point average of 3.4.
The students are from prestigious institutions throughout Texas and the nation, including Baylor, Duke, UT Austin, Emory, Rice, Stanford, Texas A&M, and Vanderbilt, among others.
The students of the Class of 2022 include 28 percent Hispanic, 26 percent Asian and Asian Indian, 17 percent African American, and 30 percent White/Caucasian.
A PROUD MOMENT
Medical students Adriana Saavedra and Unyime-Abasi Eyobio said they are looking forward to starting their medical careers and the ceremony was a proud moment for them.
Eyobio, who was raised in the Houston and Dallas-Fort Worth areas, described the ceremony as a surreal experience and an official launching of her medical career.
"We've all anticipated this moment for a long time and, even in hard times in our journey thus far, we've probably pictured ourselves in that white coat," said Eyobio, who earned a bachelor's degree in nursing from UT Health Science Center at Houston and a master's in Medical Sciences from University of North Texas Health Science Center in Fort Worth.
Saavedra, who grew up in Edinburg and earned her undergraduate degree in interdisciplinary studies in Health and Human Biology from Brown University in Rhode Island, said she is looking forward toward celebrating this milestone with her family, who attended the ceremony.
"I went to school out of state and my parents couldn't be at my graduation," she said. "For them to be able to witness how their sacrifices have shaped me into the individual that I am and that I actually made it – it's as much an accomplishment of theirs as it is mine."
A private reception, for students and their families, followed the White Coat Ceremony at Gutierrez Middle School.
Classes for the School of Medicine Class of 2022 started July 30.