- Advertisement -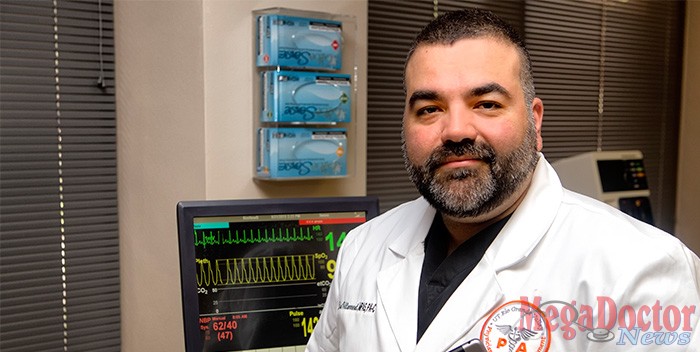 Mega Doctor News
By Cheryl Taylor
BROWNSVILLE & EDINBURG, TEXAS – AUG. 21, 2015 – "Apple for the teacher" has taken on a whole new meaning for two University of Texas Rio Grande Valley professors who have been selected as Apple Distinguished Educators – Class of 2015.
Dr. Art Brownlow, School of Music professor, and Elias Villarreal Jr., clinical associate professor in the Department of Physician Assistant, College of Health Affairs, attended the Apple-sponsored professional development institute for Apple Distinguished Educator (ADE) members from North America and Latin America, July 9-14 in Miami, Fla.
"The institute was just the beginning of what will be an ongoing relationship with other ADEs, a network to collaborate and share ideas to incorporate technology into education," Brownlow said.
Brownlow's award project involves extensive use of the Apple iPad in almost all aspects of his music history classes. He said becoming an ADE is another step in his quest to use technology as a tool to improve music education, a mission he began 20 years ago when he was awarded a grant to develop computer-assisted instruction in music classes.
Villarreal's work already had been recognized by Apple when the physician assistant department at The University of Texas – Pan American was selected as an Apple Distinguished Program for the 2013-15 award cycle. Villarreal, along with project co-leader Frank Ambriz, chair of the UTPA Physician Assistant Department, created an iBook that highlights ways the UTPA program has utilized the iPad in a variety of settings, including academic and clinical phases of the program.
- Advertisement -

"I've been working with iPads since 2010, incorporating ways to benefit our instruction," Villarreal said. "Now, as an ADE, I have the added advantage of attending the institute and being a member of this elite and talented learning community."
The majority of participants at the institute were K-12 educators.
"K-12 has been on the forefront of embracing technology, and Apple is interested in building a presence in higher education," Brownlow said. "I was the only university music professor at the institute, although there were visual arts and architecture professors from higher education."
Villarreal's subject matter, although vastly removed from music, is equally facilitated via the iPad.
"The physician assistant program is very competitive; we have about 1,000 applicants for just 50 spots," Villarreal said. "Our students are serious – they are sharp and quick and not only accepting of using technology in the learning process, but they expect it."
As with the music history students, the physician assistant department loans Apple iPads to students in the graduate program. Students spend their first year coursework on what would have been called "book work" in the past. Now, they perfect their knowledge and skills using the iPads in numerous ways.
"The iPad facilitates the instructor being able to not just deliver information but also, and more importantly, to actively involve students in their learning process," Villarreal said.
In their second year, when learning becomes more intensely hands-on and when physician assistant students are assigned to preceptors and spend days in clinical settings, they continue to use the iPad as a reference tool and to complete research projects.
Villarreal said one of the goals of the institute was for ADEs to make connections and to create networks for future communication.
"We had a lot of interaction with Apple employees at the institute, and I found I learned so much from the other ADEs," he said. "Many wonderful stories were shared; I think we were all inspired to hear about the ways Apple products and technology are impacting the lives of students – from kinder through graduate school – throughout the world."