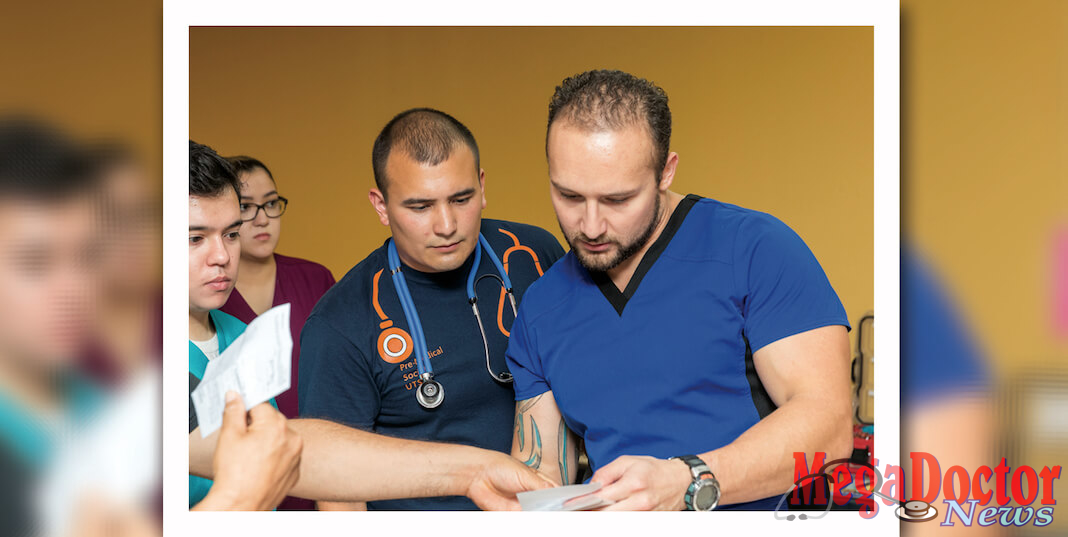 By J. Edward Moreno
- Advertisement -

Mega Doctor News
Harlingen, Texas – 2017 – For the past year, 21 UTRGV undergraduate pre-med students have been assisting physicians at Culture of Life Ministries, a faith-based nonprofit organization in Harlingen that provides free medical services for those in need. Under the supervision of nurses and physicians, the students help by taking a patient's pulse and blood pressure, checking blood sugar levels and filling out documents.
John García, 29, a pre-med biology major and president of the Premedical Biomedical Society at UTRGV, has been volunteering with Culture of Life Ministries since October 2016. He said the experience has given him valuable skills and a taste of the fulfillment that comes with being a physician.
"I gained practice in patient interaction and history-taking, basic triaging, vitalizing – the list goes on," he said. "The internal gratification that we (the volunteers) gain from participating in the provision of health services to those who otherwise would go untreated is truly priceless."
Gabriel Yáñez, 24, a UTRGV graduate biology student who volunteers with Culture of Life Ministries, said it has been a pleasure to work with the young, aspiring medical professionals, and even more so to watch as they learn new skills and grow.
"From what I've seen, the UTRGV students are go-getters. Sometimes they start off a little bit nervous, but they are up for helping with anything the nurses need assistance with," he said. "The more they go, the more they learn, and the more they are able to help us."
Yáñez said the best part of his experience with Culture of Life Ministries is seeing medicine in a different context, one that is genuinely about helping people without any question of finances. "Sometimes, cynicism builds in medicine when there's a lack of resources, and physicians are strained, especially when it comes to finances," he said. "But when these students get to see the giving side, I feel like it humbles them and gives them a different perspective."
- Advertisement -

Evan García, a research associate with the UTRGV School of Medicine, has been helping out at Culture of Life Ministries since May. For García, the most notable part of the clinic is the amount of local support, which he said is representative of the Valley as a community.
"Support through solidarity is a cultural characteristic of the Valley and a mission component of Culture of Life Ministries," García said. "It's that component that makes the Culture of Life Ministries clinic a beacon of hope for those who search for it."