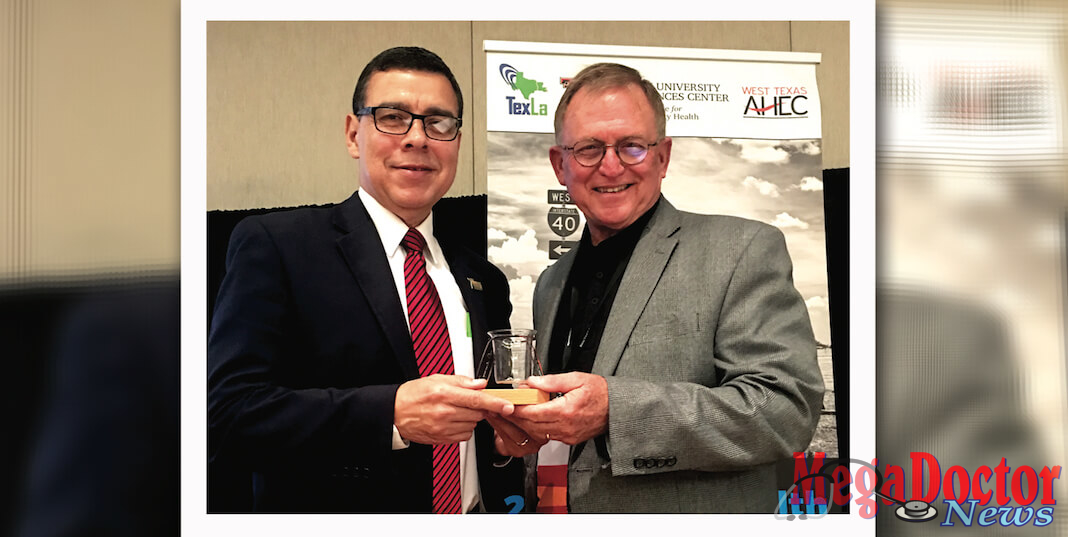 By J. Edward Moreno
Mega Doctor News
Rio Grande Valley, Texas – 2017 – Dr. Leonel Vela, UTRGV senior associate dean for Education and Academic Affairs and chair of the Department of Medical Education, has been recognized by the Texas Tech University Health Sciences Center F. Marie Hall Institute of Rural and Community Health for his role in expanding access for the underserved in the state.
Vela, who established the Institute of Rural and Community Health during his time at Texas Tech, received the 2017 Rural Health Visionary Award, an honor given to individuals who have helped expand health services to rural communities in Texas. During his time at Texas Tech, Vela helped establish programs to improve access to healthcare in rural West Texas, one of the state's most medically underserved areas.
"In some of these towns, there was literally no healthcare provider," the Pharr native said. "Through means of telemedicine, and working with local schools, we were able to provide these people with healthcare services."
"It's rewarding to have been able to develop these programs, so that individuals who live in areas where it is difficult to access healthcare can benefit from modern medicine," he said.
Dr. John H. Krouse, dean of the UTRGV School of Medicine, said Vela's knowledge of the Rio Grande Valley and its unique health needs are a key component of the university's focus on collaborative care.
"Dr. Vela is from the Valley and we highly value his ability to assess the needs of the Valley community and help build healthcare programs that increase access and improve quality of care. He truly is a visionary, and this award is well-deserved," Krouse said.
- Advertisement -

Dr. Billy Philips, executive vice president and director of The Center F. Marie Hall Institute of Rural and Community Health, said Vela's passion for eliminating barriers to healthcare is what set the foundation for the institute.
"His career while at Texas Tech University Health Science Center was marked by his compassion for people, especially those living in rural areas, for eliminating health disparities, and for educating health professionals to work collaboratively in inter-professional teams sensitive to cultural issues and social determinants of health," he said.
Currently, Vela represents UTRGV as principal investigator for The University of Texas Collaborative on Population Health Innovation and Improvement (UT-CoPHII), an initiative started by the UT System to identify community needs, address health disparities and identify population health priorities for collaborative projects across the UT System.
"The concepts that I was responsible for developing at Texas Tech are the same concepts that I'm using in this collaborative project," Vela said.
Vela accepted his recognition June 23, 2017, at the annual Rural Health at the Crossroads Conference, held at the Amarillo Civic Center.
READ MORE ABOUT VELA:
About Dr. Leonel Vela
Vela received his undergraduate degree in Medical Microbiology from Stanford University and his medical degree from Baylor College of Medicine. He completed post-graduate studies at Harvard University where he received a Masters of Public Health Degree; he also completed post-graduate training in Preventive Medicine. While at Harvard he was the recipient of a Kellogg Fellowship in Health Policy and Management. Vela received additional training in epidemiology at the CDC in Atlanta, and a fellowship in Community Medicine at Baylor College of Medicine. He is board-certified in Preventive Medicine and is a Diplomate of the American Board of Preventive Medicine.
Prior to his current appointment at UTHSCSA, Vela was the Vice President for Rural and Community Health at the Texas Tech University Health Sciences Center (TTUHSC). At TTUHSC, he was the first holder of the Marie Hall Endowed Chair in Rural and Community Health. Additionally, Vela was the Medical Director for Telemedicine and Editor of the Texas Journal of Rural Health.
Vela has served on several state, national, and international committees addressing tuberculosis, diabetes, migrant health, border health and telemedicine. He has been involved in publications and professional presentations addressing these topics, including public health and emerging infections on the border. He has participated in several professional organizations and previously chaired the National Advisory Council on Migrant Health for the U.S. Secretary of Health.
Vela has received various awards and was honored by the U.S. Department of Health and Human Services Migrant Head Start Branch, as recipient of the Plate of Bounty Award. He also served as Chair of the Group on Regional Medical Campuses for the Association of American Medical Colleges.