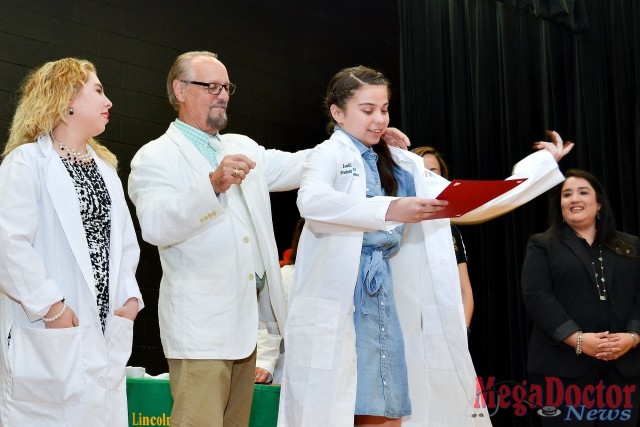 - Advertisement -

Mega Doctor News
By GAIL FAGAN
McALLEN, TEXAS – MAY 19, 2017 – The white coat ceremony is an honored tradition, a rite of passage for first-year students entering medical school that marks their induction into the profession.
Those students usually are university-age adults.
On April 19, though, 26 seventh- and eighth-grade students from Lincoln Middle School in McAllen got their white coats in a ceremony that acknowledged their participation in a four-month program at The University of Texas Rio Grande Valley that introduced them to scientific research and, hopefully, instilled in them the goal of graduating from college.
"I feel sophisticated and like a scientist … and now professionally intelligent," said eighth-grader Iris Garcia.
She was excited to be wearing the new white coat emblazoned with her name, the UTRGV logo and the title "Student Neuroscientist."
"I enjoyed it because I find it fun to have hands-on experience," she said. "We got to be treated on equal grounds with others, despite age or gender, and work together toward the same goal as a team."
- Advertisement -

The students, who applied to be in the program, were shuttled to the UTRGV Edinburg Campus each Thursday after school – seventh-graders one week, eighth-graders the next week – worked one-on-one with undergraduate and graduate students, studying psychology or biology in UTRGV's Behavioral Neuroscience Lab.
Seventh-grade student Jonathan Neri said that when he joined the activity, he thought it would be fun and he could learn from the experience, one he "could look back on and think about."
Having his own lab coat was amazing, he said.
"I am going to feel super smart," said Neri, who is interested in becoming an engineer.
Neri's classmate, Maggie Cepeda, described herself as a person who likes to gain knowledge. Donning the white coat is a privilege, she said.
"It's just a coat, but it's more about the reason you got it," she said.
She was happy for the opportunity to participate with experienced researchers.
"Here, I found people who have the same kind of passion as me, so you really feel comfortable," Cepeda said.
Aaron Castillo, a UTRGV senior majoring in psychology and philosophy, said the students assisted with laboratory research on activity anorexia.
"They are curious and fully interested and engaged," Castillo said. "We presented our conference research poster to them as if they were college students. When we asked for questions, they basically bombarded us with questions – questions that college students would ask."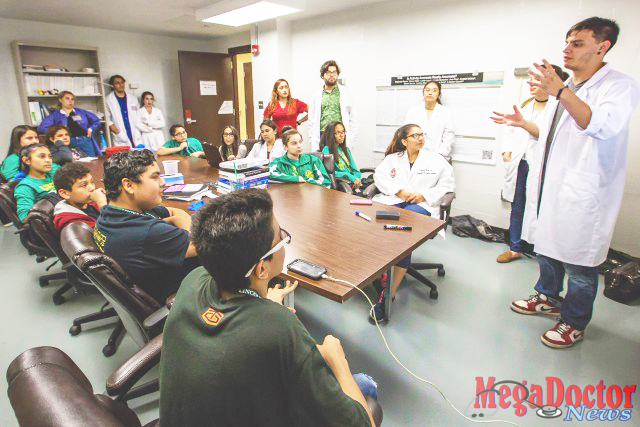 HOW 'STUDENT NEUROSCIENTISTS' CAME TO BE
The pilot program grew out of the collaborative minds of Dr. Frederick Ernst, professor of psychology and interim chair of the Department of Psychological Science; Amy Weimer, associate professor of psychology and associate dean of Student Academic Development; and Elizabeth Guerrero, a former student of Ernst, a 2012 graduate of UTPA in psychology and now a seventh-grade English Language Arts teacher at Lincoln Middle School.
Ernst said he and Weimer previously had proposed a grant from the National Science Foundation to fund proposals that would support getting pre-college students into laboratories to stimulate STEM (science, technology, engineering and math) careers, but missed the deadline.
"Our grant proposal – "How Your Brain Works for You" – was about teaching neuroscience to children, with the emphasis on how the choices you make alter the structure of your brain," Ernst said. "So it really is you in control of your brain if you take control of your environment, and not the other way around, as modern neuroscience often suggests."
About this time, he ran into Guerrero, one of his top former students, who shared her experiences teaching at Lincoln Middle School, where more than 90 percent of the families live below the poverty line.
"All these kids are really smart … but a lot of them do not have the resources to come to some of the summer programs the university offers," she said. "We have such brilliant kids, but they had never come to the UTRGV campus."
Before the program began, Ernst visited the middle school, talked with students and parents, and had them visit the UTRGV Edinburg Campus, while Guerrero solicited donations to help finance the program, and sought out the support of the school's principal to shuttle students to the lab.
In short, Guerrero said, the program was designed to make going to college a reality for her young students.
"I have seen their confidence grow tremendously. They are proud of what they are doing," she said. "Most of these students have never had the experience of being on a college campus, and now they come in and they are at ease. And I think that is powerful.
"We want to show them that anybody can come to college, and that they can do it."
LONGTERM GOALS
Weimer said the assessment of the project will focus on how the program builds a scientific identity in middle school children and whether there is a gender-related impact, although the program was not gender-specific in its recruitment.
"There is a lot of research that suggests this is a critical time for career formation, and girls, particularly Latinas, drop out of pursuing careers in science," Guerrero said. "So, we wanted to promote the idea that, if you want to be a scientist, there is a path for you there."
Ernst and Weimer said they wanted the students to see themselves as a scientist even to the point of dressing like one.
"Giving them lab coats, that is part of identity building. It seems like a minor thing, but it is powerful to see yourself in that role and look the part," Weimer said.
Weimer also sees benefits of the program to the UTRGV student mentors.
"The interaction of the students with undergraduate and graduate students gave the mentors an opportunity to learn about what students are thinking about at this age, and by mentoring, it builds their leadership skills. They are also building their own sense of self-confidence while mentoring these students," she said.
Ernst and Weimer hope to extend the program, which ended April 30, into the summer. Following the assessment of the pilot program, they plan to seek large-scale funding later this year to expand the program to include more students and more frequent visits to the lab.