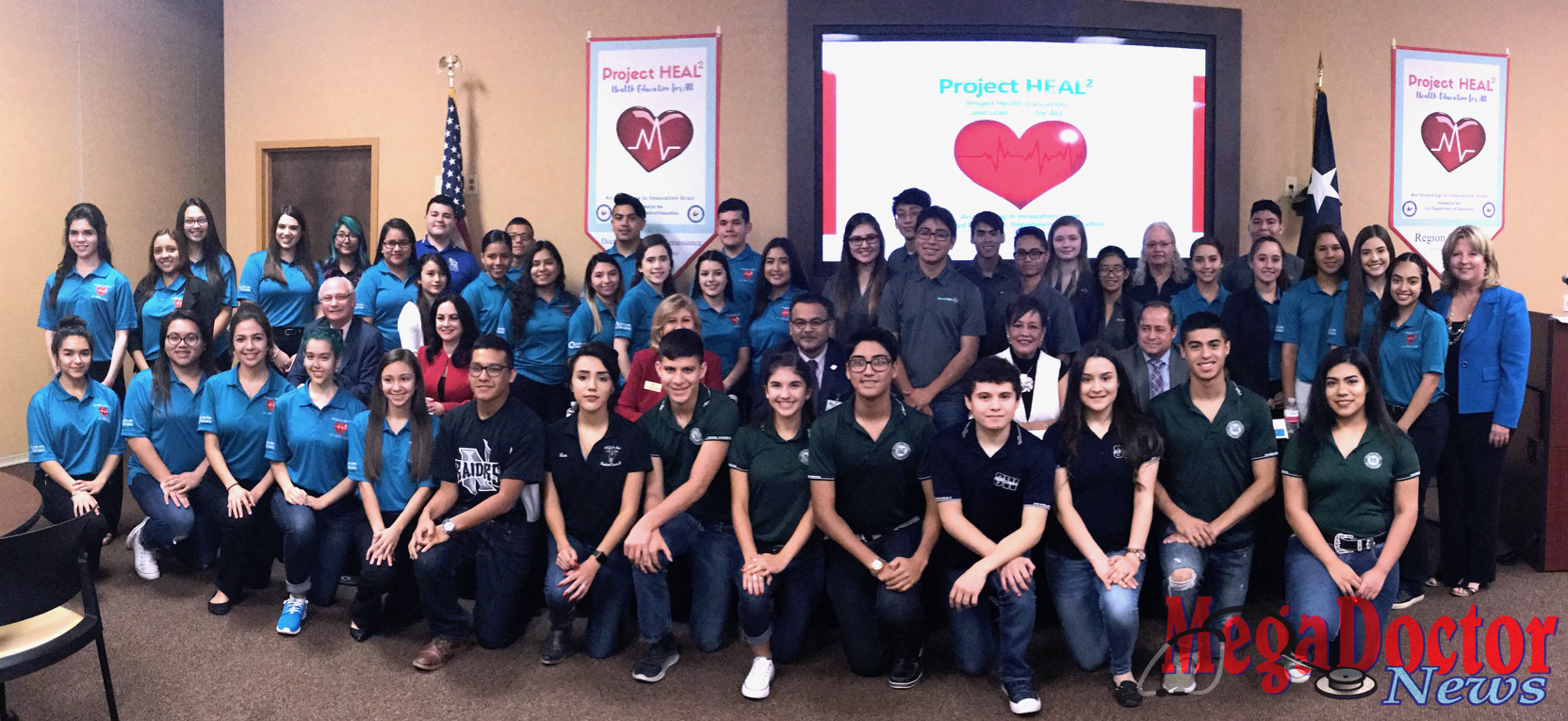 Mega Doctor News
EDINBURG – The Region One Education Service Center, together with PSJA ISD, La Joya ISD, South Texas ISD, South Texas College, and Doctors Hospital at Renaissance are the recipients of a $3 million Investing in Innovation grant awarded by the U.S. Department of Education. The partnership was announced during a press conference on May 25 at Region One.
Together, the partners are set to kick off an innovative professional nursing dual enrollment project, Project Health Education and Leadership for ALL, (Project HEAL²) that will significantly impact the opportunity for high school students interested in a health professions career. 
Through Project HEAL² 50 students from each of the participating school districts will have the opportunity to enroll in first-year college pre-requisite courses through South Texas College that will have them on the path to earning an Associate's Degree in Nursing (ADN) as they earn their high school diploma. The Project HEAL² initiative expands on the successful pilot-program by Doctors Hospital at Renaissance, PSJA ISD, and Region One ESC which just recently graduated eight students from the program.
"First piloted in the PSJA school district we observed amazing results, the young men and women who participated in the program met the challenge and proved that it could be done," said Dr. Cornelio Gonzalez, Region One Executive Director. "Sometimes to provide these learning and career opportunities for our students, it involves innovative and creative thinking; this is exactly what occurred when our partners met to develop Project HEAL²." 
The first cohort of Project HEAL² students, consisting of 9th and 10th grade students, will have the opportunity to attend the local GEAR UP College for All: Health Science Professions Conference (C4A), which will introduce the students to healthcare careers and provide both students and their parents with a unique insight from those working in the field. Concurrently, in the 11th and 12th grades of the cohort group, each participating school district has been allotted 50 slots for participation by students with more intensive, dual enrollment courses.
These students will have access to continued awareness opportunities and will take first year college pre-requisite courses through South Texas College, be assigned a nursing mentor, and participate in experiential rotations at Doctors Hospital at Renaissance. Project HEAL² students will also have access to tutors and mentors to help prepare for the Health Education Systems Incorporated (HESI) exam, which prepares student nurses to challenge the professional licensure exam.
Upon graduation from high school, Project HEAL² students are eligible to apply for admission to the South Texas College Associates Degree in Nursing (ADN) for second year nursing content. Each participating school district is guaranteed 20 slots into the ADN Nursing Program for qualified students.
"The nursing career pipeline will be forever changed by Project HEAL2. The student talent in the RGV is exceptional, as well as the dedication of the college's nursing faculty. Together with committed partners, we will be validating a new national model for the preparation of registered nurses," adds Dr. Shirley Reed, President, South Texas College.
In addition to providing unique educational and career opportunities Project HEAL² will also help to address the nursing shortage in the Rio Grande Valley area.
Jayson T. Valerio DNP, RN, Interim Dean Nursing & Allied Health Division, South Texas College, notes the disparity in the nursing field.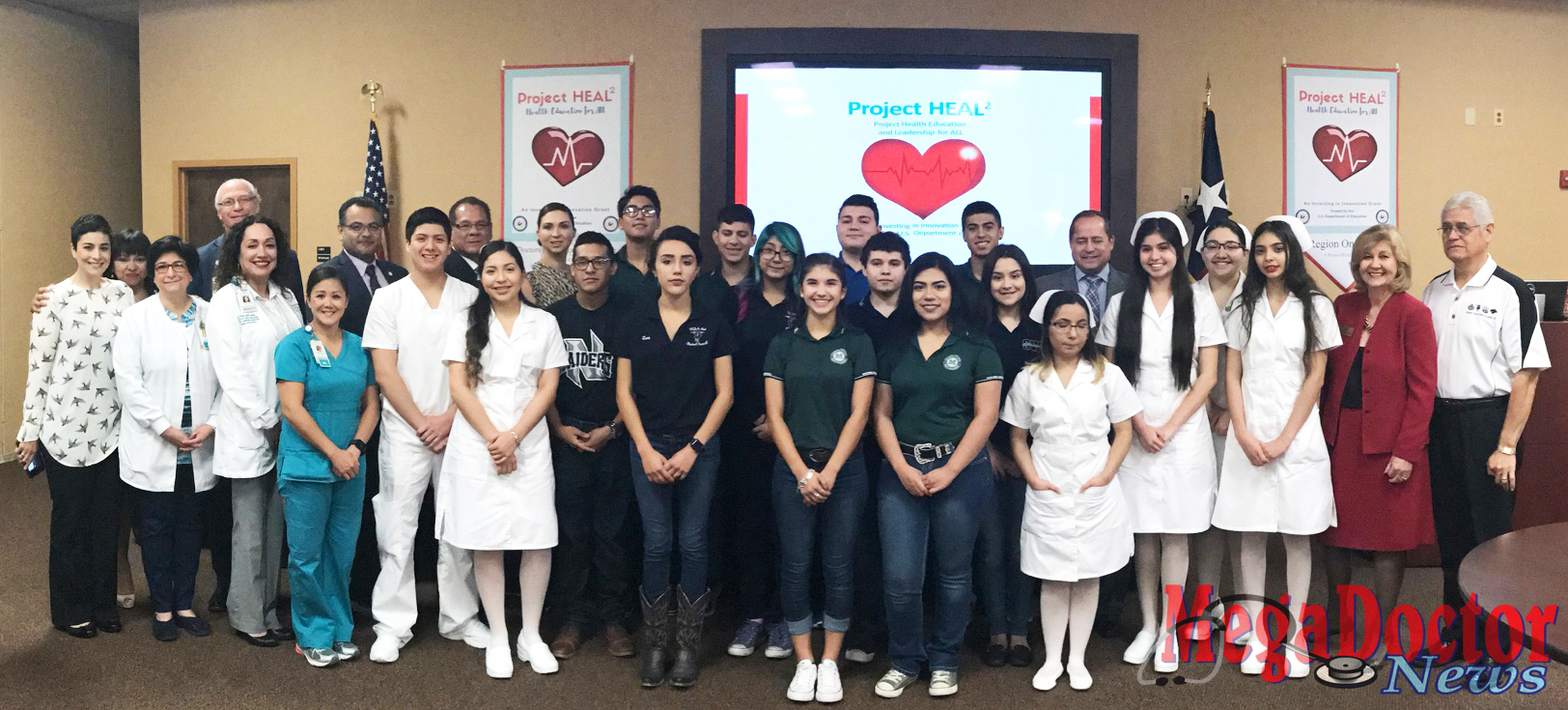 "In 2016, among the eight regions in the State of Texas, the RN facility vacancy rate was the highest in the Rio Grande Valley and only 14.8% are Hispanic/Latino which does not mirror the population in the state and nationwide. Looking at the RN FTE supply and demand for RGV by 2015-2030, our region will need more RNs than anywhere else in the state. Project HEAL² will increase the pipeline of students going into the nursing profession, enhance the academic preparation for Associate Degree in Nursing, increase the rate of high school graduation, and produce more culturally diverse in the nursing workforce."