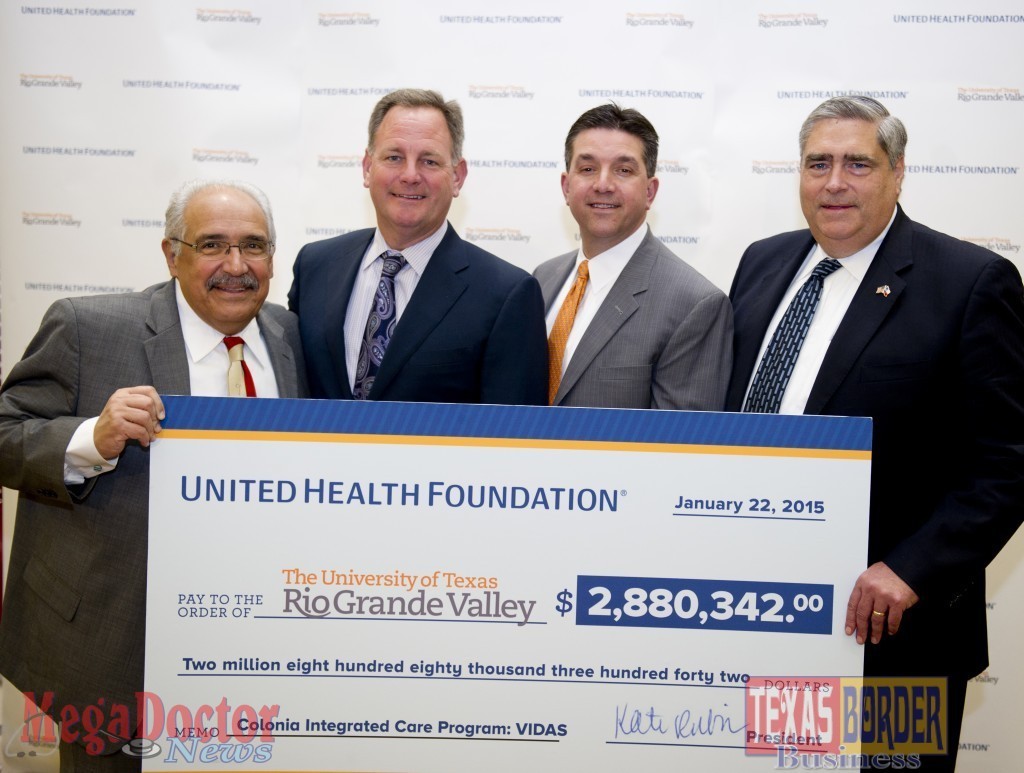 Mega Doctor News
Grant will support increased health care access and education in Rio Grande Valley colonias
EDINBURG, Texas (Jan. 22, 2015) – The University of Texas Health Science Center at San Antonio and The University of Texas Rio Grande Valley School of Medicine have been awarded a $2,880,342 grant over three years by United Health Foundation to help support the Colonia Integrated Care Program: VIDAS (Valley Interprofessional Development And Services). The initiative aims to unite the region by building an integrated, interprofessional collaborative that will create a sustainable model for health care delivery to the most vulnerable members of the community.
The United Health Foundation grant will help establish the Center for Colonia Integrated Care (CCIC), where project staff will coordinate services in a team-based integrated model targeting two colonias through the use of two mobile health clinics and telehealth. Services to be provided by the project will include screening, health education and promotion, health literacy, and improved dental and mental health services.  The project will also formalize training for and increase the number of trained promotoras, community health workers who link the health care system with the colonias through shared language, culture, and ethnic ties.
The grant is part of United Health Foundation's "Helping Build Healthier Communities" program that is providing critical resources to nonprofit community-based organizations throughout the United States to improve the health of communities.
"We are delighted to partner with United Health Foundation to expand our work in our community to help improve lives," said UT Rio Grande Valley School of Medicine founding dean Francisco Fernández, M.D. "By supporting the Colonia Integrated Care Program: VIDAS, the United Health Foundation grant helps us define the new School of Medicine as fully committed to the health and well-being of the very communities in which we hope a large number of its future students will call home."
- Advertisement -

Texas Governor Greg Abbott participated in the grant ceremony, which was made during the Rio Grande Valley Legislative Tour panel discussion on regional health care priorities with a delegation of state legislators, health experts, local elected officials and community leaders.
"I commend the United Health Foundation for their generous support of UT Rio Grande Valley School of Medicine that will help improve the lives of those who rely on these services and programs," said Governor Greg Abbott. "This innovative partnership will now have additional resources to help underserved communities in the Rio Grande Valley."
The funding comes at a critical time as UT Rio Grande Valley prepares to open its doors in fall 2015. Development, accreditation and staffing for the School of Medicine are underway for a fall 2016 opening and its inaugural class of 50 first-year medical students.
"United Health Foundation believes the UT Rio Grande Valley School of Medicine, with its strong track record, can play an even more central role in developing innovative approaches to enhance people's health and quality of life in this region," said Tom Quirk, CEO, United Healthcare of Texas.
According to America's Health Rankings, Texas ranks last among the 50 states in people having health insurance, a fact that underscores the need for better access to health programs and services. Also, nearly 40 percent of Hispanic adults are obese, and nearly 15 percent of adults statewide have Type 2 diabetes.
The University of Texas Rio Grande Valley will administer the Foundation grant over a three-year period, from Jan. 1, 2015, through Dec. 31, 2017. The project was designed and will be implemented in coordination with the partner organizations of the South Texas Integrated Team Collaborative for Health (STITCH), which include various community-based health providers; the UTRGV School of Medicine; Doctors Hospital at Renaissance; the Texas A&M National Community Health Care Worker Training Center; Valley Baptist Hospital; The University of Texas at Brownsville Nursing programs; The University of Texas-Pan American (UTPA) Social Work, Nursing and Physician Assistant programs; The University of Texas School of Public Health; The University of Texas at Austin/UTPA Cooperative Pharmacy Program; and South Texas College.
The University of Texas System will open UT Rio Grande Valley in the fall of 2015 and the School of Medicine in 2016. The first new major public university of the 21st century in Texas, UT Rio Grande Valley will advance a mission that empowers students to develop into confident innovators and future global leaders, transforms medicine and health, and fosters quality of life and economic prosperity. With an estimated enrollment of 30,000 students, research expenditures exceeding $20 million and an endowment of more than $70 million, UT Rio Grande Valley will be one of the largest Hispanic-serving institutions in the country.
About The University of Texas Rio Grande Valley
The University of Texas Rio Grande Valley was created by the Texas Legislature in 2013 in a historic move that will combine the resources and assets of UT Brownsville and UT Pan American and, for the first time, make it possible for residents of the Rio Grande Valley to benefit from the Permanent University Fund. The institution will also be home to a School of Medicine and will transform Texas and the nation by becoming a leader in student success, teaching, research and healthcare. UTRGV will enroll its first class in the fall of 2015, and the School of Medicine will open in 2016. One of only a few U.S. medical schools to be established in several decades, the UT Rio Grande Valley School of Medicine is designed to transform medical education and research, train a new generation of physicians in integrative and personalized care, and impact the health and well-being of the entire Rio Grande Valley. From the outset, the medical school aims to become a national model for innovation and continuous improvement in medical education, research, and healthcare delivery.
About United Health Foundation
Through collaboration with community partners, grants and outreach efforts, United Health Foundation works to improve our health system, build a diverse and dynamic health workforce and enhance the well-being of local communities. United Health Foundation was established by UnitedHealth Group (NYSE: UNH) in 1999 as a not-for-profit, private foundation dedicated to improving health and health care. To date, United Health Foundation has committed more than $240 million to programs and communities around the world. We invite you to learn more at www.unitedhealthfoundation.org