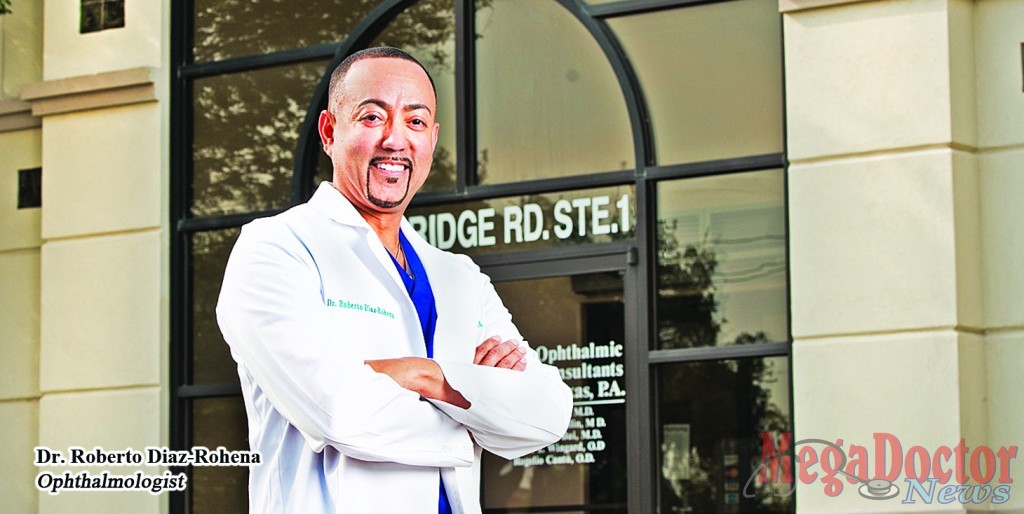 By Roberto Hugo Gonzalez
As originally published by Mega Doctor News newsprint Edition
The medical industry in the Rio Grande Valley goes through different changes every year; one of those changes is the addition of new doctors with excellent professional credentials. Last year Dr. Victor Gonzalez, a well-respected Ophthalmologist, invited Dr. Roberto Diaz-Rohena to relocate from Houston to McAllen.
"I have always been interested in helping Latino communities. I believe in helping our communities by making them healthier.  I was more than happy to leave Houston for an area that requires enormous help in eye care," he told Mega Doctor News. Dr. Diaz-Rohena is an Ophthalmologist with sub-specialty training in Vitreoretinal diseases and surgeries.  He has a sub-specialty in the field of inflammatory eye diseases, also known as Uveitis as well as additional training in Neuro-Ophthalmology, the medical field that deals with the neurologic or brain aspects of vision.
It is important to note that Dr. Diaz-Rohena is the only fellowship-trained, Neuro-Ophthalmology and Uveitis eye physician currently in the Rio Grande Valley; therefore, the patients he takes care of have very complex and challenging medical and surgical eye problems. Many times the consultations require a long period of detective work, problem-solving and textbook research in order to diagnose what is wrong with the patient.  "It keeps my academic brain active and keeps me on my toes," he said.
Dr. Diaz was born in Brooklyn New York in 1960 to Luz Maria Rohena, a homemaker and Epifanio Diaz, a tailor.  "My parents immigrated to New York City and met while they were both working at a tailor shop."  He considers himself a New York Puerto Rican. "My Mother was responsible for taking care of the children and my father worked two jobs to sustain our family." However, at the age of 13, his parents divorced and his mother moved all three sons to Carolina, Puerto Rico.
He remembers this was a difficult time financially for a single mother with three sons. Consequently he had to mature quickly to help his mother deal with the challenges.  "I had to become the surrogate father and help insure that we would surpass our situation," he said. Life taught him to be understanding and compassionate.
Moving to Puerto Rico at that age, was a formative period for strengthening his cultural Latino roots; it defined who he is today. "I will always remember my roots," he said.
Dr. Diaz-Rohena graduated from Harvard Medical School on a full scholarship in 1988 and spent one year doing genetic bench research at the University of Pennsylvania. He had earned his Bachelor of Science degree from Haverford College, Pennsylvania also on a full academic financial package named the Jose Padin Scholarship.  He also did further research in glaucoma before completing a three-year Ophthalmology residency at Emory University School of Medicine in Atlanta Georgia.
He completed a two-year fellowship in Vitreoretinal surgery and diseases, and a six-month fellowship in Uveitis and Neuro-Ophthalmology at the Ohio State University, Columbus Ohio.  In 1995, Dr. Diaz-Rohena was offered and accepted a professorship position in the department of Ophthalmology at Baylor College of Medicine.
Dr. Diaz-Rohena pointed out that as a young boy, he remembered his Mother taking them to doctors and emergency rooms in Puerto Rico spending many hours sitting and waiting to be seen because they were on Medicaid.  "I realized doctors have a tremendous responsibility taking care of patients and they must love curing diseases. I was hooked but I also understood that I had a responsibility to help communities become healthier and do it empathetically," he noted.
"As I got older, I became very interested in Biology and the natural sciences; I wanted to be a scientist and discover cures." He told Mega Doctor News that after being at the University of Pennsylvania for one year doing genetic research his academic advisor suggested and believed that he would be a better physician than a scientist due to his ability to communicate with people and his genuine desire to help people.
His passion for his professional career is unique; he loves the eye's challenging mysteries.  "I am always interested in figuring out the unusual diagnoses and many of my friends call me "Dr. House" or "Dr. Casa"," he said.  His detective work and the study of diseases is one of the most interesting parts of his career, however he feels fulfilled when he sees the smiles on his patients when he is able to help them overcome a surgical or medical problem. "This is priceless."
Dr. Diaz-Rohena's specialty is very important for the Rio Grande Valley because one undeniable factor is that the Valley has one of the highest incidences of blindness due to severe diabetic eye disease, although he says that new emerging medical and surgical treatments continue to improve the outcomes in diabetic retinopathy.
Dr. Diaz-Rohena is currently part of the faculty that teaches Fellows in his field.  "Fellows are doctors who will become retina specialists; they spend two intense years learning with us," he said.  This fulfills him immensely, "It is a wonderful feeling seeing these young physicians grow into excellent doctors who will make a difference in their own ways and I enjoy having them challenge me and make me a better physician as well."  In addition he said that currently there are past graduates in Venezuela, Colombia, Puerto Rico, Mexico, and across the U.S.
As if that was not enough, Dr. Diaz-Rohena is also currently teaching ophthalmic technicians and front desk staff all over the country. "I am always lecturing to physicians, nationally and internationally at medical meetings about the most advanced techniques in our field. I had amazing teachers in my life and I respect the influence they had in my aspirations.  Now I want to "pay it forward".
On a personal level for him it's also a great fulfillment to take care of young children who have inflammatory eye diseases or uveitis.  "Many of these patients are three and four years old when they first come to my clinic for help and I have seen many of these visually and physically challenged children grow up to be accomplished young adults," he said.  Dr. Diaz-Rohena has even attended many of their graduations from high school or college.  "There can be nothing more rewarding than that."
On a professional level, Dr. Diaz-Rohena is a Fellow in the American College of Surgeons (FACS) since 2009. He was recently named one of Texas' 'Super Doctors' by Texas Monthly magazine and one of 'America's Top Doctors' by Castle Connolly Ltd.   He said it is a true honor to be recognized by peers in the medical community.
Even with his very busy schedule he knows it is important to be healthy in order to handle stressful work.
"I am very much into health and nutrition so I go to the gym daily and have been doing so for almost 10 years," he said. "I truly believe in "you are what you eat", therefore I strive to keep a healthy body to serve as a role model to my patients." After a long day, he goes to the gym to do weight training and/or cardio.  "Its mind over matter, I can do it!" he said.
Another of the hobbies he enjoys is reading science fiction and fantasy novels and he loves music and dancing. In fact, he could have easily become a D.J. Recently he served as a DJ at his sister's wedding.
"I was also a Latin dance instructor in Salsa and Merengue for many years.  I love to dance and I immensely enjoyed making everyone dance," Dr. Diaz-Rohena said.
His peers consider Dr. Diaz-Rohena a nerd, as he likes to study and read about medicine every night.  First and foremost, he loves spending time with his family and pets; he has a couple of English Bulldogs: Maya and Mask, two Japanese Shiba Inus dogs: Sasa and Bruni, and a Pekinese mix: Leo.   He also has a talking parrot named Vespa that says "Hola", "Que Rico", "Nena", and her name over and over. He enjoys traveling and of course dancing.  "It is very important to fill the needs of both my personal and professional life in order to become a complete and satisfied person. I am a happy and truly blessed man and physician."
His immediate plans are to stay in McAllen and someday retire in this city but at the moment as he says there is a lot to be done with teaching doctors-in-training in the Rio Grande Valley.  "In fact, teaching has always been my most important role in medicine. It is a major responsibility to be part of peoples' lives, to fight and advocate for them," he concluded.
Dr. Roberto Diaz-Rohena has been selected as the Mega Doctor for the April issue of Mega Doctor News for his commitment to training future doctors and for his compassion and dedication to providing his patients with the best health care.
Dr. Roberto Diaz-Rohena practices at Valley Retina Institute located in McAllen, Harlingen, and Brownsville.  They are located at 1309 E. Ridge Road, McAllen, TX, (956) 631-8875.  You may also reach him at: rd@robertodiazmd.com or his blog site robertodiazmd.com.   MDN
Written by Roberto Hugo Gonzalez the 2009 SBA Journalist of the Year Award Winner & The 2009 and 2012 Paul Harris Award recipient.