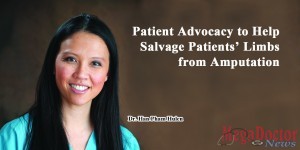 By Roberto Hugo Gonzalez
As originally published by Mega Doctor News  newsprint Edition
Han Pham Hulen, M.D.is a dedicated doctor who is passionate about advocating helping her patients to heal. She has been doing wound care for the last four years and she has been a physician since 2002.
Dr. Hulen received her Doctorate of Medicine at Texas Tech University Health Sciences Center in Lubbock and a Bachelor of Arts at Austin College in Sherman, Texas. Originally from Sulphur Springs (east of Dallas), Dr. Hulen completed a residency in internal medicine at Baylor University Medical Center in Dallas, where she was appointed Chief Resident in her final year and completed a fellowship in infectious disease at the University of Texas Southwestern Medical Center in Dallas.   She is board-certified in internal medicine, infectious disease, and undersea and hyperbaric medicine.
She came into the wound care field by accident, "Because of my training in infectious disease medicine my sister, a wound care physician, had a lot of questions for me on how to treat wounds that were infected. That is what peaked my interest in doing wound care," she said.
That's all it took and as she continued working with her sister, she discovered a passion in helping to heal patients. "My first work was at Sulphur Springs." Now she operates seven-wound care centers throughout the state of Texas. Her company recruits, hires and trains full-time physicians.  "The same passion that I feel, I look for, and recruit physicians that feel the same way as I do." She added, "I don't know if you know that there isn't such a thing as wound care residency."
She pointed out that there are a few one-year fellowships across the nation that aren't necessarily advanced wound care training. During her lecture at Valley Baptist Medical Center, she said it is necessary for patients to ask for physicians' healing rates because these are variable. "There are physicians that are very aggressive and some that when they see things get complicated, they opt to do amputation."
Dr. Hulen said that you are only as good as the person who trained you. "I created my company for that reason, to find physicians who advocate for patients, do aggressive wound care, and really get the patients to heal."
- Advertisement -

On average each one of her centers sees from 300-400 patients per month. Today Dr. Hulen has seven wound centers across Texas. She said that one doctor is dedicated to each center and this is important because you have continuity of care versus having a different physician each time. "We have enough experience because we see anywhere between 15-20 patients a day," she said.
She pointed out that her physicians see many patients day in and day out so they know how to heal them versus a physician that works only half a day during the week to heal wounds. Her question is "How are they going to be good?" "So if you have a good dedicated wound specialist doctor that has good healing rates that is the doctor that you want to go to, to advocate for your wound healing."
Just recently, Dr. Hulen was named the new medical director of the Wound Care Clinic and Hyperbaric Medicine Department at Valley Baptist Medical Center in Harlingen, and together with Anh (AJ) Nguyen, M.D., and Sara Franklin, D.O., is now providing comprehensive medical care for Valley patients who have chronic, non-healing wounds. The three doctors are caring for those with diabetes and others who have wounds where early treatment is critical to prevent tragic amputations of the foot or leg, or other complications.
For most people, a minor cut or bruise does not develop into a serious health problem.  However, for people whose healing process is impaired by poor blood circulation, diabetes, or immobilization, a simple wound can eventually lead to chronic open sores, infection, gangrene, and amputation.
The good news is that multi-specialty therapy for treating these wounds is available at the Wound Care Clinics at both Valley Baptist-Harlingen and Valley Baptist-Brownsville.
The methods of wound care may include advanced dressing technology, bioengineered skin grafting, debridement of wounds, edema management / compression therapy, hyperbaric oxygen therapy, infection control and management (antibiotic therapy), laboratory studies, non-invasive vascular studies, and individualized patient education.
Patients are taught how to care for their wound at home, and advised of nutrition and exercises that might aid the healing process and prevent future wounds.  Patients who have wounds on their feet are taught how to protect their feet and walk correctly.  Special shoes are often prescribed to protect the feet and relieve pressure.
Board-certified physicians are trained in comprehensive wound management; specially trained nurses and wound care technicians work in collaboration with the patient's primary care physician to develop a comprehensive, evidenced-based individualized plan of care for each patient.
"The primary reason we are establishing our practice here is patient advocacy," Dr. Hulen said. "With so many diabetic patients in the Valley, there is a great need in this community for patient education and comprehensive wound care, to help salvage patients' limbs from amputation. "
Dr. Han Pham Hulen and her team of specially trained physicians have been chosen as the Mega Doctors of the month for their passion in advocating to protect their patients' limbs by providing specialized wound care healing. MDN
Written by Roberto Hugo Gonzalez the 2009 SBA Journalist of the Year Award Winner & The 2009 and 2012 Paul Harris Award recipient.