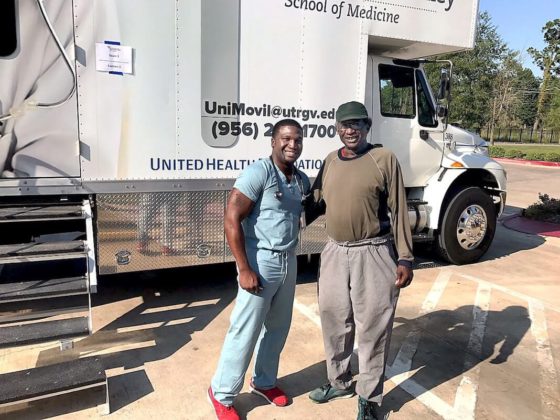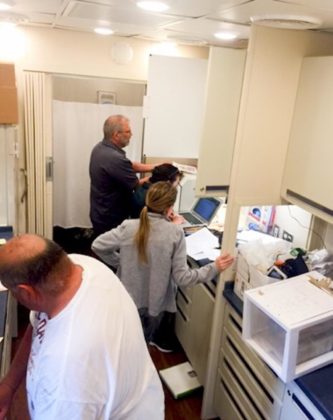 By Jennifer L. Berghom
Mega Doctor News
HOUSTON, TEXAS – SEPT. 7, 2017 – A team from the UTRGV School of Medicine braved the elements to travel to the Houston area this week, to offer medical services to residents affected by Hurricane Harvey.
Led by Dr. Eron Manusov, assistant dean of Clinical Education and professor and chair of the UTRGV School of Medicine's Department of Family and Community Medicine, the team of UTRGV School of Medicine healthcare professionals on Tuesday morning took the School of Medicine's mobile clinic, Unimóvil, north to provide medical care throughout the week.
Team members included:
Dr. Eliana Costantino-Burgazzi, resident from Knapp Family Medicine.
Dr. Charles Lewis, resident from Doctors Hospital at Renaissance Family Medicine.
Lucy Rodriguez, nurse.
And Jesse Delgado, community health worker.
The team is working in partnership with UnitedHealth Foundation (UHF) to offer medical care to residents. UHF and the UTRGV School of Medicine have been working together for the past three years to provide healthcare to underserved areas; UHF provided funding for the mobile clinic.
In Houston, the Unimóvil team has been providing care for allergies, coughs and pneumonia, skin diseases, cuts, chronic diseases, diabetes and other illnesses.
Manusov said many patients have suffered loss and need refills on their medications. Many are experiencing anxiety from what they have experienced, among other concerns, he said.
South Texas Health System and UHF donated supplies, including tetanus shots and supplies for asthma.
From ground zero, Manusov Tweeted: "Water 4 feet high in houses destroyed. A lot (of) asthma, GI symptoms. Dr. (Charles) Lewis, Dr. (Eliana) Constantino and Dr. (Jesus) Garza a great team."
Follow Dr. Manusov on Twitter: @eron_utrgv.