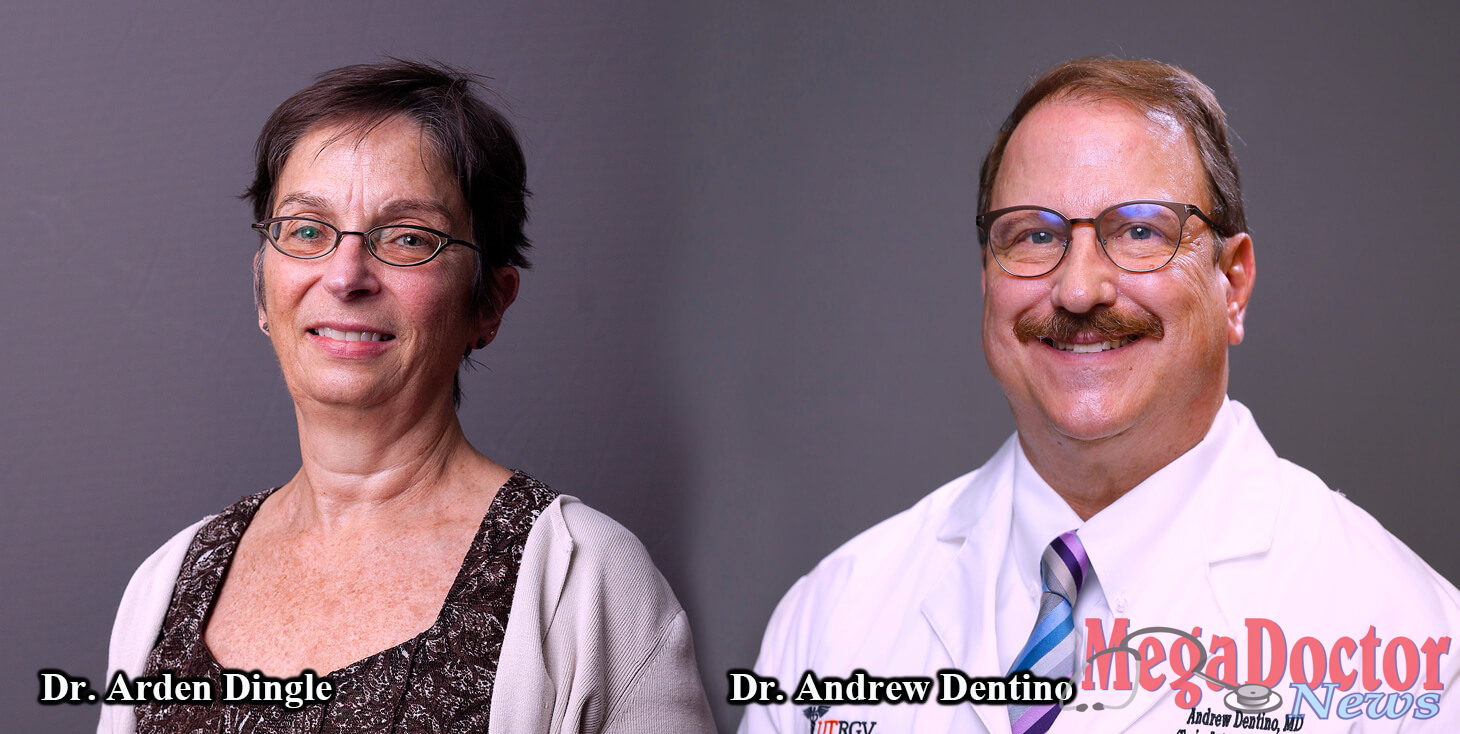 Mega Doctor News
Dr. Arden Dingle and Dr. Andrew Dentino from The University of Texas Rio Grande Valley School of Medicine have been selected to serve on The University of Texas System Kenneth I. Shine, M.D.,Academy of HealthScience Education.
The UT System Academy of Health Science Education was founded in 2005 and renamed in 2013 in honor of Dr. Kenneth I. Shine upon his retirement as the system's executive vice chancellor of Health Affairs.
The academy's mission is to support and promote "excellence in all aspects of health science education, educational scholarship, and leadership," according to the Academy's bylaws. New members are selected annually from UT System's health institutions.
Dr.Dingle serves as a professor of psychiatry and program director of the psychiatry residency program at the UTRGV School of Medicine. She earned her medical degree from the University of Medicine and Dentistry of New Jersey and completed her residency and fellowship training from Mount Sinai Medical Center in New York, New York. She is board certified in pediatrics, general psychiatry, and child and adolescent psychiatry.
Prior to joining UTRGV in September 2015, Dingle served at UT Health San Antonio, Emory University School of Medicine, and the Morehouse School of Medicine in Atlanta, Georgia.
Dr.Dentino joined UTRGV in 2017 and currently serves as assistant vice president for the University's Division of Health Affairs, as well as associate dean for Interprofessional Education, professor and chair for the Department of Internal Medicine in the School of Medicine, and interim chair of the UTRGV Departments of Psychiatry and Neurology.
He is board certified in internal medicine, general psychiatry and geriatric psychiatry. He also is fellowship-trained in geriatric medicine and completed his training in internal medicine and psychiatry from West Virginia University.
"Selection to the Shine Academy is a prestigious honor and recognizes the excellent contributions to medical education made by Drs. Dingle and Dentino," said Dr. John H. Krouse, dean of the School of Medicine and executive vice president for Health Affairs at UTRGV. "I am proud of their continued leadership at UTRGV."