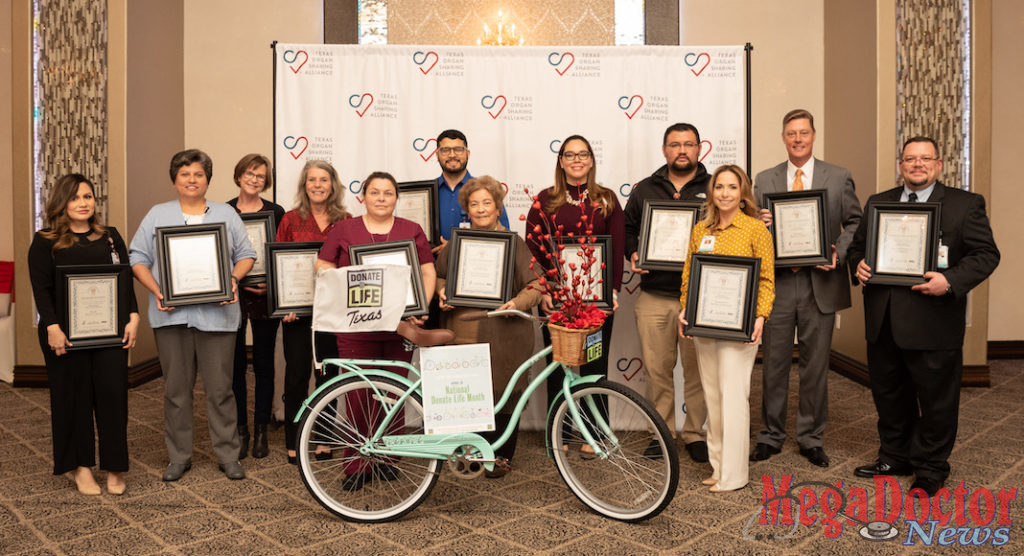 Mega Doctor NEWS
ALAMO, TX — Texas Organ Sharing Alliance (TOSA), the organ procurement organization that provides organ donation and recovery services in Central and South Texas, recently recognized its hospital partners at the 11thAnnual Thanks From the Heart ceremony for their efforts in assisting the organization save lives through the power of organ donation.
For the third consecutive year, every hospital in the Rio Grande Valley participated in projects to help educate the community on the importance of organ, eye and tissue donation while also increasing the number of registered donors through a national campaign sponsored by the U.S. Department of Health and Human Services' Health Resources and Services Administration (HRSA). The campaign has added more than 443,000 donor enrollments to state registries nationwide.
"We at Texas Organ Sharing Alliance feel it's important to recognize the staff at area hospitals for your dedication to support our mission," Dorothy Switzky, the Director of Hospital Services & Northern Region said at the event held Feb. 20.
TOSA recruited hospitals to join the Workplace Partnership for Life Hospital Campaign and supported them in planning awareness and donor registry enrollment activities to increase the number of organ, eye, and tissue donors. Hospitals earned points for each activity implemented between October 2017 and April 2018 and were awarded platinum, gold, silver, or bronze recognition accordingly.
Hospitals earning Platinum recognition were Edinburg Regional Medical Center/Edinburg Children's Hospital, Doctors Hospital at Renaissance, McAllen Heart Hospital, McAllen Medical Center, Rio Grande Regional Hospital, Renaissance Transplant Institute, Valley Baptist Medical Center Harlingen and Brownsville and Valley Regional Medical Center.
Mission Regional Medical Center received Gold recognition and Harlingen Medical Center, Knapp Medical Center and Starr County Memorial Hospital earned Silver recognition.
For information on organ donation and community initiatives, or to register online, visit TOSA1.org.