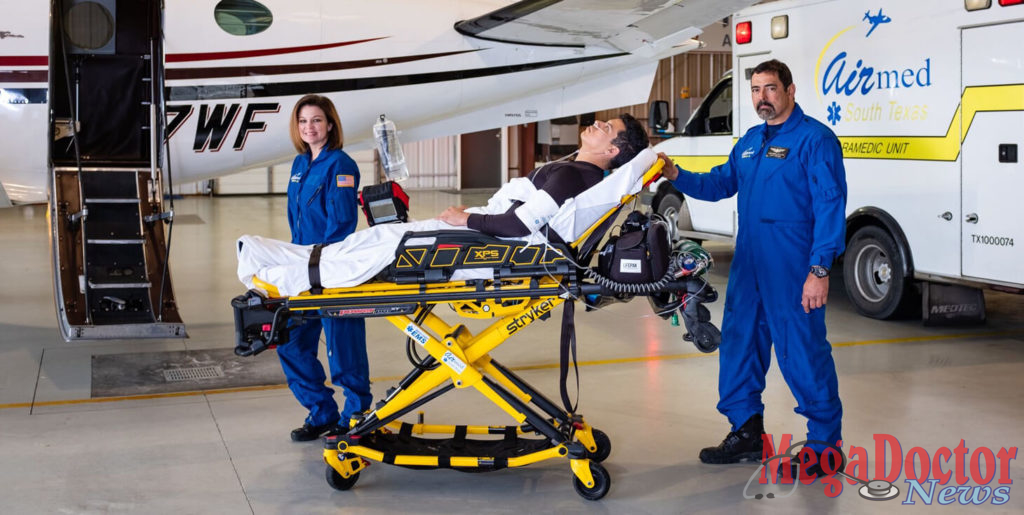 Mega Doctor NEWS
By David A. Díaz
Leaders for Hidalgo County EMS/South Texas Air Med on Thursday, January 31, 2019, said they are finalizing a plan to provide helicopter air ambulance service to area hospitals, an announcement that came hours after Air Evac Lifeteam in McAllen immediately ceased operations.
Air Evac Lifeteam had been operating from McAllen Medical Center since its October 2011 opening, according to an Air Evac Lifeteam press release distributed to media outlets in the Valley.
"We anticipate to launch a helicopter air ambulance service within the next 90 to 120 days," said Kenny Ponce, President/CEO of Hidalgo County EMS/South Texas Air Med. "It's something we have been working on the past several months to ensure that this community has this type of service. In the meantime, we do have two fixed wing (aircraft) ambulances for emergency flight service."
Paul M. Vazaldua, Jr., Vice President of Organizational Leadership and Government Affairs for Hidalgo County EMS/South Texas Air Med, said the region's residents are fortunate to have the largest EMS (emergency medical service) company south of San Antonio with the vision to make helicopter air ambulance service available.
"Hidalgo County EMS services 90 percent of Hidalgo County residents, from pediatric to geriatric patients – and every person in between. We think of everyone. We always remember, 'What if it is my baby or my grandma who needs helicopter ambulance service?'" Vazaldua said. "We deeply care for all families. It is this high level of dedication to life-saving public service that inspires Hidalgo County EMS and its sister company, South Texas Air Med, to move forward with this initiative to provide helicopter ambulance service."
Bringing helicopter air ambulance service back to Hidalgo County also will help Gov. Greg Abbott and Valley state lawmakers in Austin to secure state funds needed to pay for the establishment of Level I Comprehensive Trauma Center(s) in the Valley.