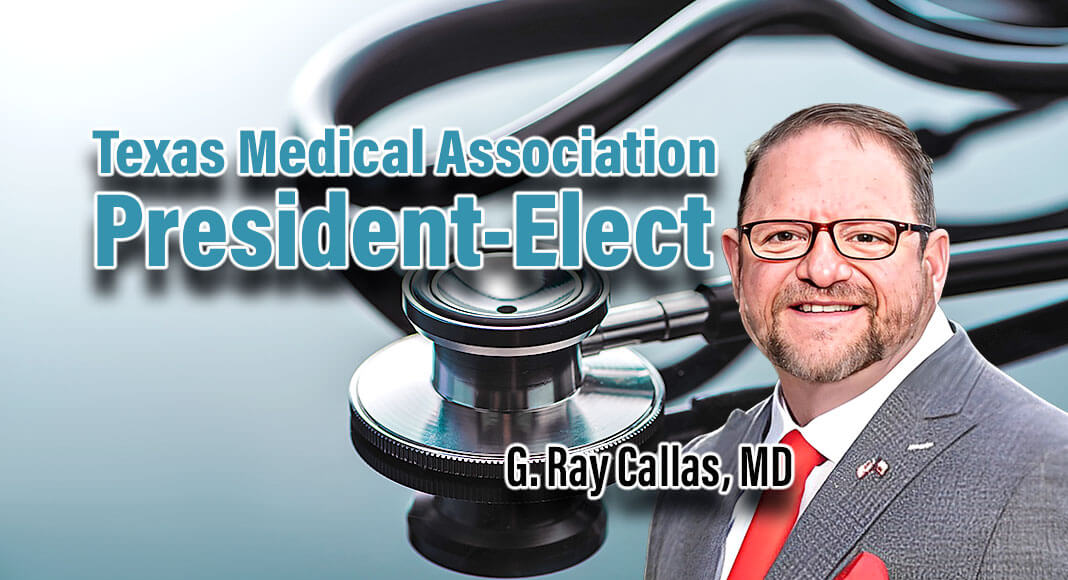 Mega Doctor News
- Advertisement -

The Texas Medical Association (TMA) elected Beaumont anesthesiologist G. Ray Callas, MD, president-elect during TexMed, the association's annual conference, held in Fort Worth this year. Dr. Callas will serve in this role for one year, after which he will be installed as president.
"I am beyond humbled," he said. "The Texas Medical Association is the greatest medical association of physicians in the United States, and I am proud and humbled by the confidence of my fellow physicians to represent them in this capacity."
His path that ultimately will lead him to TMA's top office has resembled those of many predecessors: He has served in numerous TMA positions, including having chaired its Board of Trustees, Council on Legislation, and Council on Constitution and Bylaws. Dr. Callas also serves on the TEXPAC Board of Directors, and TMA's political action committee's Candidate Evaluation Committee. He also is the first graduate of the inaugural class of the TMA Leadership College who will become TMA president. He participated in the TMA program to develop strong physician leaders more than 20 years ago. Dr. Callas also has served as a delegate to the TMA House of Delegates since 2004, and he is a member of the Texas delegation to American Medical Association house. He first joined TMA in 1996 while attending medical school.
He's a believer in the power of organized medicine.
"Very early on I realized that, as physicians, we can no longer just focus on practicing medicine," he said. "Lending my voice, time, and effort to assist not just my practice and patients, but all physicians of Texas, I have seen the effectiveness of the Texas Medical Association."
He aspires to unite physicians in one voice to further TMA's priorities, including protecting Texas' medical liability reform; battling insurance companies to improve coverage and access for patients; stopping scope-of-practice expansion by ensuring only physicians are permitted to practice medicine; and limiting government interference in the practice of medicine.
"I want to ensure that Texas continues to be the home of the best medical centers, attracts the best physicians, and provides the best care and protection for our citizens," he said. "Texas is my home. I was born here, raised a family, and at my practice I treat my friends and neighbors."
- Advertisement -

Dr. Callas is a long-time member of the Jefferson County Medical Society. He served as the society's president in 2010 and is a member of its board of directors. Dr. Callas also served as chair of the Texas Medical Liability Trust Board of Directors, and is a past president of the Texas Society of Anesthesiologists.
The board-certified anesthesiologist has practiced medicine with Anesthesia Associates since 2004 and is president of its board of directors. He serves multiple hospitals and surgical center facilities in Jefferson County and Beaumont.
A commissioner on the Texas Department of Licensing and Regulation, the physician also chaired the governor-appointed Jefferson and Orange County Board of Pilot Commissioners. He also is advisory director of the Beaumont Chamber of Commerce and a director of the First Financial Bank board.
Dr. Callas served his country in the U.S. Navy as a submariner during Operation Desert Storm. He graduated from Texas A&M University, earned his medical degree from The University of Texas Medical Branch John Sealy School of Medicine in Galveston, and completed his anesthesiology residency there as well.
"But the most important role in my life is that as a son to my mother, Ms. Carolyn Callas; husband to Lisa Callas; and father to my three beautiful daughters, Emerie, MacKenna, and Raygan," he said.
TMA is the largest state medical society in the nation, representing more than 57,000 physician and medical student members. It is located in Austin and has 110 component county medical societies around the state. TMA's key objective since 1853 is to improve the health of all Texans.