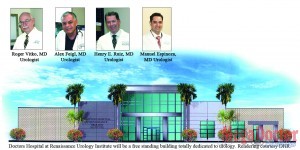 By Roy Martinez
- Advertisement -

As originally published by Mega Doctor News in its newsprint Edition
Doctor's Hospital at Renaissance is once again stepping into bringing the patients of south Texas the latest in medical care.  DHR has recruited four local physicians and formed the basis to providing excellence in medical care.  The four physicians well-known and respected urologists in McAllen will become Doctors Hospital at Renaissance Urology Institute.
The four urologists include Roger Vitko, MD, Alexander Feigl, MD, Henry E. Ruiz, MD and Manuel Espinoza, MD.  The group is currently housed on two campuses one at 110 Savannah in South McAllen and 801 East Nolana in the northern part of McAllen.
Doctor's Hospital at Renaissance has just last week made Mega Doctor News aware of new plans.  The exclusive information pertains to the news that DHR will be building a stand-alone building, which will carry the name Doctors Hospital at Renaissance Urology Institute.  The new facility will house the institute and will be built just east of the DHR Cancer Center on the DHR campus.
The more then 14,000 square foot facility will serve as the main office for the institute and will house some of the most advanced equipment available to urology and surgery.  It will have 16 exam rooms, 3 procedure rooms and a CT scan room.
According to Dr. Ruiz, the Institute is proud of their new recruits, which will join the group in the next few months.  Dr. Ruiz says the Doctors Hospital at Renaissance Urology Institute will soon have the only Pediatric Urology Surgeon in South Texas and will also add a Robotic Urology Surgeon.   He is especially excited about the fact that the new additions have roots in the Rio Grande Valley and are returning to the area to practice after their extensive training.
In upcoming issues of Mega Doctor News, readers will learn much more about these highly trained physicians.
- Advertisement -

The most senior member of the DHR Urology Institute is Roger Vitko, MD.  He has been practicing medicine for over 40 years after a short stint in the Army.  He decided for a career in medicine because he has a neighbor in Minnesota who was physician who was a mentor.    He chose urology, "I went into Urology because it was a scientific thing, you had x rays, it wasn't a lot of unknowns, urology is a more exact science.
Retirement is not in the immediate future, you reach 65 and you have to make a decision, to retire or keep going, I decided to keep going for as long as I can," Dr. Vitko said.
Alex Feigl, MD, grew up in Saint Louis, Missouri and after graduating from high school and South Illinois University, he did research at St. Louis University on a National Institute grant for a couple of years.  He later decided to go to medical and attended the University of Guadalajara, Mexico.
He returned to St. Louis University to complete a surgical residency.  He has been practicing medicine in McAllen for over 23 years.
Henry E. Ruiz, MD, immigrated to the United States from the Dominican Republic, move to New York city where he attended and graduated from high school, college and medical school.  He completed his surgical residency in Miami.  He volunteered to join the Army and served for 12 years, attaining the rank of Lt. Colonel.  During his Army career he completed a fellowship in reconstructive Urology at Duke University.  He resigned his commission to move to McAllen where he has been practicing here since.  He is the only Urologist in South Texas with two board certifications, Urology and now Female Pelvic Medicine and Reconstructive Urology.
Manuel Espinoza, MD, comes to the Rio Grande Valley from Colorado where he was born and raised.  He graduated from the University of Southern Colorado and the medical school at the University of Colorado.  He did his Urology training at the University of Texas Medical Branch in Galveston.  Dr. Espinoza likes focus and devotes his practice to men's health and preventative issues.  He has been in South Texas for five years.
The four man urology group as previously mentioned has two McAllen locations one at 110 Savannah Ave. Suite C McAllen, the office number is 956 686 8357.  The north McAllen office is located at 801 Nolana, appointments can be made at 956 630 4944.  Or you can call Doctors Hospital at Renaissance for more information on the Doctors Hospital at Renaissance Urology Institute.   MDN