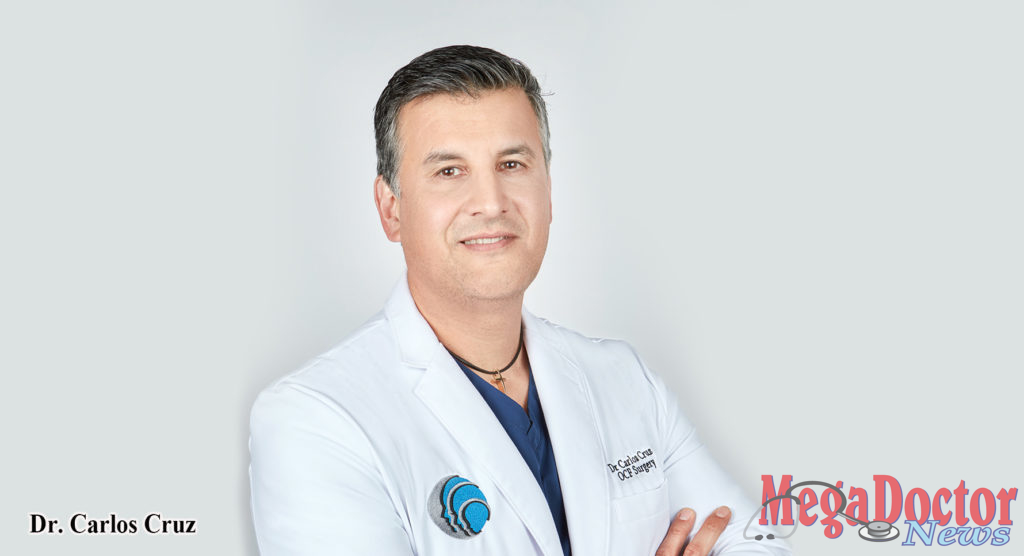 By Roberto Hugo Gonzalez
As originally published in Mega Doctor News newsprint edition May 2020.
Given the COVID-19 pandemic, major changes have come into effect in regard to dentistry as we know it. For several weeks, dental professionals were following strict guidelines set forth by Governor Greg Abbott, the Texas State Board of Dental Examiners (TSBDE), ADA, OSHA, and CDC, limiting their practices to only seeing emergent cases. As of May 1, 2020, dental offices started opening up across the entire state of Texas with the ability to provide elective and/or non-emergent care while still adhering to strict guidelines set forth by their governing parties.
Dr. Carlos Cruz, DDS is an Oral & Maxillofacial Surgeon serving the Rio Grande Valley-whose office, Oral & Craniofacial Center (OCF), is based out of Edinburg, Texas. He offers a full scope of oral and maxillofacial surgeries from implant placement, corrective jaw surgery, to wisdom tooth removal. He told Mega Doctor News that he also diagnoses and treats facial pain, facial injuries, TMJ disorders, and performs bone grafting and craniofacial surgery procedures.
Dr. Cruz, just like everyone else in his profession, is experiencing a new norm at work while working through the COVID-19 pandemic. He, along with a team of valley-based oral & maxillofacial surgeons, the Rio Grande Valley Oral Maxillofacial Surgeons (RGVOMS), have been working together with dentists and other dental professionals across the Rio Grande Valley to get thru these unprecedented times.
"One out of every four patients are afraid to go back to the dentist," said Dr. Cruz. "I want the community to know and feel that it is safe to go visit your dentist. I want to assure everyone that we, as dental professionals, are committed to providing effective quality care in a safe environment." Under new mandates from the TSBDE, dental professionals now have to adhere to a heightened level of safety measures for both their patients and themselves. "Dental professionals have long been trained to use personal protective equipment (PPE), so for us, it's just as if we are adding a few extra layers of protection, said Dr. Cruz. "We are implementing protocols that even hospitals aren't doing. In some instances, we are exceeding the level of safety we have been mandated to implement."
Dr. Cruz emphasizes that the protocol they are following is the one recommended by the CDC and by the TSBDE. "It ensures that our staff is properly protected before and while seeing a patient." He said, "They have, but aren't limited to, N95 masks or its equivalent KN-95 masks, respirators, gloves, goggles, face shields, surgical hoods, and disposable PPE to work in."
The patient's safety is of the utmost importance at his office. Patients are experiencing first-hand, the amped-up protocols at their appointments. All patients are pre-screened via telephone prior to their appointment and once again the day of. Upon arrival, the patient waits in their vehicle and calls the office to let the staff know that they have arrived for their appointment. This measure is to limit exposure and/or possible cross-contamination to other patients while at their appointment. A staff member then goes out and obtains a temperature reading, pulse ox reading, and pre-screening questionnaire, prior to bringing them into the office. Once cleared, the patient is then escorted into the office and given hand sanitizer to disinfect their hands along with disposable shoe covers and hair cover before they are taken into an exam/surgical room. Upon entering the exam room, the patient is asked to do an oral rinse with hydrogen peroxide for sixty seconds and immediately wash their hands afterward for at least twenty seconds. Immediately after every patient encounter, any and all areas where a patient was present are thoroughly cleaned and disinfected. The staff has been vigorously trained in how to safely and effectively manage their patients, incorporate infection control measures, and go through daily screenings themselves.
"During these unprecedented times, the reality of the COVID-19 pandemic is making its mark on dentistry forever," stated Dr. Cruz. "We need to continue to protect our patients, staff, families, and ourselves. The term "social distancing" has been ingrained into our minds for the past several months. I myself choose to practice "physical distancing". "Social distancing" implies that we need to disconnect and seclude ourselves from the world. We as humans thrive on that connection with one another; it's our basic human nature. Physical distancing is direct and simply put. This nation has endured so much including SARS, Ebola, MERS, and HIV, this too shall pass," said Dr. Cruz.
"We are constantly changing and updating protocols to best serve and accommodate our patients," said Dr. Cruz. "Rest assured, that the dental community is united and going above and beyond to make sure our patients continue to get the much-needed treatment they need and deserve in a safe environment."