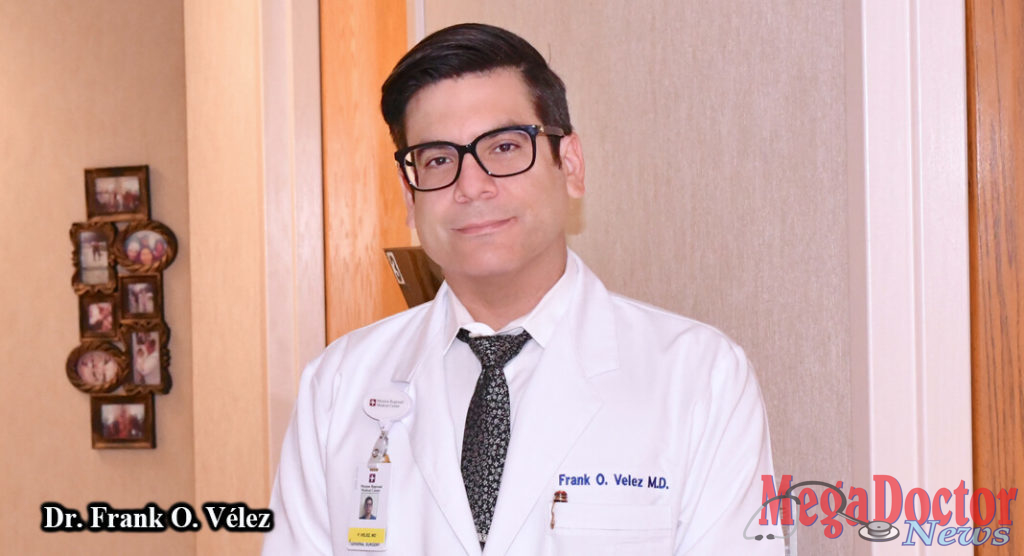 By Roberto H. Gonzalez
As originally published in Mega Doctor News newsprint edition May 2019
Dr. Frank O. Vélez has joined the practice of Márquez & Villarreal Medical Group in Mission, Texas. He is a general surgeon with extensive training in noncardiac thoracic surgery.
Originally from the island of Puerto Rico, he is committed to serving the Rio Grande Valley community at Mission Regional Medical Center. 
Dr. Vélez dedicated a large part of his training in the management of complex hernias, foregut surgical pathologies, and surgical management of thoracic diseases.  He has published many medical articles in multiple scientific journals.  His topics of interest are upper gastrointestinal tract, thoracic surgery, minimally invasive surgery, management of thoracic diseases, and lung cancer.  His wife, Lesly is also from Puerto Rico and a nurse practitioner; they have a lovely daughter named Valentina.
In this issue, get to know more about Dr. Vélez and also his plans to give back to the community.
On another matter of great concern to us here in South Texas, U.S. authorities say 32 migrants have tested positive for influenza in several processing centers on the U.S./Mexicoborder that temporarily closed to stop the outbreak.
It's unclear if anyone ill came in contact with a 16-year-old Guatemalan boy who was held at the facility in McAllen, Texas. He died Monday, May 21, 2019, a day after he was diagnosed and transferred to a smaller station in Weslaco, Texas.
A Border Patrol official said that the 32 sick children and adults have been quarantined at a smaller processing center. Currently, there is an ongoing investigation, but Rod Kise, Public Affairs Officer with the RGV U.S. Customs and Border Protection sent a press release that reads: Statement Attributable to CBP spokesperson:
"On May 21, 2019, medical staff at the Centralized Processing Center (CPC) in McAllen, Texas identified 32 individuals who tested positive for influenza. To avoid the spread of illness, the Rio Grande Valley Sector temporarily suspended intake operations at the CPC."
"The U.S. Border Patrol moved swiftly to mitigate the spread of any illness, including sterilizing the facility, conducting medical assessments of all individuals and providing treatment on site or in local hospitals as appropriate. The CPC has resumed normal operations."
Nevertheless, the closure further strains an overstretched system.
On Research: Rare DNA variants linked to type 2 diabetes. A study of more than 45,000 people — roughly half of whom have type 2 diabetes — has identified rare genetic variants that seem linked to the disease. The study, which used data from global registries, identified four genes with rare variants using whole exome sequencing, a technique that looks at parts of the genome that code for proteins.
Even though this study looked at a large number of people, the authors write that even bigger studies with double or even triple that total will be needed to find rare variants that make a big impact on the development of the disease. And although the current findings only represent an association and not a causal link, the study authors say the data could be used to further investigate potential diabetes drugs.
I know you will enjoy this issue.