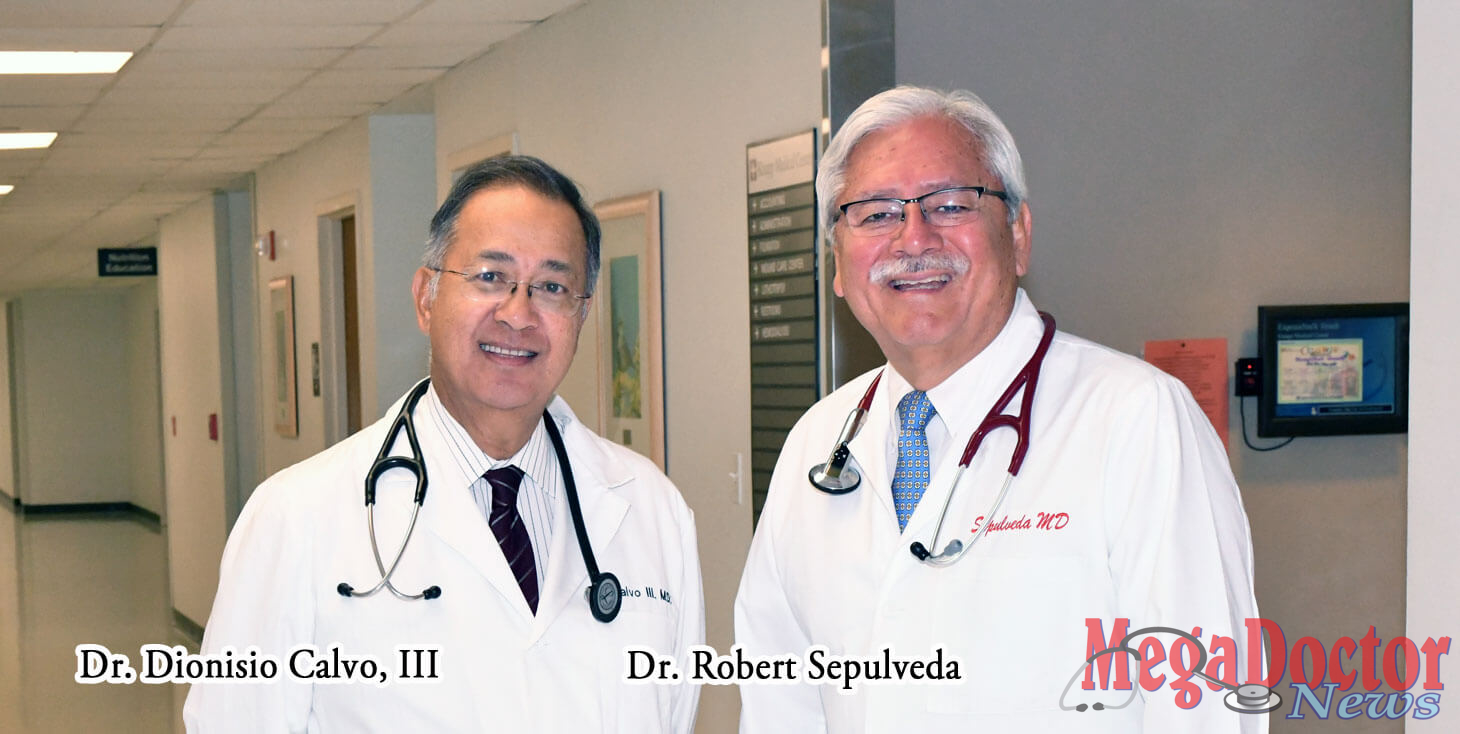 By Roberto Hugo Gonzalez
- Advertisement -

As originally published by Mega Doctor News in its newsprint edition May 2018
For more than two decades, two physicians have taken upon themselves the colossal task of organizing and celebrating The Annual Rio Grande Valley Medical Education Conference & Expo. This year they celebrated their 26th year since inception.
Doctors Robert Sepulveda and Dionisio Calvo, III, both internal medicine physicians are two dedicated professionals that continuously are giving more and more to their community and the medical industry.
This year, both physicians did it again, planning, organizing, and putting together a list of impressive faculty physicians, which is a monumental task. The educational conference was titled "Reaching New Horizons" and this year was designed for the following specialties; primary care physicians, family medicine, OB-GYN, internal medicine, advanced practice nurses (APRN), pediatrics, emergency medicine, surgery, and infectious diseases
Dr. Robert Sepulveda told Mega Doctor News that the content was also appropriate for physician assistants, registered nurses enrolled in advanced nurse practice programs, and pharmacists.
Dr. Sepulveda is from Weslaco and has been practicing internal medicine for thirty-seven years.
The critical question for him is, how did this educational program start? "When I came to the Valley, there used to be a conference called The Family Practice Conference." He said, "One of my mentors took me to the event, and I said this is very good, very well organized at university level education."
- Advertisement -

"Unfortunately," he said, "they went out of business, and we had a year where there was nothing in the Valley."
He said that in 1992 they asked Knapp Hospital to give them a line of credit of $10,000 to start a new annual conference. That was 26 years ago.
He said, "We made sixty-five thousand dollars in profit, which we turned right back into educational supplies for the physicians, etc. and we kept having it every year." Forthe first two years, the old Holiday Inn Holidome in McAllen was the venue for the event.
The success of the event made the venue seem small, and it was moved to the South Padre Island for the following 24 years. Today, in 2018, McAllen has more to offer, and the conference successfully took place at the brand-new Embassy Suites by Hilton McAllen Convention Center.
"It has been a success every year andknock on wood,never lost money with these conferences," Dr. Sepulveda stated.
From the start, Drs. Sepulveda and Calvo decided that their mission statement willbe education for all physicians in the Rio Grande Valley. "It is not Knapp physicians only, it's all physicians," emphatically he stated. "I think that's what makes it successful. It's intended for everyone."
Is the planning of the event difficult? "Yes, as a matter of fact, it starts right when we are doing this conference we ask the attendees to fill out critique forms and suggestions."
According to Dr. Sepulveda, this is essential feedback they need to improve the educational event and even the venues they use. Many of the topics covered by faculty are driven by the people that have attended the conference.
"In that sense, we are providing what they want to hear and learn." He said, "The exciting part is that you go from wellness to diabetes care to hypertension to cardiovascular care and more."
At the beginning of the conference, Dr. Sepulveda welcomed and thanked everyone for attending. He said, "I am the CME chairmanagain for this year." He continued, "For those of you that are not old enough to know this conference started here in McAllen 26 years ago."
According to Dr. Sepulveda, the pre-registration was a lot higher this year, and they are probably going to have about anywhere from 170 to 200 people this year.
When Dr. Sepulveda first came to Weslaco, he had a mentor, Dr. Warden. "He said to me, everything you learned will be good for five or six years, then you need to start relearning, so start learning now."
Moreover, he was right, because like Dr. Sepulveda says, "It is a continuing process of learning if you do good patient care."
The CME Committee that puts together the continuing education conference recently reached out the University of Texas Medical School. "The meeting went well because they want to work with us to put out programs to cover areas that we do not reach in the Valley," he said.
On another note, Dr. Sepulveda was excited to say that they brought on board medical residents, they are learning to carry forward the effort of educational programs for physicians in the future. "For Dr. Calvo," he said, "I have to say this; Dr. Calvo has been doing this with me since we started."
Speaking of Dr. Dionisio Calvo, III, he is the perfect match with Dr. Sepulveda to lead this program. Mega Doctor News witnessed the dedication of both physicians. The two-day educational program is exhausting. Both were there from beginning to end.
Dr. Calvo is an Internal Medicine physician, and the Medical Director of the Primary Stroke Center at Knapp Medical Center in Weslaco. He has been a doctor since 1973, so this year he completes 45 of being a physician. He is originally from Manila in the Philippines, he has been in the United States since 1976 and in the Valley for 37 years.
He said that he was invited to practice in North Dakota and Atlanta, being from a subtropical climate, the decision was easy for him. "I like the climate here, and there was a need for physicians." He continued, "When I got to Weslaco they welcomed me with a comment 'we needed you since two years ago.' So, Weslaco is my town since 1981."
Dr. Calvo said that putting together the educational conference and seeing through is something that they do not get paid. "The primary goal has always been to bring continuing education programs for all physicians."
According to the State website, physicians need to complete at least 48 credits of continuing medical education every 24 months (24-month timeline is in relation to the biennial registration period, not the calendar year). This is important for physicians' careers, and valuable for those that don't want a significant expense of traveling north or out of the state.
Other activities of Doctors Calvo and Sepulveda, they spend time traveling to other countries sharing their knowledge be that in Mexico or the Dominican Republic.
So, you speak Spanish? "Poquito, enough not to get me in trouble," Dr. Calvo said. When they go to other countries, they teach advanced cardiac life support.
Now that the educational program has lasted 26 years, did it ever crossed your mind the program to last more than a quarter of a century? "There were several times where we thought not being sponsored by the hospital, so we were in a quandary." He said, "But since they know that we are successful they said go ahead and do it."
Moreover, once again they were successful. These two physicians are so charismatic with their two feet on the ground. In simple words, both are straight shooters. Just as they mingle with physicians from Brownsville, they do it with Harlingen and McAllen; they do not see a difference, their only concern, goal or passion is to be able to bring the continuing education for their colleagues in the medical industry.
That is why, this month Dr. Robert Sepulveda and Dr. Dionisio Calvo, II, both Internal Medicine from Weslaco become Mega Doctors, "The Giants of Medicine."
Written by Roberto Hugo Gonzalez, the 2009 SBA Journalist of the Year Award Winner and the 2009 and 2012 Paul Harris Award recipient.