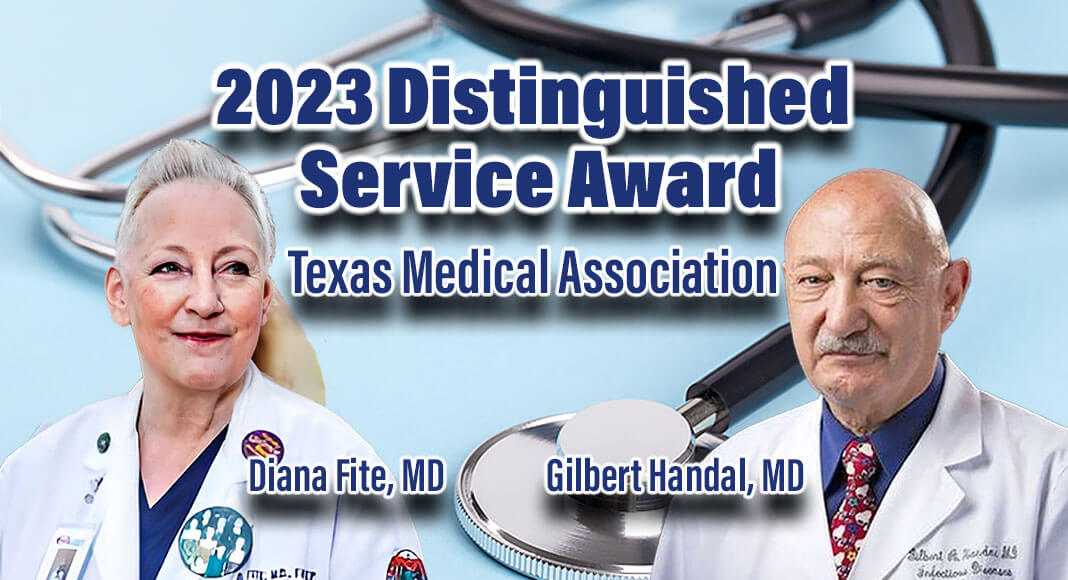 Mega Doctor News
- Advertisement -

For just the fourth time in its history, the Texas Medical Association (TMA) honored not one but two revered TMA physician leaders with its 2023 Distinguished Service Award. TMA presented Diana L. Fite, MD, of the Houston area, and Gilbert A. Handal, MD, of El Paso its highest honor during TexMed, the association's annual conference in Fort Worth.
While each is a physician leader with a long and storied career serving patients and medicine, their paths and reasons for notoriety are different. Dr. Fite's nomination letter describes her as a "resolute and professional leader who has made significant contributions to [the Harris County Medical Society], [TMA], and the House of Medicine." Additionally, and perhaps most notably, she assumed the TMA presidency to lead the organization just two months after the COVID-19 pandemic paralyzed the world and sickened and killed millions. Dr. Handal's nomination letter describes how he has "shown significant contributions to our local community, the region, the state and the world throughout the years," primarily in his unending work to ensure children receive health care, and for his prevention of infectious diseases.
TMA's Board of Councilors ethical policymaking body reviews nominees and selects whom TMA will honor with the award created in 1962. The board typically chooses one physician each year (some years no name is chosen), but the board opted to recognize two for the first time since 1987.
"We all felt Dr. Fite did an amazing job representing and leading TMA through unchartered territory when it came to the pandemic, while clearly Dr. Handal's decades of dedication to medicine and leadership in advocacy also couldn't be overlooked," said board Chair Alisa M. Berger, MD.
Diana Fite, MD
Dr. Fite said she is "extremely honored" to receive the TMA Distinguished Service Award.
"To receive this award means the physician has shown respect and compassion for his or her patients as well as fellow physicians," said Dr. Fite, "and fought when necessary to maintain that respect and compassion."
- Advertisement -

The Houston-area emergency physician has been a TMA member for more than four decades. She held numerous leadership positions in the organization before becoming president – only the sixth woman to assume the top role. Dr. Fite has served on more than 25 boards, councils, and committees throughout her 42-year career, including having chaired the TMA Board of Trustees, a TMA council, and several committees. She also presided over the Harris County Medical Society (HCMS) and proudly serves on the Texas Delegation to the American Medical Association. For decades, she has been active in TEXPAC, TMA's political action committee, and in TMA advocacy efforts.
Dr. Fite also served her specialty in leading and serving in the Texas College of Emergency Physicians (she was the first woman it elected president), American Association of Women Emergency Physicians, American College of Emergency Physicians, Houston Society of Emergency Medicine, and other professional organizations.
She became TMA president in May 2020, but the COVID-19 pandemic disrupted her plans for her TMA presidency, as emergency physicians became indispensable in the battle against the deadly virus. She cared for patients in the emergency department (ED) overnight and performed TMA's presidential work in the day, and she "napped in between."
COVID was the all-consuming top priority. "The circumstances of the pandemic forced me to devote almost all my attention to COVID-19, whether that meant keeping up with the latest treatment advancements or how to get ahold of protective personal equipment [for doctors] or helping educate physicians on how to see patients or even keep their offices open and do so safely," said Dr. Fite.
Dr. Fite also informed the public about best practices during the pandemic as a TMA president specializing in emergency medicine. She granted hundreds of COVID-related news interviews on state, national, and international media outlets, including advising how people should protect themselves. Some felt her specialty uniquely helped her adapt to the pandemic's ever-changing crises.
A rich historical perspective might have helped her too. Dr. Fite was born into a medical family, as her father was the primary neurosurgeon for Amarillo and a vast surrounding region. "She remembers riding with him – occasionally with police escorts – to the outlying community hospitals," said fellow emergency physician and TMA leader Arlo Weltge, MD, in introducing Dr. Fite to a ballroom full of members of the TMA House of Delegates.
She chose medicine at a time when few women were medical students. She earned her medical degree at The University of Texas Medical School at Houston (now the McGovern Medical School at UTHealth). Dr. Fite's interest in organized medicine began when she was in medical school; at that time there were no medical student members in organizations like TMA, so she did not become involved until she became a physician.
"My first orientation meeting for the HCMS sold me on how much we do not get taught in school or residency about the business of medicine and legislative influence in our work," said Dr. Fite. She immediately started volunteering with HCMS and began advocating for patients and physicians.
Disruption hit during her HCMS presidency when she suffered a massive ischemic stroke. "My dominant side was completely paralyzed, and my speech was also affected," she said. But she recovered quickly, "thanks to getting tPA [a blood clot-busting stroke treatment] within the hour of having the stroke," she said. She later shared her experience publicly and educated people about the signs of stroke. Her story was featured on many national media outlets, including The New York Times, NBC, ABC, and CBS.
"Her tireless efforts for HCMS and TMA, in the community, for her patients, and for her profession, make her truly deserving of this award," said HCMS President Mina K. Sinacori, MD, in nominating Dr. Fite for the honor. It is one of several awards and honors she has earned throughout her career, including for achievements in emergency medicine and community service.
She has volunteered for several community organizations including civic organizations to prevent domestic violence and a local blood center.
When Dr. Fite is not volunteering, in the ED, or advocating for patients, the mother of eight and grandmother to more than a dozen spends time with her family or whittles away on a long reading list. "I have about 200 books waiting to be read," she said.
Nonetheless, guided by her priorities of faith, family, and profession, Dr. Fite continues seeing patients in the ED with no plans to slow down. "I am not yet prepared to stop doing what God's purpose has been for my life, which is being a physician," she said.
Gilbert Handal, MD,
TMA also honored El Paso physician Dr. Handal with the award, in recognition of his lifelong service to border health, children's health, and disease prevention. Dr. Handal, an infectious disease specialist, is renowned in El Paso and the U.S.-Mexico border region – on both sides – for countless contributions to improving health and patients' access to care.
"I was delighted to be recognized on my efforts by my colleagues – both in El Paso and TMA – for my efforts in so many aspects to improve lives here and everywhere I have an opportunity to work," said Dr. Handal.
In nominating the physician, Jeffrey Spier, MD, (now immediate past) president of the El Paso County Medical Society, wrote, "Dr. Handal is deserving and should be honored with this prestigious award. … He is a man of honor and contributes to the community as often as a need arises."
The contributions are numerous.
The tenured professor in pediatrics at Texas Tech University Health Sciences Center Paul L. Foster School of Medicine built the pediatric department that now also provides care to many uninsured children across El Paso. He has cared for children in the El Paso Pediatric Psychiatric Center, the Riverside Comprehensive Care Center, and El Paso's seven school districts. He has served six years on the Texas School Health Advisory Committee as well.
He also served on the state Medical Care Advisory Committee, advising on Medicaid coverage and patient access to care, and has served on numerous community and international committees. He even led a bi-national program for primary care, helping clinics serve low-income people – and educating some about health issues through cartoons.
Dr. Handal also provides pediatric infectious disease consultations for patients in every El Paso hospital, and he co-founded an advocacy center for sexually abused children.
"He loves teaching and instructs his students and residents to care for each child as if it were your child," said TMA physician leader Roxanne Tyroch, MD, in introducing Dr. Handal to TMA House of Delegates members for the award. "He reminds us all that medicine is a profession, and not just a job; his wish is that organized medicine will espouse these values and instill them in decision-makers."
Dr. Handal also has received numerous honors and recognitions for his academic and community endeavors throughout his 53-year career in medicine, including several international awards.
In his overarching goal to improve health for children and adults on both sides of the border, Dr. Handal also chaired binational educational programs and the state and local regional advisory councils, and has served on the TMA-affiliated Border Health Caucus. A councilor on the TMA Board of Councilors, Dr. Handal also has represented his local delegation in TMA's House of Delegates and has been a leader in several other TMA, El Paso County Medical Society, and Texas Pediatric Society (TPS) roles, among them, TMA's Committee on Child and Adolescent Health, Committee on Infectious Diseases, and International Medical Graduate Section.
"All my activities and accomplishments have been directed to improve the conditions of children and families in the Border and every country in Latin America," he said. "My efforts looked not only at health care but the broader sense of health including almost every aspect that affects people's future."
Dr. Handal studied at the University of Chile in Santiago during the 1960s, then trained in infectious diseases in Miami, Fla., before moving to El Paso in 1975. He later was certified in and practiced pediatric critical care for 31 years.
"Before coming to the USA, I was involved in many programs leading to efforts to improve lives," he said. "It did not take long to realize the only way to achieve any important goal was to work with organizations that had strength and common mission(s)." He was first drawn to TMA and TPS for these reasons.
While he said he's been interested since childhood in world religions and political philosophies, his primary interest is "improving the condition of children as our future."

Dr. Handal was married to Maria Elena Saca Handal (deceased), and they have one adult daughter, Stephanie Handal.
TMA established the Distinguished Service Award in 1962 as a symbol of special recognition for meritorious achievement in medical science, advances in public health, and exceptional service to the medical profession and the community. Each year, the TMA Distinguished Service Award is presented to a physician who has demonstrated outstanding leadership and made significant contributions to the medical profession in areas such as scholarly activity, professional development, advocacy, and community service.
TMA is the largest state medical society in the nation, representing more than 57,000 physician and medical student members. It is located in Austin and has 110 component county medical societies around the state. TMA's key objective since 1853 is to improve the health of all Texans.