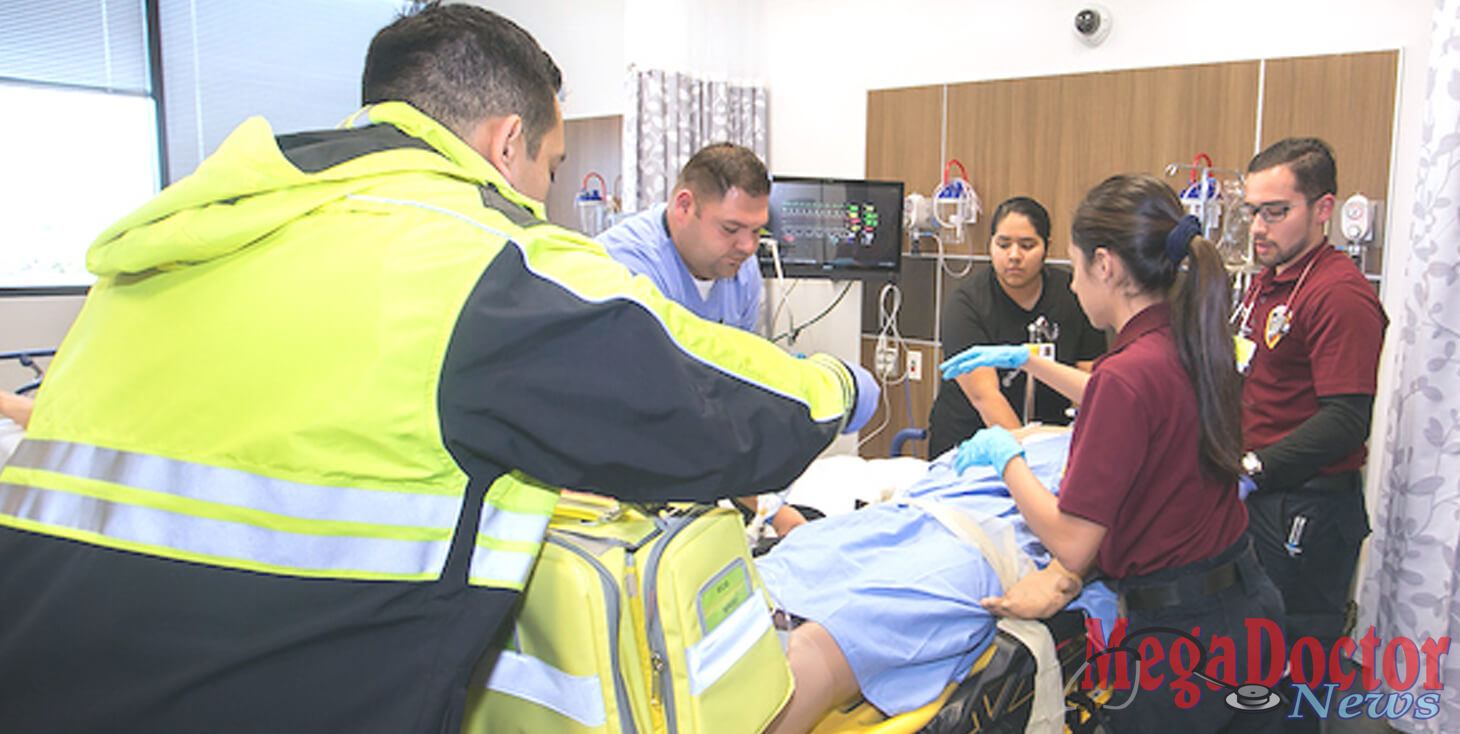 Mega Doctor News
- Advertisement -

McAllen, Texas – When most people think of healthcare, they think of individual doctors and the specialized treatments they provide. But the truth is, the healthcare system is made up of many different kinds of jobs, all playing an important role in keeping us healthy.
That's why, in addition to offering specialized programs in 12 different nursing and allied health fields, South Texas College's Nursing and Allied Health faculty also teaches students how to work together in cohesive and effective teams, like they would in an actual hospital.
"Collaboration is a critical part of our profession, which is why it has to be an important part of the way we teach," says Respiratory Therapy Program Chair, Gabriel Peña. "It's important for students to understand that successful patient outcomes almost always depend on the expertise of many different health professionals, all working together towards the same goal."
But a collaboration of this nature can't be taught in a classroom. Fortunately, the new Nursing and Allied Health expansion was designed with this purpose in mind. Funded by a 2013 bond, this new, four-story, 93,000-square-foot complex includes a new library as well as such cutting-edge equipment as a BD Pyxis MedStation, an industry-standard, automated medication dispensing system, and more than a dozen SimMan 3Gs, high-fidelity mannequins that can simulate a range of neurological and physiological symptoms.
Together, these additions make up a state-of-the-art simulation hospital where students will soon be gaining experience working with other healthcare professionals in simulated, "real-world" scenarios.
"This is how healthcare works in reality," explains Dr. Theresa Garza, Pharmacy Program Chair at South Texas College. "You have EMTs bringing in patients. Respiratory Therapists and LVNs attend to them. On-site pharmacies provide the necessary medications and guidance. Later on, they might see an Occupational Therapy Assistant to help them recover."
"No matter where a student wants to work in the health profession, we have a program for them… This really is a one-of-a-kind opportunity for our students."
- Advertisement -

Established in 1998, STC's NAH division boasts 12 accredited programs, providing career-focused training in a variety of professions across the allied healthcare spectrum.
For instance, NAH's Emergency Medical Technology (EMT) Program gives students the cognitive, physical, and behavioral skills they need to be emergency responders and paramedics. Alternately, students who prefer the front lines of a hospital to the front lines of the streets might look into the Respiratory Therapy Program, where they learn how to treat acute and chronic respiratory dysfunction.
Similarly, those excited about providing basic patient care in a more structured setting, or who want to quickly start a career in nursing, might consider the Vocational Nursing program, an intensive, three-semester investment that can lead to jobs paying more than $45,000 per year, on average, in Texas.
An ongoing nursing shortage exists not only in Rio Grande Valley but nationwide. The Associate Degree Nursing Program is a rigorous, four-semester program that when successfully completed can qualify graduates to sit for the licensure examination and become registered nurses. The average income for registered nurses is $73,550 annually or an average of $36.00 per hour, according to the Bureau of Labor Statistics.
Occupational Therapy gives students the skills they need to work in both in- and out-patient settings, providing services with the ultimate goal of increasing the independence and daily functioning of patients in need.
NAH's ability to prepare successful candidates is especially important considering the speed at which the need for health professionals is growing. According to the US Department of Labor, the healthcare profession is growing at a rate of 18 percent, more than double the rate of all other occupations. In Texas alone, 6 out of the 10 fastest growing occupations are healthcare-related.
In addition to preparing students for jobs that are in demand across the country, Peña is quick to point out their local impact, as well. "Before we established the Respiratory Therapy program, local hospitals had to go out-of-state to find qualified candidates. Not only is this expensive, but you end up with candidates that aren't necessarily planning on staying here. Now, local hospitals come to us for candidates."
This isn't surprising when you consider that five out of NAH's 12 programs have impressive, 100 percent licensure pass rates.
Recently, Peña watched 11 students secure jobs at the University Medical Center in Lubbock. "We have great placement rates and most of our students find jobs within months after graduating," says Peña. "What was fun in this case was that they graduated on a Saturday and had those jobs by the following Monday!"
Like Peña, Garza is proud of what STC students are accomplishing and excited about what the future holds for the NAH division.
"Not only are these students finding jobs, they're finding 'head of household'-level jobs," says Garza. "This is a win-win for everyone. Our students find jobs, local healthcare facilities get high-quality candidates, and the local economy gets another successful citizen."
That's a healthy result, not only for studentsbut for the South Texas communities of which STC is so proud to be a part.