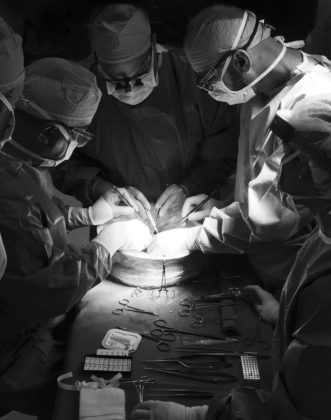 Physicians from the Renaissance Transplant Institute performed a successful living donor kidney transplant surgery on March 7, 2017
Mega Doctor News –
Edinburg, TX—Gerardo Hernandez is no longer among the 98,093 people on the kidney transplant waiting list. As the first patient to undergo kidney transplant surgery at Doctors Hospital at Renaissance Health System, Mr. Hernandez gained a new chance at life with the kidney he received from his daughter, Janett Arambula. Physicians from the Renaissance Transplant Institute performed the historic surgery on March 7, 2017. On the surgical team were Dr. Gaudencio Olgin, Dr. Jose Almeda, Dr. Philip Thomas, Dr. Glen Halff, and Dr. Greg Abrahamian and many specialized nurses and support staff.
Under the direction of Dr. Jose Almeda, Dr. Philip Thomas, and Dr. Mourad Alsabbagh, the Renaissance Transplant Institute at Doctors Hospital at Renaissance Health System is the only hospital in the Rio Grande Valley that currently offers comprehensive kidney transplant patient services—including pre-transplant medical care, kidney transplant surgery, and post-transplantation patient support. The physicians and medical staff provide a multi-disciplinary team approach that is essential to successful transplant patient outcomes.
Over 118,000 people in the United States are on the organ transplant waiting list, many of which will never receive the life-saving organs they need. Organ transplants in the United States reached an all-time high in 2016, with over 33,500 procedures performed. Even with this great accomplishment, there is still a pressing need for more organ donors.
In an effort to increase the number of local registered organ donors, Doctors Hospital at Renaissance Health System (DHR) is proud to participate in National Donate Life Month to create awareness about the amazing gift of life that can be given through organ donation to save the lives of thousands.
To learn more about Gerardo Hernandez's transplant journey, and the importance of organ donation, join Doctors Hospital at Renaissance Health System for its National Donate Life Month press conference on April 13, 2017 at 10:00 AM. For more information, please call (956) 362-3100.
For more information about the patient care services offered at the Renaissance Transplant Institute, call (956) 362-LIFE (362-5433) or visit 5513 Doctors Drive, Edinburg, TX 78539.